Progressive congresswoman Alexandria Ocasio-Cortez apologized to her constituents for switching her "no" vote on Israel's Iron Dome missile defense system to "present" on Thursday.
Addressing her vote, Ocasio-Cortez said House leadership made a "reckless decision" in rushing the vote by calling it "within a matter of hours and without true consideration."
"I want to be clear that the decision to rush the vote—virtually preventing any member from meaningfully consulting their community—was both intentional and necessary," she wrote in a Friday letter to her constituents in New York's 14th congressional district.
She also criticized the legislative language for its "attempt to quietly slip this funding into routine legislation, without any of the usually-necessary committee debate, markup, or regular order."
"To those I have disappointed—I am deeply sorry. To those who believe this reasoning is insufficient or cowardice—I understand," she said.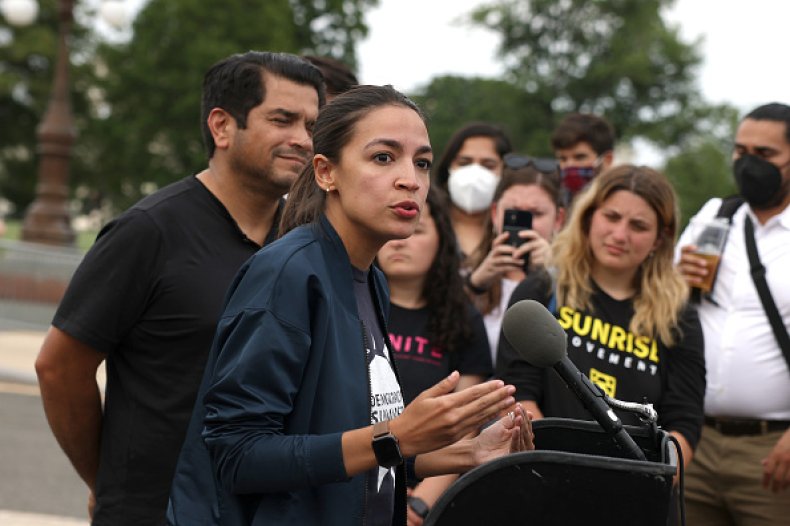 Ocasio-Cortez was seen crying on the House floor after breaking with other members of the Squad and changing her vote on funding the Iron Dome. She has previously been criticized by pro-Israel groups for her opposition to funding the Iron Dome.
After pictures of the emotional congresswoman emerged, Ocasio-Cortez was heavily criticized for her tears by voices on the right who called it "theatre."
"Yes I wept," Ocasio-Cortez said on Friday. "I wept at the complete lack of care for the human beings that are impacted by these decisions. I wept at an institution choosing a path of maximum volatility and minimum consideration for its own political convenience."
"I want to be clear with our community that I am opposed to this bill, but ultimately cast a PRESENT vote," the congresswoman added.
Ocasio-Cortez explained that the reason she was against the $1 billion supplementary bill was that she believes "the U.S. has handed unconditional aid to the Israeli government while doing nothing to address or raise the persistent human rights abuses against the Palestinian people."
Only nine members of the House voted against the measure: Republican Representative Thomas Massie and Democrat Representatives Ilhan Omar, Rashida Tlaib, Marie Newman, Ayanna Pressley, Cori Bush, Raul Grijalva, Andre Carson and Chuy Garcia.
Tlaib, the only Palestinian American member of Congress, said she would not support the bill, saying "The Israeli government is an apartheid regime."
The measure was approved by 420 votes to 9, with Ocasio-Cortez and fellow Democrat Hank Johnson voting "present."
Some have suggested that Ocasio-Cortez's last-minute decision was a strategic move to position herself run for Senate in New York, mounting a primary challenge to Senate Majority Leader Chuck Schumer in 2022.