AOC Asks Followers To Answer 'Yes', 'No' or 'Hell No' to $600 COVID Checks
On Wednesday night, Democratic New York Representative Alexandria Ocasio-Cortez published a poll asking her Twitter followers whether they considered a $600 stimulus check to be enough to help Americans financially harmed by the ongoing COVID-19 pandemic. She then encouraged them to call their congressional representatives to demand more funds.
Ocasio-Cortez's poll asked, "Is $600 for a second COVID check enough?" Twitter users could either answer "yes," "no" or "hell no." As of 11:30 p.m. EST, 61.1 percent of respondents had chosen "hell no" and 33.9 percent had chosen "no." Only 5.1 percent had chosen "yes."
"(FYI this is the current proposed COVID package amount - PLEASE CALL YOUR MEMBER if you have any doubt whatsoever on what their stance is)," Ocasio-Cortez wrote in a follow-up tweet. "And if you don't want your member to vote for a $600 deal, you really need to tell them that."
"Don't think 'oh I voted for a Dem, we'll be fine,'" she continued. "No. If there's an amount that's too little, or any other red line that you want them to vote NO on, then you need to tell them that."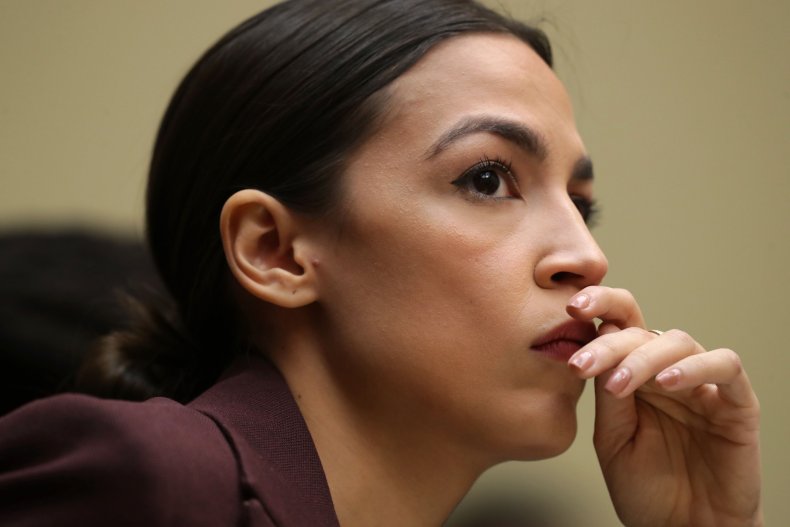 On December 10, Republican Senator Josh Hawley of Missouri and Independent Senator and former Democratic presidential candidate Bernie Sanders of Vermont pushed colleagues to vote for a second round of stimulus checks.
In separate speeches, both senators said the checks should mirror those issued early in the pandemic which gave $1,200 to adults and $500 for each child. Each senator also reminded their colleagues that the checks were passed with bipartisan and presidential approval at a point when the pandemic was less severe than it is now.
As of Thursday, however, Politico reported that the latest $908 billion economic stimulus package being negotiated in Congress only allotted for $600 stimulus checks. The Democratic Congressional Progressive Caucus (CPC) pledged to block any legislation that didn't include checks.
In a letter sent to Congressional leaders last Saturday, the CPC said any relief package should include direct payments of at least $2,000 for all working individuals and families. Some Republicans have balked at the billions that such checks would cost, but 11 Republicans senators have said they would support a bill that includes stimulus checks.
If Congress can pass a relief package with stimulus checks, President Donald Trump has signaled that he will quickly approve the measure. Lawmakers have until Friday to approve such a measure before they leave for the end-of-year holidays.
"Right now, I want to see checks–for more money than they're talking about–going to people," Trump said in a Sunday Fox News interview. "I'm pushing it very hard, and to be honest with you, if the Democrats really wanted to do the deal, they'd do the deal."
If the legislation passes and is signed by Trump, people could receive payments by the end of the year, according to Treasury Secretary Steve Mnuchin. Mnuchin said that problems that delayed payments the first time around wouldn't be an issue now and said that he could transfer 50 million payments directly into American's bank accounts "really quickly."