AOC Asks Ohio Voters to 'Please Send Me Nina' in Special Election That Could Boost 'Squad'
Rep. Alexandria Ocasio-Cortez (D-NY) asked a crowd in Cleveland Saturday to "send her" Nina Turner in the upcoming special election for Ohio's 11th Congressional District seat.
Ocasio-Cortez, who endorsed Turner in March, joined the former Ohio state senator for a campaign rally just nine days before the Democratic primary. Turner is hoping to win the seat formerly held by Marcia Fudge, who was appointed as the Secretary of Housing and Urban Development by President Joe Biden.
"We need Nina. I need Nina," Ocasio-Cortez said at the rally. "Please send me Nina."
If Turner wins the special election seat, it is anticipated that she will join "The Squad" in the U.S. House of Representatives. The group consists of Ocasio-Cortez and five other Democratic representatives including Ilhan Omar of Minnesota, Ayanna Pressley of Massachusetts, and Rashida Tlaib of Michigan, Jamaal Bowman of New York and Cori Bush of Missouri.
"I think it's extremely clear that Nina Turner is the candidate in this race that answers to the people of Ohio first and foremost," Ocasio-Cortez told WKYC. "She has supported, she has worked in this community, she has served in this community and she understands this community's needs."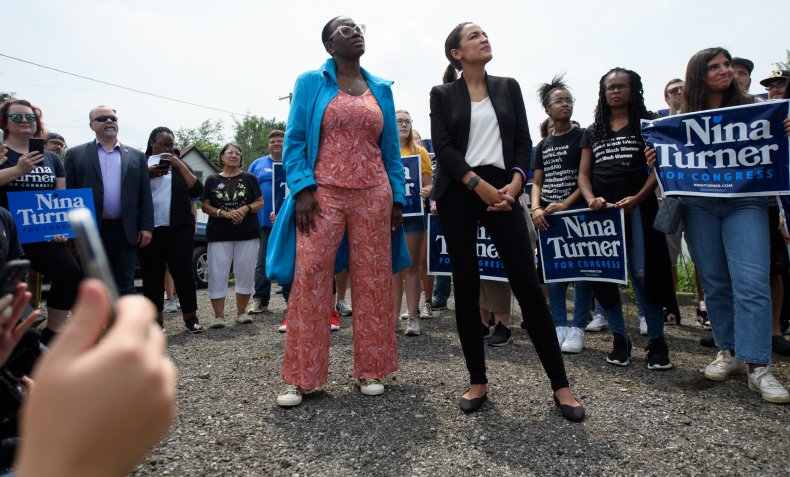 Ocasio-Cortez emphasized that the importance of the special election because of "big money" in Washington making decisions for Ohioans.
"There's a lot of dark money, there's a lot of kind of D.C. and insider folks trying to tell Ohioans what to do," Ocasio-Cortez said. "It's really important that we have a champion that has been in our community that we can trust with a track record of fighting for working people, our health care, environmental justice, living wages, the right to unionize."
Turner's positions align similarly to "the Squad's" more progressive push in the House. She is the former national co-chair for Senator Bernie Sander's 2020 presidential campaign and has captured that side of the Democratic party.
Cuyahoga County Councilwoman Shontel Brown is Turner's main opponent in the 13-candidate primary. Brown stands on a more moderate platform and has openly blasted Turner for not fully supporting Biden during the 2020 presidential election. Hilary Clinton and U.S. House Majority Whip Jim Clyburn of South Carolina have both endorsed Brown.
A July 19 poll obtained by the Jewish Insider put Turner ahead with 41 percent of the vote, while Brown trailed slightly behind her at 36 percent.
Early voting is already underway for the district's special election primary. Voting for the primary will conclude when polls close on August 3, and the general election will be held on November 2.