AOC, Beto O'Rourke Raise $5 Million for Texas, Dems Staff Houston Food Bank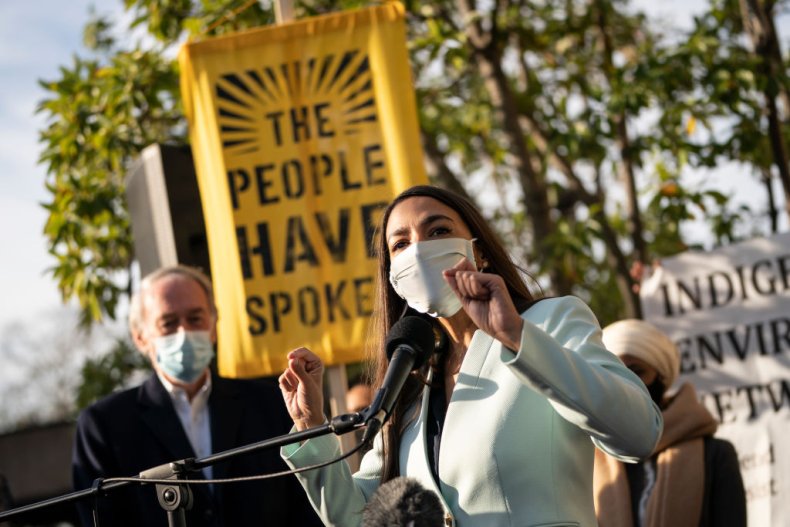 New York Congresswoman Alexandria Ocasio-Cortez joined several Democratic lawmakers at a Houston food bank Saturday as she and former Texas Representative Beto O'Rourke amassed about $5 million in total so far to help Texans struggling amid winter storms.
Millions of Texas residents remain without water or heating, prompting the current and former Democratic congressional members to spearhead fundraising campaigns through ActBlue.
As of Sunday morning, Ocasio-Cortez has raised $4 million for relief teams across the state of Texas and joined Democratic Representatives Sylvia Garcia, Sheila Jackson and Al Green at a Houston food bank Saturday. Donations from the ActBlue fundraising campaign are set to be split between the Houston Food Bank, Feeding Texas, Family Eldercare, the Bridge Homeless Recovery Center and Ending Community Homeless Coalition (ECHO), Ocasio-Cortez said.
Meanwhile, O'Rourke, who shared the ActBlue donation campaign across social media, commended volunteers for making "over 300,000" phone calls on behalf of senior citizens "who need heat, water, food and shelter (and some basic kindness)."
"BIG THANKS to the volunteers who made over 784,000 phone calls to senior citizens in Texas today," O'Rourke tweeted Saturday.
On early Sunday morning, he announced in another tweet the latest total raised on his part: "Thank you for helping us raise $1 million so far to assist Texans with food, shelter and water!"
The outpouring of charitable efforts by O'Rourke and Ocasio-Cortez formed a stark comparison to Texas Senator Ted Cruz, who has faced a torrent of criticism since photos emerged of him on a flight to Cancun, Mexico, as the state fell into a paralyzing deep freeze. Speaking with the Inside the Hive podcast, O'Rourke discussed Cruz's political mentality: "[He] tried to overturn a lawfully, legitimately, democratically decided election, conspired with seditionists, [and] was very responsible for those who were killed in the insurrection, in the coup attempt on the sixth of January. That guy wants nothing to do with government, or at least our form of it."
Many Cruz critics have noted that the GOP senator voted against New York receiving federal funding in the wake of the 2021 Hurricane Sandy devastation, but his state is now pleading for federal help.
"Ted Cruz voted against Sandy relief for New York. New York's congresswoman, @AOC, just raised over $3 million for organizations in Texas. The two parties are not the same," remarked political pundit Brian Taylor Cohen on Saturday.
On Saturday, the White House announced that President Joe Biden declared a major disaster exists in Texas, allowing federal assistance to help state and local recovering efforts.
Both O'Rourke and Ocasio-Cortez are continuing to share ActBlue fundraising links Sunday, which allow donors to give to a wide range of Texas-based charities and homeless organizations.
Newsweek reached out to representatives for O'Rourke and Ocasio-Cortez Sunday morning.