AOC Blasts Dem. McCaskill's Explanation for Party Losing Voters: 'Why Do We Listen to People Who Lost Elections?'
U.S. House Rep. Alexandria Ocasio-Cortez blasted fellow Democrat and former U.S. Senator Claire McCaskill on Thursday after McCaskill tried to explain why the party had lost some of its voters in the 2020 election, questioning why the party would listen to someone who had lost their election.
McCaskill served as a U.S. senator from Missouri from 2007 to 2019. She ran for a third term in 2018, but lost by a narrow margin to Republican candidate Josh Hawley, who had previously served as the state's attorney general.
"Why do we listen to people who lost elections as if they are experts in winning elections?" Ocasio-Cortez wrote, quote-tweeting a video of McCaskill's appearance on MSNBC Wednesday night.
Host Brian Williams had asked McCaskill, 67, to pinpoint why the Democratic Party had alienated some voters. The former senator posited that the divide "began around cultural issues."
"Whether you are talking guns or issues surrounding the right to abortion in this country or things like gay marriage and the right for transsexuals and other people who we as a party have tried to 'look after' and make sure that they're treated fairly," she said. "As we circled those issues we left some voters behind and Republicans dove in with a vengeance and grabbed those voters."
While Democratic presidential candidate Joe Biden currently holds the lead over President Donald Trump in both popular and electoral votes, it hasn't been the "blue wave" many liberal politicians were hoping for. And although some statewide races haven't yet been decided, it's looking unlikely Democrats will gain a majority in the Senate, which would trigger ripple effects in the coming years even under a potential Biden administration.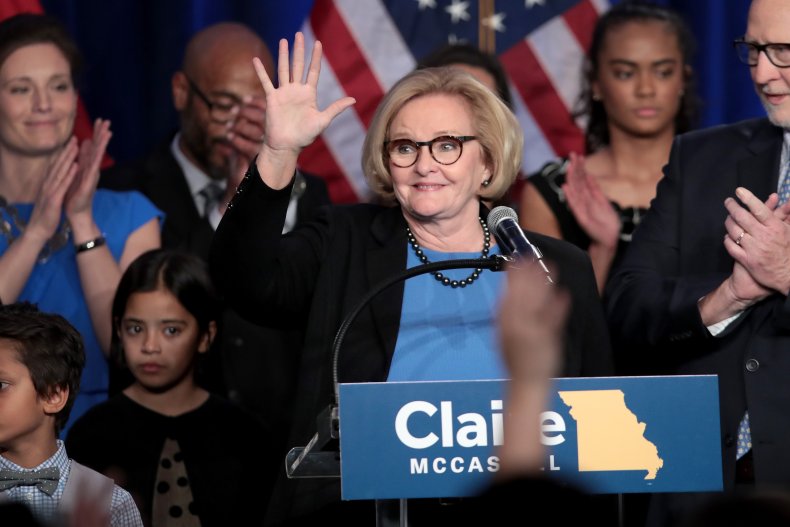 McCaskill also took heat for using the word "transsexuals" instead of "transgender," as the former is seen as a more specific and outdated term, according to the Gay & Lesbian Alliance Against Defamation.
"I'm so sorry I used hurtful term last night. I was tired, but never a good excuse. People have misinterpreted what I was trying to say," McCaskill tweeted Thursday. "Our party should never leave behind our fight 4 equality for trans people or anyone else who has been marginalized by hate. My record reflects that."
During Wednesday's interview, McCaskill stressed that fellow Democrats needed to "get back to the meat-and-potatoes issues" and to the "issues where we are taking care of [voters'] families." But Ocasio-Cortez hit back at this notion, claiming that the former senator had already tried her approach and it failed.
"She ran as a caravan-hysteria Dem & lost while grassroots organizers won progressive measures in MO," Ocasio-Cortez tweeted. "Her language here shows how she took her base for granted."
The congresswoman was referring to a 2018 interview with Fox News where McCaskill, in the midst of her re-election campaign, denounced "crazy Democrats" and said she would back Trump on any plans to stop a caravan of migrant immigrants at the U.S.-Mexico border, according to the The Kansas City Star.
When asked by Fox News about the caravan making its way through Mexico, McCaskill responded: "Stop it at the border. I think the president has to use every tool he has at his disposal and I'll 100 percent back him up on that."
McCaskill currently serves as an MSNBC contributor. Ocasio-Cortez, who represents New York's 14th congressional district, just defeated Republican John Cummings 68.8 to 30.6 percent to win re-election.