AOC Blasts Dems Who 'Mischaracterized' Ilhan Omar's Remarks and Helped Fuel 'Right-Wing Vitriol'
Representative Alexandria Ocasio-Cortez defended fellow congresswoman Ilhan Omar on Sunday, after a number of House Democrats called out Omar over remarks that seemed to compare the U.S. to Hamas and the Taliban.
"We must have the same level of accountability and justice for all victims of crimes against humanity. We have seen unthinkable atrocities committed by the U.S., Hamas, Israel, Afghanistan, and the Taliban. I asked@SecBlinken where people are supposed to go for justice," Omar, who represents Minnesota, wrote in a June 7 tweet.
After several House Democrats sent a letter to Omar and asked her to clarify her words, she responded on June 10 via Twitter: "It's shameful for colleagues who call me when they need my support to now put out a statement asking for 'clarification' and not just call. The Islamophobic tropes in this statement are offensive. The constant harassment & silencing from the signers of this letter is unbearable."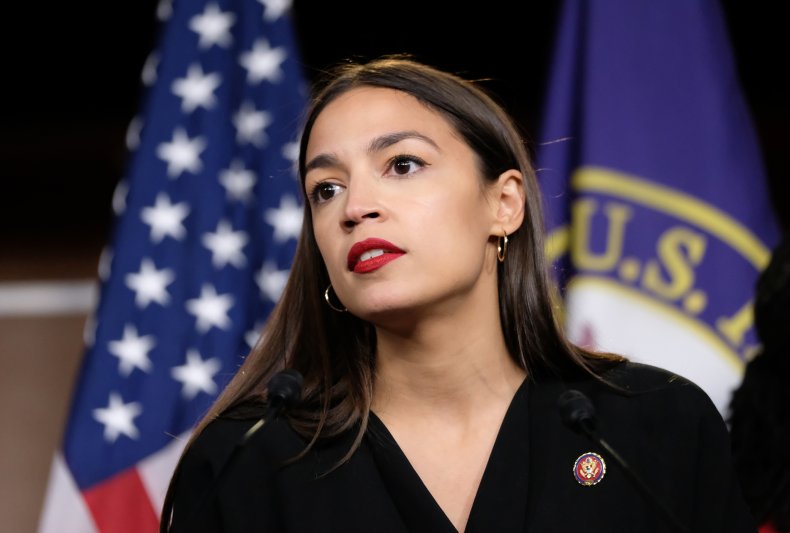 Ocasio-Cortez, a Democrat from New York, took to Twitter to defend Omar on the subject. She retweeted a number of tweets from lawmakers supporting the Minnesota congresswoman, including representatives Ayanna Pressley, Cori Bush and Jamaal Bowman.
"Pretty sick & tired of the constant vilification, intentional mischaracterization, and public targeting of @IlhanMN coming from our caucus," Ocasio-Cortez tweeted on June 10. "They have no concept for the danger they put her in by skipping private conversations & leaping to fueling targeted news cycles around her."
During a CNN interview Sunday morning, host Dana Bash spoke with Ocasio-Cortez about her tweet and asked the congresswoman to explain what she meant by Omar being "mischaracterized."
"I believe that her comments were absolutely mischaracterized," Ocasio-Cortez said. "She was very clearly speaking about the ICC investigations which name these four actors in two suits. To equate these two entities when she was speaking about the ICE investigations... was not a generous interpretation whatsoever."
Ocasio-Cortez said targeting Omar and mischaracterizing her words contributes to the "right-wing vitriol." She said that the misunderstanding began with intense right-wing outlets taking her words out of context.
"As someone who has experienced that, you know, it's very difficult to communicate the scale and how dangerous that is," Ocasio-Cortez said.
The Progressive Caucus said in a statement that the "right-wing media echo chamber" has purposefully and repeatedly put minority Congress members in the line of fire for threats. The statement urged House colleagues to not participate in the perpetuation of taking Omar any other representatives out of context.
House Speaker Nancy Pelosi concisely told CNN that the House leadership and Omar settled it, and that they were done with the incident.
"She clarified, we thanked her, end of subject," Pelosi said.