AOC Blasts 'Sexual Frustrations' of Republicans Over Maskless 'Frolicking' in Florida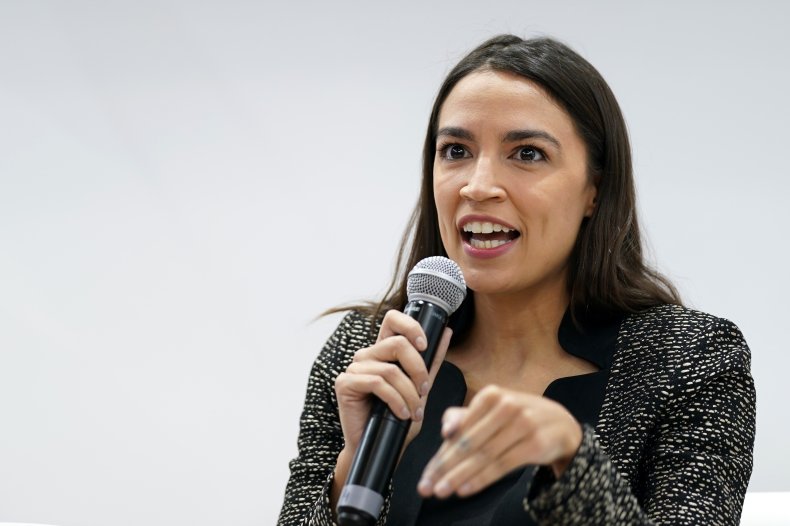 Representative Alexandria Ocasio-Cortez (D-N.Y.) has blasted the "sexual frustrations" of Republicans after being called out for maskless "frolicking" in Florida.
A photo of Ocasio-Cortez and boyfriend Riley Roberts recently dining outside in Miami without wearing masks prompted an onslaught of Twitter reactions from conservatives on Friday. Some accused the progressive congresswoman of hypocrisy for traveling and not wearing a mask at all times amid the ongoing surge of the Omicron variant.
Ocasio-Cortez responded to a tweet from former Trump campaign adviser Steve Cortes who argued she and other "leftists" would not "be frolicking in free" Florida if they truly "thought mandates and masking worked." And in a non-sequitur, Cortes also took aim at Roberts' choice of footwear, mocking him for "showing his gross pale male feet in public" by wearing "hideous sandals."
"If Republicans are mad they can't date me they can just say that instead of projecting their sexual frustrations onto my boyfriend's feet," Ocasio-Cortez tweeted in response. "Ya creepy weirdos."
"It's starting to get old ignoring the very obvious, strange, and deranged sexual frustrations that underpin the Republican fixation on me, women, & LGBT+ people in general," she added. "These people clearly need therapy, won't do it, and use politics as their outlet instead. It's really weird."
The tweetstorm continued after Ian Haworth, an editor at the conservative news outlet The Daily Wire, responded to the congresswoman's tweet by posting: "I definitely do not want to date you."
"I'm glad you felt the need to share that with the world," Ocasio-Cortez tweeted to Haworth. "Don't worry, this is a totally normal thought to have and share as an editor of a right-wing website, and totally doesn't prove my point at all. I hear if you say it enough times you'll actually start to believe it."
Ocasio-Cortez went on to lament that people like Haworth were "so creepy/weird yet are also the ones responsible for shaping the NEWS HEADLINES," adding that she did not "even want to know what knuckle-dragging thoughts these people have all day while covering women in politics."
Haworth and Cortes were just two of many conservatives to call out Ocasio-Cortez for the maskless dining picture on Twitter. Representative Marjorie Taylor Greene (R-Ga.) touted "the freedom Republicans give you in Florida" while asking Ocasio-Cortez if the martini she was pictured drinking in the photo tasted "a bit hypocritical."
The Centers for Disease Control and Prevention (CDC) does not recommend that people need to wear masks while outdoors, let alone attempt the impossible by eating or drinking while wearing a mask outside. There also does not appear to be any record of Ocasio-Cortez, who is fully vaccinated against COVID-19, recommending that others attempt to wear masks while dining outdoors.
Earlier in the day, the staff of Republican Florida Governor Ron DeSantis took aim at the congresswoman over the photo, which was published by the conservative outlet The National Review on Thursday night with the headline: "AOC Spotted in Miami Beach as NYC Reports Record Covid Cases."
"Welcome to Florida, AOC!" the Team DeSantis account tweeted while sharing the National Review article. "We hope you're enjoying a taste of freedom here in the Sunshine State thanks to @RonDeSantisFL's leadership."
Ocasio-Cortez responded to the DeSantis staff tweet by referring to recent criticism of the governor for apparently disappearing from public view amid Florida's own surge of COVID-19, asking "Hasn't Gov. DeSantis been inexplicably missing for like 2 weeks?" while offering "If he's around, I would be happy to say hello."
Newsweek reached out to the Republican National Committee and the office of Ocasio-Cortez for comment.