AOC Calls $10 an Hour 'Legislated Poverty' in Minimum Wage Spat With GOP
Progressive Democrats continue to spar with GOP lawmakers over the extent to which Congress should increase the federal minimum wage.
Representative Alexandria Ocasio-Cortez (D-NY) described a Republican-led proposal for a $10 hourly minimum wage as "legislated poverty" in a response Tuesday to the introduction of the Higher Wages for American Workers Act by GOP Senators Mitt Romney or Utah and Tom Cotton of Arkansas. The GOP option would increase the minimum wage while also ensuring businesses cannot hire undocumented people living in the U.S.
"When members of Congress fight to set the minimum wage below a living wage, they are playing a role in creating and preserving poverty in the United States," Ocasio-Cortez wrote in a tweet Tuesday. "The $15/hr proposal with multi-year phase in is already a deep compromise."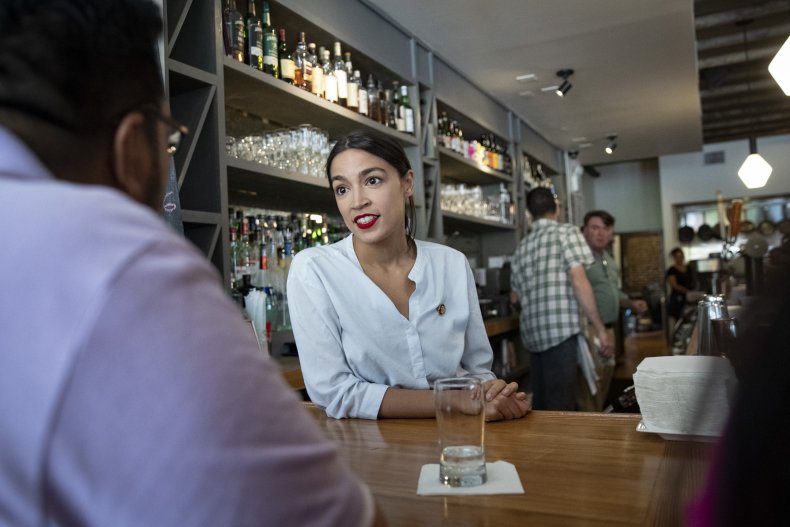 The federal minimum wage remains a sticking point in Congress as lawmakers wrangle over President Joe Biden's $1.9 trillion stimulus package. Biden has pledged the package would include a $15 federal minimum wage. Progressives secured the $15 wage hike in the House package earlier this month.
A few days ago, progressives were confident the Senate would push through the package with the $15 wage rate included via budget reconciliation.
"I'm very proud of the strong arguments our legal team is making to the parliamentarian that raising the minimum wage to $15 an hour is not 'incidental' to the federal budget and is permissible under the rules of reconciliation," Senator Bernie Sanders of Vermont told CNN Saturday.
Cotton and Romney's plan adds a wrench in progressives' plan, though. It calls for a $10 hourly minimum wage and requires that all employers use E-Verify to ensure that "legally authorized workers" would benefit from increased pay "without harming the very workers it's intended to protect." E-Verify is an optional program developed in 1996 for employers to submit employee information to the Department of Homeland Security (DHS).
Cotton and Romney's bill is informed by research suggesting that a $15 minimum wage would inadvertently lead to 1.4 million job losses. Many economists disagree with that assessment, which was put forward in a recent report by the Congressional Budget Office (CBO). The GOP lawmakers claim to be avoiding such job losses by lowering the wage raise.
The plan increases the degree of civil and criminal penalties on employers that choose to hire undocumented workers. Employees 18 or older would also be required to provide a photo ID to their employer for verification, which could be cross-checked with the E-Verify system.
The bill would also authorize the DHS to develop its own program to "block or suspend" Social Security numbers that are "misused" for E-Verify—for example, if numbers of people who had died are used, or if a single number is used multiple times.
"American workers today compete against millions of illegal immigrants for too few jobs with wages that are too low—that's unfair," Cotton said in a press release. "Ending the black market for illegal labor will open up jobs for Americans. Raising the minimum wage will allow Americans filling those jobs to better support their families. Our bill does both."
Progressives and the GOP have previously agreed that raising the federal minimum wage would improve the lives of millions of low-income Americans. According to the same CBO report, an incremental $15 minimum wage would lift nearly a million Americans out of poverty. However, if that wage increase only affects documented citizens, Ocasio-Cortez argues, it would legally keep undocumented people working below the minimum wage.
Estimates from the Brookings Institution suggest there are about 11 million undocumented immigrants living in the U.S.
Newsweek reached out to the offices of Ocasio-Cortez, Romney and Cotton for comments but did not receive replies in time for publication.