AOC Calls Out Joe Biden For Selling The 'Invasion Of Iraq' And Being 'Open To A Republican Running Mate'
Representative Alexandria Ocasio-Cortez took aim at Joe Biden in a Wednesday tweet, criticizing the former vice president for his support of the Iraq War, his record of trying to freeze funding to Social Security and saying he'd be "open to a Republican running mate."
Biden has come under significant criticism, particularly from fellow presidential hopeful Senator Bernie Sanders and his supporters, for his vote on the resolution that allowed President George W. Bush's Iraq invasion and Biden's repeated efforts to curb Social Security funding while in Congress. Ocasio-Cortez, a New York Democrat, has repeatedly criticized Biden, even suggesting earlier this month that they shouldn't be in the same political party.
"I don't understand why some folks run as if the internet doesn't exist. Joe Biden helped sell the invasion of Iraq and spent years working to cut social security, Medicare, and Medicaid. He's open to a Republican running mate," the progressive congresswoman, who has endorsed Sanders' campaign, tweeted Wednesday,
"Spin it however you want, but those are the facts," Ocasio-Cortez wrote, sharing a post by the Vermont senator criticizing Biden on Social Security.
In Sanders' original tweet, the Vermont senator wrote: "Let's be honest, Joe. One of us fought for decades to cut Social Security, and one of us didn't. But don't take it from me. Take it from you."
With the post, he shared a video featuring audio of Biden calling for freezing spending on Social Security, Medicare and Medicaid.
The quote featured in the clip was from a 1995 speech Biden made in the Senate. "When I argued that we should freeze federal spending, I meant Social Security as well," he said at the time. "I meant Medicare and Medicaid. I meant veterans' benefits. I meant every single solitary thing in the government. And I not only tried it once, I tried it twice, I tried it a third time, and I tried it a fourth time."
Biden has insisted that his remarks about Social Security have been taken out of context, denying that he ever wanted to cut funding to the programs. He has also promised that he will not support such cuts if elected.
As Ocasio-Cortez noted, Biden also voted in favor of the congressional resolution that led to the Iraq War. "I do not believe this is a rush to war. I believe it is a march to peace and security," he said at the time. However, when it became clear that Bush would invade the country and not try to resolve tensions with diplomacy, Biden urged the administration to pursue the latter approach.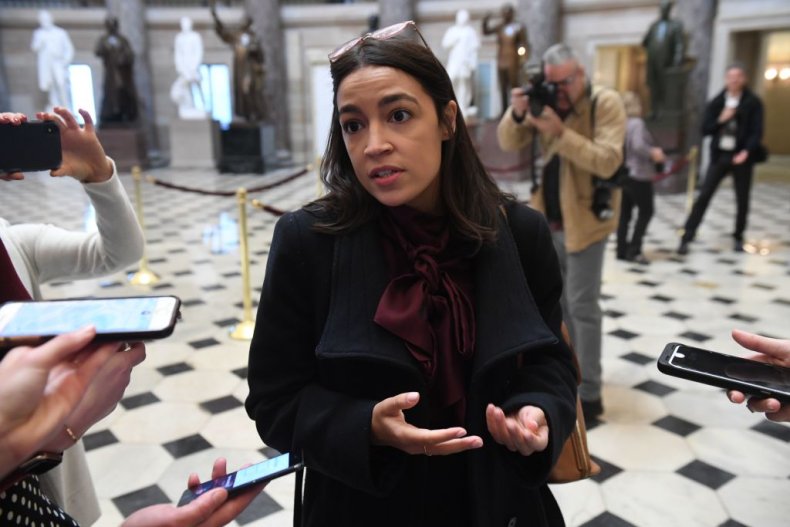 At the end of last month, Biden said during a town hall in New Hampshire that, if nominated, he would be open to choosing a Republican as his vice president.
"The answer is I would [consider a Republican], but I can't think of one now," he said. "There is some really decent Republicans that are out there still, but here's the problem right now: Of the well-known ones, they've got to step up."
In an interview with New York magazine in early January, Ocasio-Cortez pointed to her strong political differences with the former vice president. "In any other country, Joe Biden and I would not be in the same party, but in America we are," she said.