Representative Alexandria Ocasio-Cortez called out Representative Tulsi Gabbard over Twitter on Tuesday for Gabbard's role in magnifying Project Veritas' alleged voter fraud story.
Last week, the conservative media organization released a video accusing campaign workers for Rep. Ilhan Omar and Minneapolis City Councilman Jamal Osman of harvesting primary ballots for money and intimidating elderly voters in Minnesota.
The video featured footage of Liban Osman, Osman's brother, driving around with what appears to be dozens of mail-in ballots while talking about money in politics. On Monday, Liban told FOX affiliate KMSP that he was "set up" and that had previously been offered a bribe of $10,000 from Omar Jamal, a community activist and alleged "insider" for Project Veritas.
To get the money, Jamal told Liban to say he was collecting ballots for Omar, he told KMSP. Liban added that though the footage implicated him, it was edited to do so as he had been collecting mail-in ballots from elderly voters that requested the service through his brother's campaign.
Project Veritas denied to the tv station that they offered Liban money to lie and that they did not manipulate the videos of Liban.
"@TulsiGabbard - You, along with everyone else who amplified this fraudulent story, owe Rep. Omar a public apology," Ocasio-Cortez tweeted Tuesday afternoon after the interview was made public.
Shortly after the Project Veritas video was released, Gabbard used the story to make a point about ballot harvesting, writing on Twitter that "Project Veritas offers further evidence of the need to ban ballot harvesting. It's not a partisan issue."
Although Gabbard was not the only politician to highlight the video, she was the only Democrat. A number of GOP politicians, including President Donald Trump and Republican Party of Minnesota chairwoman Jennifer Carnahan, called on officials to investigate Omar.
"This is totally illegal," Trump tweeted. "Hope that the U.S. Attorney in Minnesota has this, and other of her many misdeeds, under serious review??? If not, why not??? We will win Minnesota because of her, and law enforcement. Saved Minneapolis & Iron O Range!"
However, the Hennepin County Attorney said it "has received no information of cases involving so-called ballot harvesting in any elections."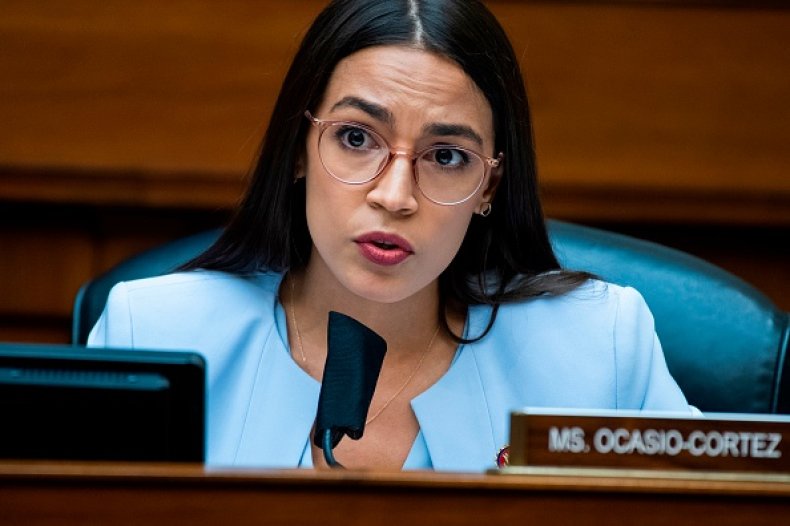 Omar's team also disputed the allegations.
"The amount of truth to this story is equal to the amount Donald Trump paid in taxes in ten out of the last fifteen years: zero," spokesman Jeremy Slevin said. "And amplifying a coordinated right-wing campaign to delegitimize a free and fair election this fall undermines our democracy."
On Tuesday, Omar personally thanked Ocasio-Cortez for calling out Gabbard and other accusers over Twitter, writing "Thank you Alex, lack of integrity from these folks is astonishing."
Gabbard has yet to reply to either Ocasio-Cortez or Omar at this time.
Newsweek reached out to Gabbard for comment but did not hear back before publication.
Project Veritas, on the other hand, has responded to AOC's tweet. The group's founder James O'Keefe tweeted "Not a chance @AOC, Project Veritas STANDS by our reporting."
In a video released Tuesday, O'Keefe claims that KMSP edited out the organization's statement from their report. He said he has issued a retraction request to the television station and that Project Veritas will "look forward to winning the ensuing lawsuits."
"We don't flinch, and we aren't intimidated," O'Keefe tweeted. "We're over the damn target and the only coordination is in THE COVERUP!"
Update 10/06/20 4:53 p.m. This story was updated with comments from Project Veritas.