AOC Calls For Themed Debates to 'Educate the Public' on Issues, Determine 'Who Knows What They're Talking About'
Democratic Representative Alexandria Ocasio-Cortez said during the Wednesday debate in Las Vegas that debates should be themed by issues, both to educate the public and determine how well candidates know each issue.
Ocasio-Cortez' comment was in reply to a tweet by journalist Tanvi Misra calling for a debate solely about immigration with immigration reporters as moderators. The representative replied in agreement.
"Honestly, there should be themed debates. Doing so educates the public far more on issues & actually serves the purpose of distinguishing who knows what they're talking about +who doesn't. Climate debate. Foreign policy debate. Healthcare. Racial justice. Labor&Econ. Can't hide," Ocasio-Cortez wrote. "We can work out the logistics, but we could absolutely use far more opportunities for candidates to shine based on substance."
Minutes after Ocasio-Cortez' reply, protesters from the Refugee and Immigrant Center for Education and Legal Services (RAICES) interrupted former Vice President Joe Biden's closing remarks, chanting "Don't look away" and "No kids in cages."
In a tweet, RAICES Action said, "We need a Democratic candidate to adopt the #MigrantJusticePlatform and commit themselves to improve the lives of migrants and refugees!"
"This entire #DemDebate only had one question on the issue of immigration. it is @realDonaldTrump's number one issue," the organization added. "The Democrats cannot win without supporting the immigrant community."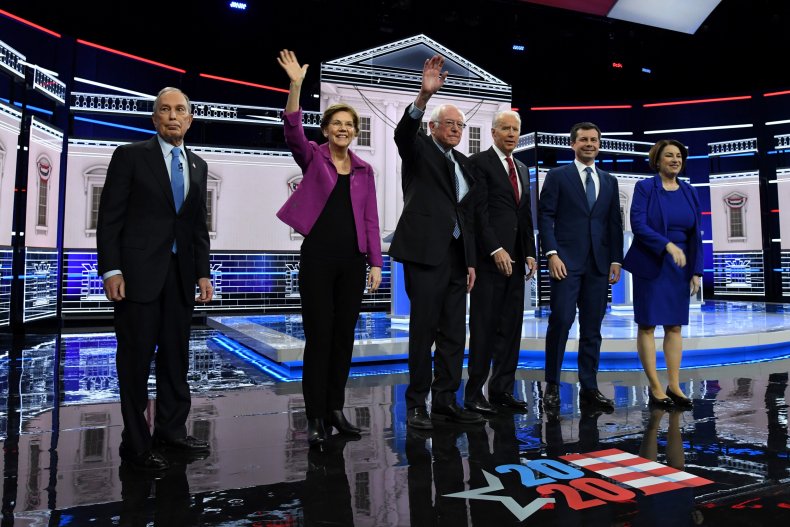 Ocasio-Cortez is not the first person to call for themed debates. In 2015, Black Lives Matter activists called for the Democratic National Committee to hold a debate about race and policing, however, the committee refused. The Sunrise Movement, an environmental activist group, have also called for a debate about climate in August 2019; the DNC refused that request as well.
However, some television networks have held non-official forums about single-issues. Last year, CNN held its LGBTQ Town Hall, where many Democratic candidates had brief one-on-one interviews about issues affecting the LGBTQ community. CNN and MSNBC have also both hosted climate-themed town halls.
In 2016, the first and third presidential debates between now-President Donald Trump and former Secretary of State Hillary Clinton, did not feature one subject, but were broken up into into six, 15-minute segments based on topic. During these debates, the moderator asked a question, giving each candidate two minutes to answer. The rest of the segment's time was spent on discussion between the candidates, with each candidate getting roughly equal time. The second 2016 presidential debate was in the familiar Town Hall format where moderators and audience members could ask questions of the candidates.