Representative Alexandria Ocasio-Cortez claimed during a Tuesday interview that the United States' climate policy is one of the major reasons for migrants leaving Latin American countries for the U.S.
The New York congresswoman made the comments during an appearance on the MSNBC program All In With Chris Hayes. Following a clip of Vice President Kamala Harris in Guatemala telling people not to make the "dangerous trek to the United States–Mexico border," Hayes asked Ocasio-Cortez about recent criticism she made of Harris' message.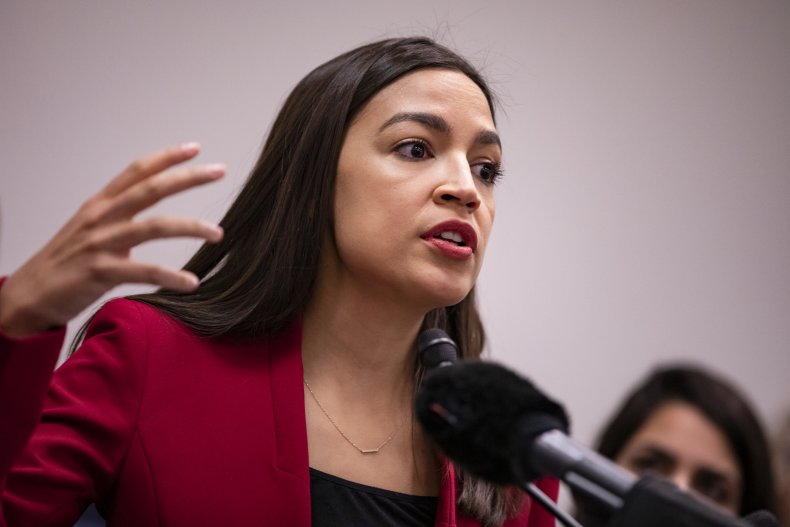 The Democratic lawmaker answered that the U.S. was partly to blame for conditions being bad in Latin American countries like Guatemala. She said one reason for that is climate policy in the U.S. "is impacting the global south disproportionately, even though these farmers and these folks in Central and South America contributed to climate change the least in terms of their carbon emissions, they are experiencing the ravages the most right now and first."
She added, "U.S. climate policy has contributed to this, U.S. foreign policy, U.S. economic, and trade policy has helped contribute to conditions that people are fleeing."
The criticism Hayes asked Ocasio-Cortez about was in reference to tweets she posted as a reaction to the speech made by Harris.
In one tweet, the representative posted a link to Harris saying "Do not come" to the people thinking about crossing over the border. Ocasio-Cortez wrote the following above the link: "This is disappointing to see. First, seeking asylum at any US border is a 100% legal method of arrival. Second, the US spent decades contributing to regime change and destabilization in Latin America. We can't help set someone's house on fire and then blame them for fleeing."
Ocasio-Cortez soon posted a follow-up message on her Twitter account. It read: "It would be helpful if the US would finally acknowledge its contributions to destabilization and regime change in the region. Doing so can help us change US foreign policy, trade policy, climate policy, & carceral border policy to address causes of mass displacement & migration."
The U.S. Customs and Border Protection (CBP) reported it encountered 178,622 persons attempting entry along the Southwest border of the U.S. in April 2021. (The agency has not released data for May yet.) In March, 173,348 persons attempted entry along the border, according to CBP, a total which represented a 71 percent increase over February's numbers.
President Joe Biden appointed Harris to lead his administration's response on immigration issues in March. Though the vice president has not visited the border Texas shares with Mexico, Harris is currently on a trip to Guatemala and Mexico to discuss cooperation in strengthening immigration measures with those countries' presidents.
Ocasio-Cortez told Hayes during Tuesday's interview that people wanting to flee their countries know the journey into the United States is dangerous. She said, "People leave because they believe that they have a greater chance of being targeted, killed, murdered if they stay than the odds of them being killed if they go on that journey. And so, they know that this journey is dangerous."
"They're fleeing because we have contributed to situations that have made them flee," she added. "And so, our response should not just be our border policy, it's how are we going to change our foreign policy so that we're no longer supporting, frankly, neoliberal economic foreign policy that creates and makes developing countries forever in debt. And how do we make sure that we actually change our foreign climate and economic policies so that we prevent these mass migrations to begin with."
Newsweek contacted Ocasio-Cortez but did not hear back in time for publication.