AOC Condemns U.S. System That Allows Trump, Amazon to Pay Almost No Taxes But Doesn't Fund Health Care For All
Congresswoman Alexandria Ocasio-Cortez on Tuesday criticized the U.S. system that enables large companies like Amazon and high-profile business leaders like President Donald Trump to pay little or no federal income tax.
The representative for New York's 14th District said she couldn't understand the people who both defend the country's tax system and question how changes to the health care system and other progressive initiatives could be funded.
"The nerve of people who ask 'how are you going to pay for it?' whenever we propose building advanced public education, healthcare, & climate infrastructure yet defend a system where Trump pays $750 in taxes and Amazon pays none is beyond me," Ocasio-Cortez said on Twitter.
Ocasio-Cortez's comments came in the wake of a report on Trump's tax returns published by The New York Times Sunday. Trump's tax returns have long been in question due to his refusal to release them before the 2016 presidential election and in the four years after. Though Trump said in 2014 that he would be open to sharing his tax information with the American public, he has repeatedly said in the years since that he was under audit by the Internal Revenue Service (IRS), an assertion the paper said was due to a tax refund he claimed worth more than $72 million.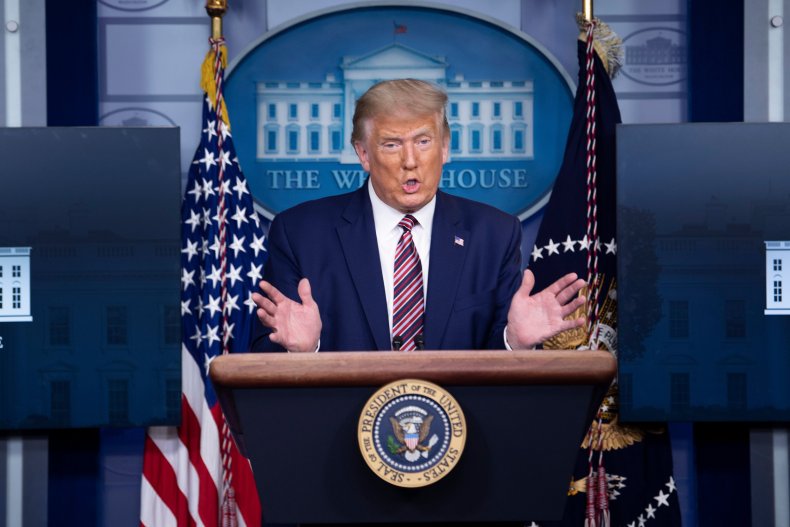 In the report, the paper's investigators said that Trump paid $750 in 2016 and again in 2017 but had 10 years' worth of tax returns since the turn of the century where he did not pay any income tax due to his business losses. House Speaker Nancy Pelosi has said that the report, which a lawyer for the Trump Organization told The New York Times was inaccurate, revealed a "question of national security" in the midst of a contentious election season.
Meanwhile, Ocasio-Cortez's mention of Amazon in her Tuesday tweet was in reference to reports in years past that the company has not paid federal income tax for years during which it was operating at a profit. According to a 2018 report by the Institute on Taxation and Economic Policy, Amazon did not pay federal income tax for the 2017 year despite reporting $5.6 billion in profit in the U.S. After almost doubling its profits over the next year, Amazon again did not have to pay federal income tax due to tax credits and tax breaks allowed by the U.S. tax code, according to the institute's analysis.
Ocasio-Cortez criticized Amazon last year for not paying federal income tax, as well. In a tweet posted in February 2019, Ocasio-Cortez listed schools, firefighters, infrastructure, research and health care—all of which taxes support—and wrote, "Why should corporations that contribute nothing to the pot be in a position to take billions from the public?"
In a statement shared with Newsweek, an Amazon spokesperson said the company follows federal and state tax laws and that the taxes it pays are a reflection of those rules.
"Amazon follows all applicable federal and state tax laws," the Amazon spokesperson said. "In the U.S. in 2019 we reported more than $1 billion in federal income taxes, and paid $2.4 billion in federal payroll taxes, and more than $1.6 billion in state and local taxes.
"Like most governments that try to encourage economic investment by companies, the U.S. Congress has written a tax code that incentivizes the type of job creation, capital investment, development of technology, and employee ownership that Amazon does because these are critical drivers of a prosperous economy. Our U.S. taxes are a reflection of our continued investments, compensation of our employees, and the current tax rules."
Ocasio-Cortez has been an advocate for a wide range of progressive legislation since she entered office in early 2019. She supports the Student Debt Cancellation Act of 2019, introduced the Green New Deal early in her first term and is also a vocal supporter of Medicare for All, which proposes cutting health care costs in the U.S. by creating a single-payer system.
Newsweek reached out to Trump's campaign for comment but did not receive a response in time for publication.
Updated 9/30 at 4:26 p.m. ET: This article has been updated to include a response from an Amazon spokesperson.