Rep. Alexandria Ocasio-Cortez did some personal fact checking on how she would like to be addressed by Vice President Mike Pence during his debate with Democratic vice presidential nominee Sen. Kamala Harris on Wednesday.
"For the record," Ocasio-Cortez tweeted to Pence. "It's Congresswoman Ocasio-Cortez to you."
Pence had referred to Ocasio-Cortez by her popularly-used initials "AOC" during the debate, disparaging Harris for co-sponsoring the Green New Deal environmental policy legislation "with AOC when she submitted it in the Senate."
Pence also suggested that Biden covertly supports the Green New Deal, although the former vice president has explicitly said he does not. Pence insisted that Biden's own environmental policy is not "very different."
"Joe Biden and Kamala Harris, want to raise taxes," Pence said. "They want to bury our economy under a $2 trillion Green New Deal, which you [Harris] were one of the original co-sponsors of in the United States Senate."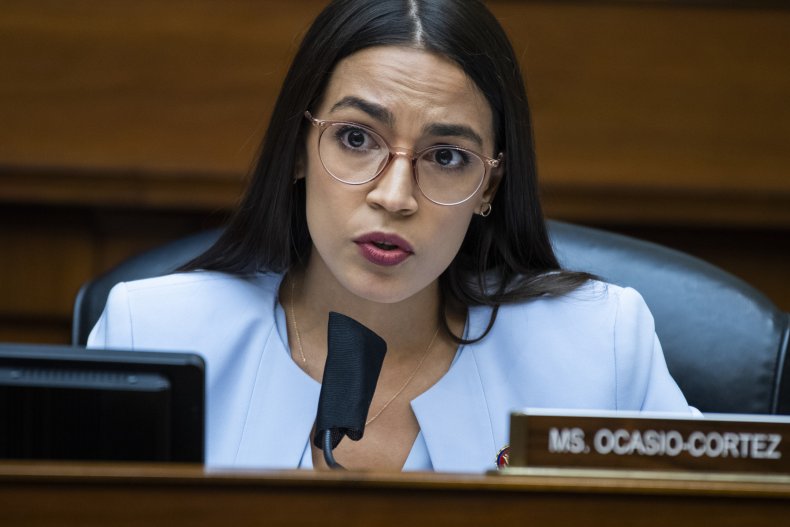 In addition to personal critiques of Pence, Ocasio-Cortez pushed back on many of the vice president's policy remarks during the debate.
"The Green New Deal is and has been lied about nonstop, and yet is STILL popular," tweeted Ocasio-Cortez. "It's a massive job-creation and infrastructure plan to decarbonize & increase quality of work and life. It's okay to call the GOP out on those lies just as we call them out on all their other lies."
Ocasio-Cortez also countered that "fracking is bad, actually" after Pence falsely claimed that Biden opposes the controversial technique for harvesting natural gas and oil. She later slammed Pence for allegedly ignoring the questions of moderator Susan Page while insisting that Harris answer his own questions.
"Why is it that Mike Pence doesn't seem to have to answer any of the questions asked of him in this debate?" Ocasio-Cortez tweeted. "Pence demanding that Harris answer *his* own personal questions when he won't even answer the moderator's is gross, and exemplary of the gender dynamics so many women have to deal with at work."
Wednesday's debate was the only time Pence and Harris were scheduled to face off before the election, although two more debates are planned to take place between Biden and President Donald Trump.
The next Trump-Biden debate is set to be conducted in a town hall format and is scheduled for October 15 in Miami, Florida. The final presidential debate is planned for October 22 in Nashville, Tennessee. It is not clear if Trump's medical status after contracting COVID-19 will impact either remaining debate.
Newsweek reached to Pence's office for comment.