AOC Defies Pelosi in Refusing to Back Her Drug Pricing Bill, Says Progressives 'Need to Flex Our Muscles'
Representative Alexandria Ocasio-Cortez told reporters at the Capitol Monday that she won't back House Speaker Nancy Pelosi's embattled drug pricing bill, which is scheduled for a vote later this week.
The bill, H.R. 3, was introduced in September and would allow Medicare to negotiate prices with drug companies in an effort to control the soaring cost of prescription drugs in the United States. More than 100 Democrats have sponsored the bill, compared with zero Republicans.
But a liberal coalition of House Democrats doesn't think the legislation goes far enough to cut costs. That's because the bill in its current form would not require drug companies to reimburse employer-sponsored health plans when prices surpass the inflation rate, Politico reported earlier this month.
Ever since, Pelosi has been battling, and evidently losing, the progressive lawmakers' rebellion against her legislation. In a closed-door meeting earlier Tuesday, she called any attempts to kill the bill a "bad idea," in an apparent warning to the Congressional Progressive Caucus not to step out of line, Politico reported.
Ocasio-Cortez, a member of the caucus, didn't heed the warning, telling reporters that "we need to flex our muscles." She was likely referring to the progressive faction's vying for harsher penalties for drug companies, which those lawmakers say are needed to cut prices meaningfully.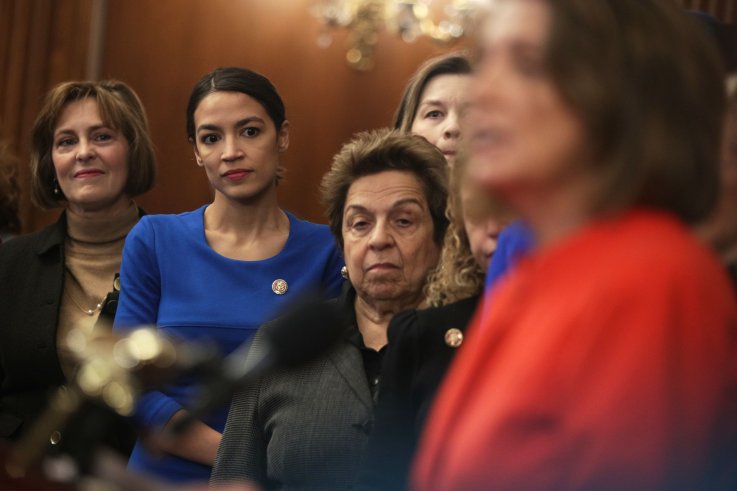 The blow is a critical one for the measure, which already faces opposition from House Republicans. They've drafted a separate bill, H.R. 19, that stands a chance of passing in the Senate, lawmakers have argued. It leaves out inflation-based caps on prices but includes a cap on out-of-pocket spending for Medicare patients and disincentives for drug companies that try to limit generic competition to their blockbuster medicines, according to Congress.gov.
Pelosi has tended to appear tense during conversations about Ocasio-Cortez, whom many consider to be a rising star in the increasingly left-leaning Democratic Party. Pelosi has dismissed her influence in the House and legislative agendas like the Green New Deal. In July, they met behind closed doors to try to patch things up, according to CNN.
"In a family, you have your differences, but you're still a family. Does your family always agree on everything?" Pelosi asked in a CNN interview at the time.
AOC Defies Pelosi in Refusing to Back Her Drug Pricing Bill, Says Progressives 'Need to Flex Our Muscles' | Health