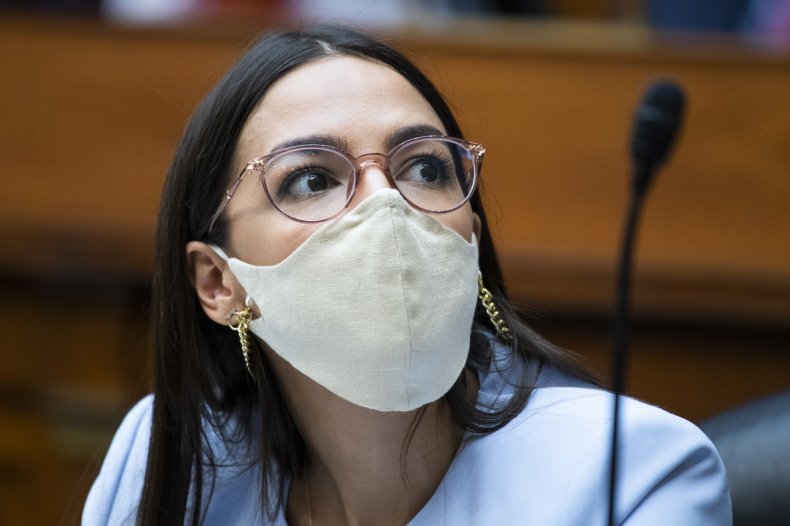 Rep. Alexandria Ocasio-Cortez denounced President Donald Trump for engaging classism after he baselessly questioned whether she went to college during a campaign stop in Pennsylvania.
Trump questioned the education credentials of Ocasio-Cortez while mocking her environmental policies at his rally in Lititz, Pennsylvania on Monday, derisively referring to her as a "great student of the environment" before remarking "I don't think she ever took an environmental course in college... she did go to college, right?"
"I could say yes, but who cares?" Ocasio-Cortez tweeted in response to the president's comments. "Plenty of people without college degrees could run this country better than Trump ever has. As much as GOP cry about 'elites,' they're the ones who constantly mock food service workers, people w/o degrees, etc as dumb. It's classist & disgusting."
"I've hired people w/o degrees who have done incredible, effective, & strategic work," she added later. "The more college costs soar, the more degrees become a measure privilege than competence. Our country would be better off if we made public colleges tuition-free & cancelled student loan debt."
Ocasio-Cortez graduated cum laude from Boston University in 2011 with a degree in economics and international relations. As a high school student, she competed with students from around the world to win a second-place award in microbiology during the 2007 International Science and Engineering Fair.
Trump previously claimed that Ocasio-Cortez was a "poor student" and "not even a smart person" during a Fox News interview in August. She responded by challenging the president to release his college transcript to be compared to hers.
"Let's make a deal, Mr. President: You release your college transcript, I'll release mine, and we'll see who was the better student," Ocasio-Cortez tweeted on August 13. "Loser has to fund the Post Office."
Trump has not released his transcript. He graduated in 1968 from The Wharton School of the University of Pennsylvania with a degree in economics. In a secretly recorded phone conversation, the president's sister Maryanne Trump Barry said that he "got into University of Pennsylvania because he had somebody take the exams."
In 2011, Trump disparaged the education of former President Barack Obama during an interview with the Associated Press, demanding that Obama release transcripts while saying he had "heard he was a terrible student." Obama graduated from Columbia University in 1983, before going on to graduate magna cum laude from Harvard Law School in 1991.
White voters without college degrees were a key demographic in helping Trump to secure the presidency in 2016. Recent polling suggests that the group continues to favor him in the current election.
Newsweek reached out to the Trump campaign for comment.