AOC Shares California Fire Photo to Blast GOP Mocking Scientific Warnings About Climate Change: 'It's Already Starting'
Democratic Representative Alexandria Ocasio-Cortez on Monday morning shared a photo of smoke from a fire near Vallejo, California, shrouding a bridge and called out Republican lawmakers doubting any link between wildfires and climate change.
The photo of Carquinez Bridge in the northeastern Bay Area, surrounded by gray clouds and orange flare, was taken by math teacher Chris Lumanglas, who was quote-tweeted by environmentalist and author Bill McKibben.
"Here's what the fire looks like in Vallejo California right now. The forces we've unleashed are beyond terrifying," tweeted McKibben, who founded 350, a nonprofit pushing to end the use of fossil fuels.
Ocasio-Cortez shared McKibben's post and tweeted, "This is what climate change looks like."
"The GOP like to mock scientific warnings about climate change as exaggeration. But just look around: it's already starting," Ocasio-Cortez wrote. "We have 10 years to cut carbon emissions in half. If we don't, scenes like this can get much worse."
She included the hashtag #GreenNewDeal, promoting her proposal to eliminate all carbon emissions in the United States and transition to renewable energy by 2030.
The fire in Solano County's Vallejo, called the Glen Cove Fire, started Sunday morning and has scorched about 150 acres. It crossed Interstate 80, forcing part of the highway and the Carquinez Bridge to close. The bridge reopened about three hours later, but the blaze also threatened the California Maritime Academy. No injuries or property loss were immediately reported.
Ocasio-Cortez has attacked Republicans who do not believe humans have caused climate change and, in turn, exacerbated disasters like wildfires. Some Republicans have criticized the Green New Deal as socialist, leading Ocasio-Cortez to push back.
The freshman congresswoman retweeted a Friday post by McKibben on Pacific Gas and Electric, which was considering a power blackout in the entire area it covers in California because of the danger of the fires.
"They're talking about essentially shutting down California's power grid this weekend because of fire risk," McKibben tweeted. "Life in the climate crisis feels scary in lots of ways, and this is one."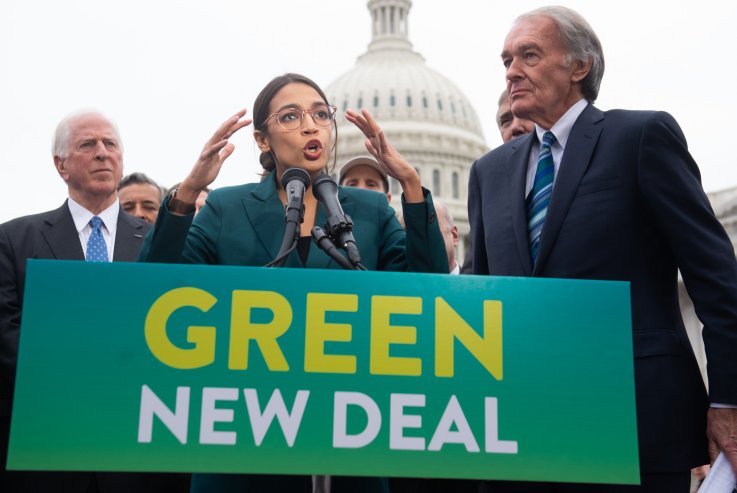 Dozens of fires are burning in California. Across Vallejo and the Carquinez Strait, in Crockett, the Sky Fire has burned about 200 acres and came close to the NuStar Energy plant, which stores fuel.
The largest fire in the state is the Kincade Fire in Sonoma County, which has burned through 66,000 acres, destroyed about 100 structures and was only 5 percent contained as of Monday morning. In Los Angeles, the Getty Fire burning near the Getty Museum has destroyed at least 400 acres and forced evacuations in several neighborhoods.
AOC Shares California Fire Photo to Blast GOP Mocking Scientific Warnings About Climate Change: 'It's Already Starting' | News