AOC Fires Back at Moderate Democrats Who Think She's 'a Selfish, Divisive Bombthrower'
Representative Alexandria Ocasio-Cortez fired back at her moderate colleagues for blaming the progressive wing of the Democratic Party for creating greater divisions between lawmakers.
"For the Dems who think I'm just being a selfish, divisive bombthrower from a deep blue seat, maybe you'll listen to Doug Jones in Alabama when he says the same thing," she tweeted on Tuesday.
Ocasio-Cortez replied to a tweet pointing out that Jones has echoed her remarks about the Democrats' structural problems in their campaigns.
Jones, a moderate Democrat who has split with his party on issues like financial regulation, was quoted telling Politico that the "DSCC and DCCC spend too much time investing in candidates and not the electorate. They don't invest in House districts, they don't invest in states."
Jones was the sole Democratic senator to lose in last week's elections. In his remark to Politico, he was referring to the Democratic Senatorial Campaign Committee and the Democratic Congressional Campaign Committee.
Last week, establishment Democrats singled out heavyweight progressives like Ocasio-Cortez and other members of the so-called Squad for costing important seats with "defund the police" messaging and policies like the Green New Deal and Medicare for All.
Ocasio-Cortez pointed out that the Democratic Party is facing not an ideological problem but a lack of unity among its members.
"Again, neither of us is saying GOP messaging didn't hurt. And no one is telling folks in tough seats to adopt activist messaging," she tweeted in response to Jones' remarks to Politico. "We are saying the messaging hurt to the extent that it did because our operations & investments are not great and it makes the party vulnerable."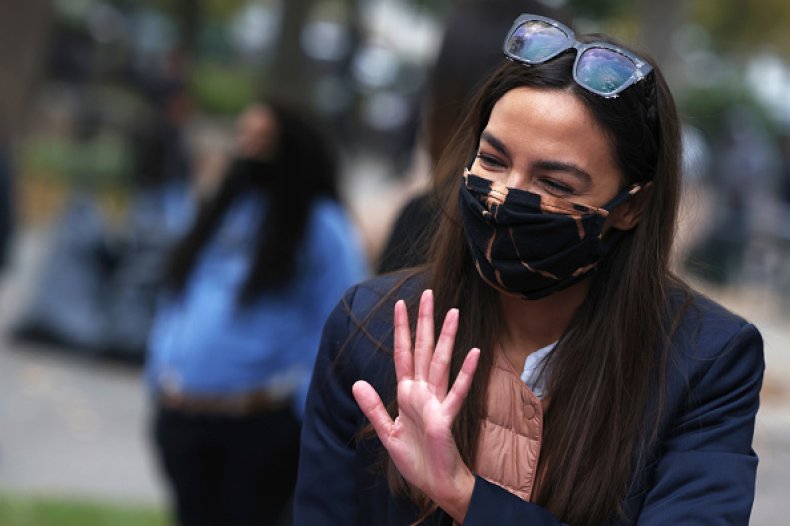 The New York congresswoman, who won her first re-election last week, has been critical of Democratic lawmakers who have tried to pin the party's losses on the left, noting that it was the progressive candidates who held on to their seats.
"We also learned that progressive policies do not hurt candidates. Every single candidate that co-sponsored Medicare for All in a swing district kept their seat," she told The New York Times.
"I think it's going to be really important how the party deals with this internally, and whether the party is going to be honest about doing a real postmortem and actually digging into why they lost," Ocasio-Cortez said. "Because before we even had any data yet in a lot of these races, there was already finger-pointing that this was progressives' fault and that this was the fault of the Movement for Black Lives."
Democrats such as Representative Conor Lamb of Pennsylvania have said lawmakers like Ocasio-Cortez "are advocating policies that are unworkable and extremely unpopular."
Lamb told the Times that Ocasio-Cortez "can put her name behind stuff and that's I guess courageous, but when it's a damaging idea or bad policy, like her tweeting out that fracking is bad in the middle of a presidential debate when we're trying to win western Pennsylvania—that's not being anything like a team player."
But Ocasio-Cortez has emphasized that sidelining the goals she's advocated for would mean putting on the back burner the communities of color that helped elect Joe Biden president.
"[Biden] acknowledged the role that communities of color—Black communities, Latino communities, the trans community, etc.—played in his victory," she told CNN's Jake Tapper. "We also know that majorities of these communities are progressive."
She added, "When we gin up the grass roots and we celebrate them to the election, we should also celebrate them in our governance."
The congresswoman said Democrats will need to come together to prevent Republican narratives from tearing them apart.
The Democratic National Committee declined Newsweek's request for comment.