Representative Alexandria Ocasio-Cortez shot back at Fox News host Brian Kilmeade on Tuesday morning for comparing migrant detention facilities to overcrowded house and hotel parties in a segment attacking her for claims she made about Border Patrol agents.
After Fox & Friends aired an image of Ocasio-Cortez at Border Patrol facility in Clint, Texas, from Monday along with the chyron "AOC makes explosive claims about Border Agents," co-host Brian Kilmeade went on a tirade comparing the packed detention facilities without enough bathrooms to a much lighter scenario.
"Picture yourself, you have a house, family of five, you have a party, you have 30 people over. Maybe you have a big party, you have 100 people over and you have two-and-a-half baths," Kilmeade said. "In the beginning, it'd be OK with 30, then if there are 100 people you'd be a little bit taxed. Maybe you've got to get an outdoor facility."
Kilmeade then drew the comparison to U.S. Customs and Border Protection (CBP) detention facilities.
"Can you picture 5,000? You can have the best facilities in the world but they are so overstocked—670,000 have come here illegally already. They have 89,000 last month, the month before 130,000 coming illegally. They have facilities that hold hundreds, not tens of thousands," Kilmeade said. "And now you're going to walk down there with the facilities that they gave that they're not pulling out of their pocket, the uniforms that you gave them, and say the facilities are not right?"
In response, Ocasio-Cortez shared a clip of Kilmeade comparing the migrant facilities to a house party and tweeted: "Hey, @kilmeade: What was the last 'party' you went to where you: Were locked in a cage under armed guard, drank out of a toilet, [and] given food of such poor nutritional value, for so long, that it gave you mouth sores?"
Kilmeade said that CBP Commissioner Kevin McAleenan and his predecessor have begged for help for months and "took a July 1st last-minute Hail Mary just to get humanitarian aid" and put aside the border wall. The Fox News host added that it was "fine" if people did not watch his network because CBS News' 60 Minutes did a feature on the out of hand situation at the facilities that Border Patrol officials are faced with.
"It wasn't their idea to have a wide open border," Kilmeade said. "It was bad asylum rules that allowed this to happen and then you throw it all on the Border Patrol and you wonder why the facilities are inadequate."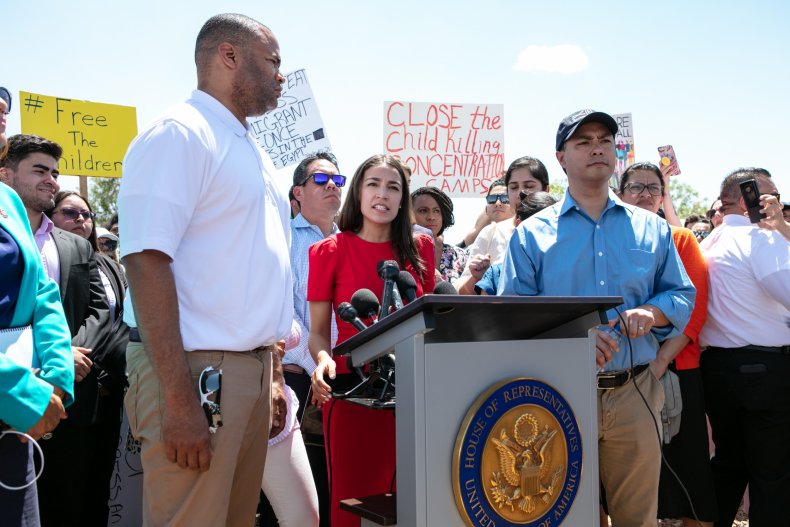 Kilmeade also stopped CBP Deputy Commissioner Robert Perez, a guest on the show reacting to Ocasio-Cortez's comments, to compare the detention facilities to a hotel party.
"If I put, if the Fours Seasons can hold 4,000 and I put 11,000 into the Four Seasons Hotel, they complain about the sanitation, they complain about the food, they complain about the accommodations because it's not equipped to handle it," Kilmeade said. "And all you've done for the past year-and-a-half is ask for more help and all Congress has done is nothing until July 1st and then they're going to come down and condemn you for the facilities and accommodations."
Kilmeade concluded: "You can't win." His remarks were part of the segment slamming Ocasio-Cortez's response to a report of a private Facebook group with current and former Border Patrol agents making sexist, xenophobic threats against her and later mocking agents for saying they felt threatened by her.
"And to these CBP officers saying they felt 'threatened' by me—they were literally discussing making a GoFundMe for an officer who attacked [me] on my tour," Ocasio-Cortez tweeted Monday night after visiting a facility in Clint. "They confiscated my phone, and they were all armed. I'm 5'4". They're just upset I exposed their inhumane behavior."