AOC, Ilhan Omar Accuse Biden of Breaking Promise to Welcome Immigrants by Keeping Trump's Refugee Cap
Prominent progressives in Congress are pushing back on President Joe Biden's decision to keep the cap on refugees at a level set by the Trump administration.
Biden on Friday signed an emergency determination to speed refugee admissions to the United States but kept his predecessor's record-low low cap of 15,000 refugees for this fiscal year.
The move was a reversal from his previous pledge in February to raise the number significantly. At the time, Biden pledged to raise the cap to 125,000 people in order to "rebuild what has been so badly damaged" in the immigration system.
Representative Alexandria Ocasio-Cortez tweeted that the president's action was "completely and utterly unacceptable."
"Biden promised to welcome immigrants, and people voted for him based on that promise," the New York Democrat wrote. "Upholding the xenophobic and racist policies of the Trump admin, incl the historically low + plummeted refugee cap, is flat out wrong. Keep your promise."
Representative Ilhan Omar called it "shameful" that the president is "reneging on a key promise to welcome refugees." Prior to Biden's order, Omar signed a letter, along with a group of other Democratic representatives, that urges the president to formally raise the refugee cap to 62,500.
"There are simply no excuses for today's disgraceful decision. It goes directly against our values and risks the lives of little boys and girls huddled in refugee camps around the world. I know, because I was one," Omar wrote in a series of Twitter posts.
The Minnesota Democrat came to the United States as a refugee when she was a child after her family fled civil war in Somalia.
Omar also tweeted a video of Biden from his first town hall as president, in which he noted the U.S. used to accept as many as 125,000 refugees per year and criticized former President Donald Trump for drastically reducing the cap.
"Come with me into Sierra Leone. Come with me into parts of Lebanon. Come with me around the world and see people piled up in camps, kids dying, no way out, refugees fleeing from persecution," Biden said in the clip. " We, the United States, used to do our part."
"*This* was the @JoeBiden people campaigned and voted for," Omar captioned the social media post.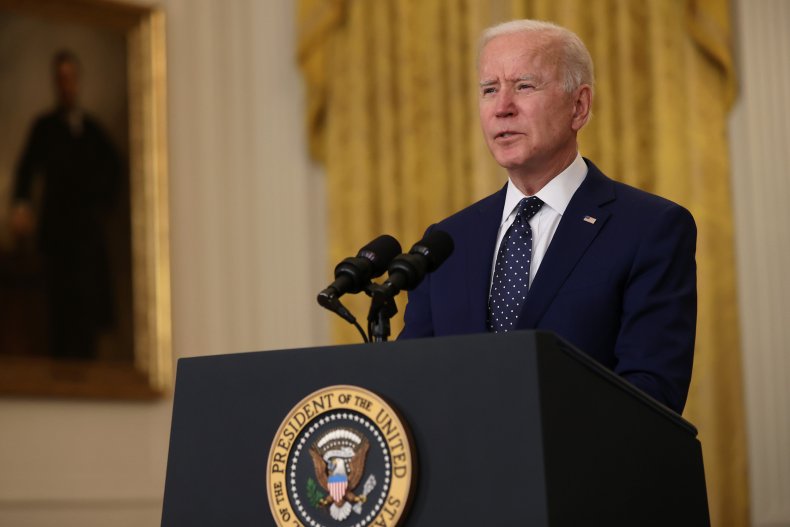 The New York Times reported that a senior official said the administration was concerned that the surge in migrants at the U.S.-Mexico border had "already overwhelmed the refugee branch of the Department of Health and Human Services."
Asked about that, White House press secretary Jen Psaki said it was "a factor."
"It took us some time to see and evaluate how ineffective or how trashed, in some ways, the refugee processing system had become," Psaki said Friday. "And so we had to rebuild some of those muscles and put it back in place."
Psaki repeatedly insisted this week that the president remains committed to raising the refugee cap, but she did not provide details on any timeline for doing so.
Newsweek reached out to the White House for comment but did not receive a response before publication.