AOC Joins Climate Protesters With 'Biden You Coward, Fight For Us' Signs Outside White House
New York Rep. Alexandria Ocasio-Cortez, along with fellow "squad" members Jamaal Bowman D-NY and Cori Bush D-MO, joined climate activists outside the White House on Monday to demand that President Joe Biden prioritize climate change prevention in his infrastructure plan. Several signs photographed in the crowd read, "Biden you coward fight for us."
Ocasio-Cortez, a champion of the Green New Deal, attended the protest of several hundred organized by the Sunrise Movement, a progressive climate change activist organization that says they want Biden to establish a "fully funded Civilian Climate Corps" and further deliver on his campaign pledge to address global warming.
Speaking to the crowd amid a month of nationwide heatwaves, Ocasio-Cortez said "They want you to think, 'Oh, this is a new idea, this is too ambitious, this is too crazy.' How about this? The last time we introduced the Civilian Climate Corps in this country, we hired and mobilized a quarter-million people in three months."
"We're going to get that into this infrastructure bill," added the New York congresswoman.
After lengthy negotiations, Biden announced an infrastructure deal last week that contained only trimmed down funding for climate change protections, and no funding for a Civilian Climate Corps.
Progressive members of his party are showing their opinion that Biden is not doing enough to reflect their views on climate change.
Bowman said Democrats should bypass GOP and pass their own reconciliation measure without an attempt at bipartisanship. "F--k that. We've got to go big, and take it to another level," he added. "This is our moment. This is the moment."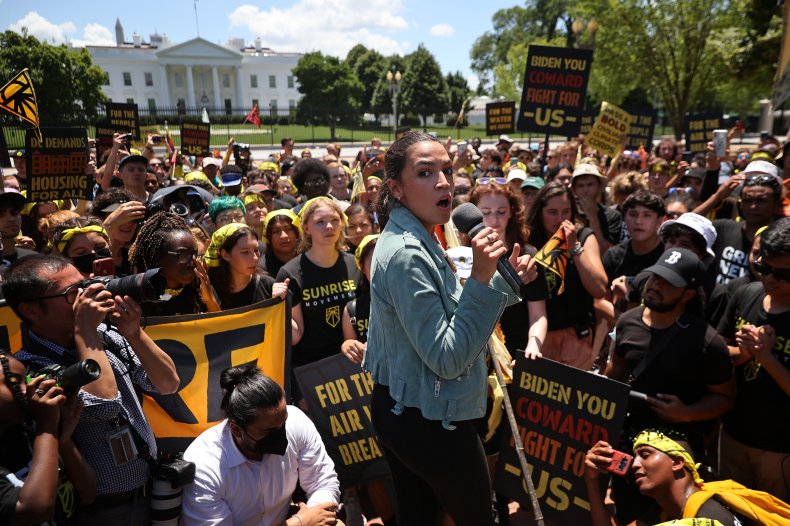 The Sunrise Movement's Twitter account was active on Monday, tweeting, "We made it clear the first time @POTUS, you're going to hear our demands, whether we're inside or outside of the White House. You haven't responded. Now we're back to make sure you understand us clearly: It's #NoClimateNoDeal and No Compromises, No Excuses."
In the evening, after protestors formed a blockade in front of the White House and arrests had been made, the account tweeted: "Today we showed up to @JoeBiden's doorstep with 500+ people and blockaded every entrance to the white house, demanding that he include a fully funded #CivilianClimateCorps in his infrastructure bill. Secret Service then arrested dozens of us."
Other signs in the crowd read: "Meet with us not corrupt GOP," "Pass a bold Civilian Climat Corps," "For the people we love," "For the air we breathe," "For the places we call home" and "No climate no deal."
Newsweek reached out to Ocasio-Cortez and the Sunrise Movement for comment.