AOC and Kamala Harris Campaigns Run Facebook Ads Asking for Birthday Donations and Wishes
Facebook ad campaigns are capitalizing on the birthdays of Rep. Alexandria Ocasio-Cortez and vice-presidential candidate Kamala Harris.
Seeking donations and personal data from supporters via their social media feeds, new paid advertising from the accounts of both Democratic politicians came to life this week as the November 3 election date inches closer, Facebook analytics show.
The platform's Ad Library, which contains a searchable database of political ads, shows birthday-themed messaging from both accounts active as of today.
Starting October 12, ads on the page of Harris, paid for by the Biden Victory Fund, have sought financial donations from Facebook users. They are characterized as a grassroots fundraiser intending to celebrate the candidate's October 20 birth date.
It reads: "All of us are chipping in to try and raise $500,000 before midnight on Kamala's birthday to celebrate our history-making VP candidate. Can you contribute now? Every dollar helps us celebrate Kamala while defeating Trump and the GOP nationwide."
Most of the Harris advertising appears to be targeting the state of California this week, followed by users based in Texas, New York and Florida—of all age ranges.
The link on Facebook redirects to a Biden Victory Fund website. "We're trying to make this the best birthday ever. With the polls close in so many battleground states, are you willing to contribute right now in Kamala's honor?" another appeal reads.
Also starting yesterday, Facebook analytics showed that advertising by Rep. Alexandria Ocasio-Cortez's team has been asking for supporters to add their personal details to a virtual birthday card for the politician, who celebrates her 31st birthday today.
"It's AOC's birthday and we're surprising her with a card signed by her supporters. Make sure to add your name and say "Happy Birthday, AOC" before midnight!" reads the site set up to log details. It asks for users' email addresses and ZIP codes.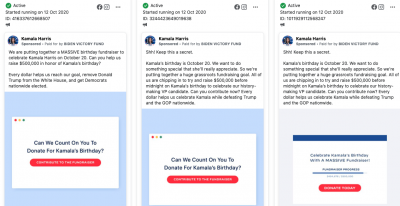 Data from the U.S. Federal Election Commission (FEC) indicates Biden's campaign has raised more donations than President Donald Trump's re-election efforts, with the Democratic candidate bringing in over $531 million compared to the commander-in-chief's $471 million.
Biden's campaign brought in almost $10 million during the first presidential debate with Trump, raising $3.8 million in a single hour.
Sources told Bloomberg last week the Biden campaign was "holding off" the release of a record September fundraising total amid concerns it could slow donations. It will be public regardless on October 20, when monthly reports are filed to the FEC.
While as yet unknown, the figure for September is believed to have topped a massive $364.5 million collected in August, which was recently announced by Biden.
"95% of the donations from grassroots supporters... and the majority online. Working people are powering our campaign—and I'm grateful. We've got a long way to go to close the fundraising gap and win— but we can do it. Together," Biden tweeted.
Despite his recent COVID-19 diagnosis, Trump once again hit the campaign trail this week, making an appearance in Florida on Monday.
Trump is scheduled to attend a private fundraising event in Janesville, Wisconsin on October 17. Tickets cost between $1,000 and $15,000. The news comes after he was deemed no longer infectious by physician Sean Conley.