AOC and Kelly Loeffler Go After Each Other Over Private Jets and COVID Lockdowns
Republican Georgia senatorial candidate Kelly Loeffler and Democratic New York Representative Alexandria Ocasio-Cortez have traded words on Twitter after Loeffler accused Ocasio-Cortez of supporting COVID-19 lockdowns. In response, Ocasio-Cortez highlighted Loeffler's questionable purchase of a private jet.
In a Thursday evening tweet, Loeffler wrote, "AOC wants to lock down our economy, lock the American people in their homes, and put the government in charge of every single part of our lives. No wonder she supports @ReverendWarnock. It's not going to happen on my watch."
Loeffler's tweet referred to Democratic Georgia Senatorial candidate Raphael Warnock, the man she is facing in a January runoff election that will decide party control of the U.S. Senate.
Minutes after, in response to Loeffler's tweet, Ocasio-Cortez published a tweet which read, "@KLoeffler disclosures show you seem to have gifted yourself private jet on public dime & exploited corrupt tax loopholes to do it. If you're happy helping yourself to public funds, maybe take a seat before arguing against stimulus checks to help everyday people in a pandemic."
In response to Ocasio-Cortez's reply, Loeffler wrote, "Not surprising you'd babble some blatant lie to distract from your socialist shutdown. Anyway, while we're on the subject, Georgians don't want any of your $93 trillion tax increase. Also, have you paid your own? Have a great night."
I's unclear which one of Ocasio-Cortez's proposals that Loeffler thinks will lead to a $93 trillion tax increase. Nevertheless, the Senate candidate then linked to a story claiming that Ocasio-Cortez owes nearly $2,000 in business taxes for Brook Avenue Press, a failed company which sought to publish books about city children.
It's also unclear which of Ocasio-Cortez's statements Loeffler may have been referencing in her first tweet to infer the sitting representative supports an economic shutdown. The representative has supported rent freezes and stimulus checks to help Americans struggling with the ongoing pandemic's economic effects.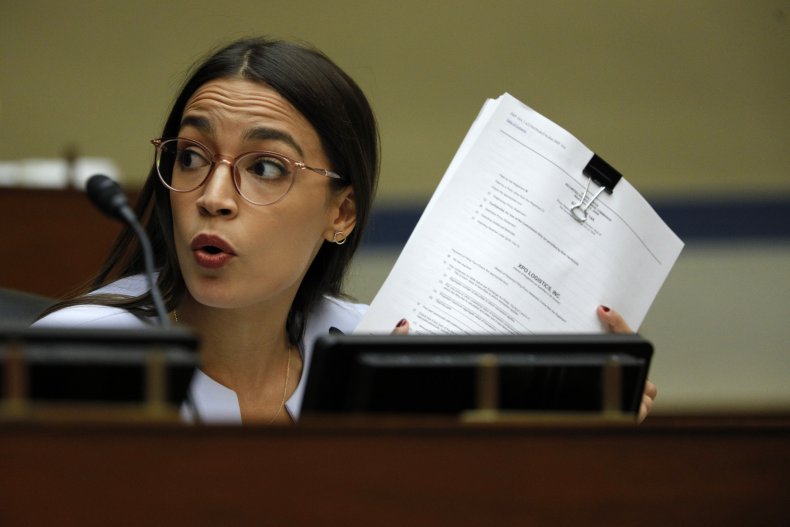 Starting in June, right-wing media began sharing a fake social media post attributed to Ocasio-Cortez which claimed that she supported keeping businesses closed until after the November 3 election as a way to hurt President Donald Trump's re-election chances. In reality, she has never published any such sentiment.
In her tweet responding to Loeffler, Ocasio-Cortez linked to a Yahoo news story that references "a multimillion-dollar private jet" that Loeffler and her husband purchased soon after Loeffler was appointed to her Georgia Senate seat last December by Georgia's Republican Governor Brian Kemp.
Loeffler's federal financial disclosures suggest that she and her husband may have purchased the jet using a loophole in President Donald Trump's 2017 tax bill that allows companies to write off the full cost of a new airplane. Democrats have characterized Trump's tax bill as a gift to the wealthiest Americans.
As a member of the Democratic Party's progressive wing, Ocasio-Cortez remains a high-profile target for conservatives who paint her policy positions as "radical" and tie her views to other Democratic candidates to discredit them.
Contrastly, Democrats have painted Loeffler as corrupt and out of touch with the constituents she wishes to represent.
Newsweek contacted Ocasio-Cortez and Loeffler's offices for comment.