AOC, Madison Cawthorn, Other Lawmakers Offer National Guard Resting Space in Their Offices
Representatives Alexandria Ocasio-Cortez, Madison Cawthorn and several other lawmakers offered their offices as resting spaces for National Guardsmen after they were reportedly moved from the U.S. Capitol into a nearby parking garage.
Photos and videos that circulated across social media on Thursday show members of the Guard lying on the floors of the garage. Over 25,000 members of the Guard were deployed to Washington, D.C., following the January 6 riot at the Capitol. They were also brought in for increased security at President Joe Biden's inauguration.
"Yeah this is not okay. My office is free this week to any service members who'd like to use it for a break or take nap on the couch. We'll stock up on snacks for you all too," Ocasio-Cortez tweeted Thursday night. "(We're in the middle of moving offices and it's a bit messy so don't judge, but make yourself at home!)"
Newsweek reached out to Ocasio-Cortez for comment but did not hear back before publication.
Cawthorn, a congressman from North Carolina, delivered pizza to the National Guardsmen and offered his office as a resting space.
"I just visited the solders [sic] who have been abandoned & insulted by our leaders. I brought them pizza and told them that they can sleep in my office. No soldier will ever, ever sleep on a garage floor in the US Capitol while I work in Congress," Cawthorn tweeted, with a video of himself handing out the pizza.
"The men and women who put their lives on the line to defend our liberties deserve to be treated with honor, dignity, and respect. We rest easy at night knowing that they stand guard at the door of Democracy," Cawthorn told Newsweek.
"Last night, I heard that our National Guard troops had been relegated to the underbelly of the people's house. I instantly called my staff, ordered as many pizzas as we could carry and we headed out to thank them for their service," he said.
Similar offers have been made by Representatives Jody Hice, Tony Gonzales, Barry Moore and Maria Elvira Salazar, as well as Senators Joni Ernst, Jeff Merkley, Kyrsten Sinema, Maggie Hassan, Mark Kelly and Tammy Duckworth, among others.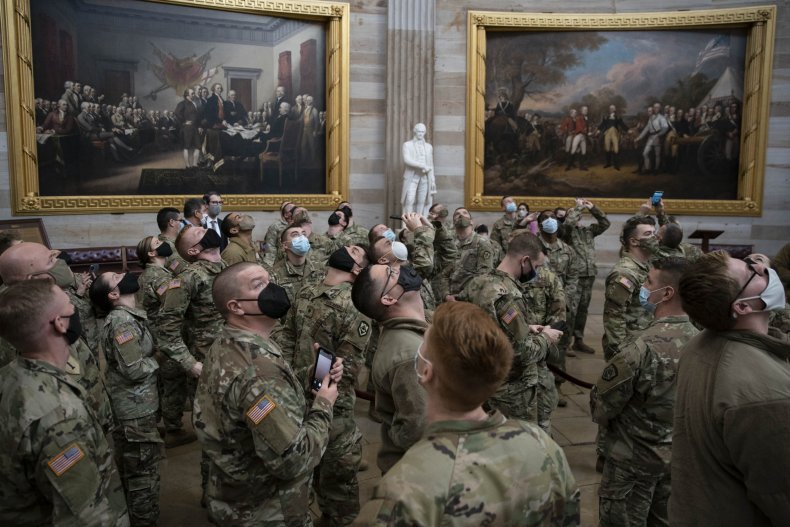 The outpouring of support from lawmakers comes after the Guard said in a statement it was asked to stop using spaces in the Capitol as a resting place, which was documented when members first arrived in D.C. after the riot.
"As Congress is in session and increased foot traffic and business is being conducted, Capitol Police asked the troops to move their rest area. They were temporarily relocated to the Thurgood Marshall Judicial Center garage with heat and restroom facilities," the National Guard told CNN in a statement Thursday.
However, acting U.S. Capitol Police Chief Yogananda Pittman released a statement disputing that the Guardsmen were asked to leave the federal building, "I want to assure everyone that, with the exception of specific times on Inauguration Day itself while the swearing-in ceremonies were underway, the United States Capitol Police did not instruct the National Guard to vacate the Capitol Building facilities."
Pittman added, "As of this morning, all Guardsmen and women have been relocated to space within the Capitol Complex. The Department is also working with the Guard to reduce the need for sleeping accommodations by establishing shorter shifts, and will ensure they have access to the comfortable accommodations they absolutely deserve when the need arises."
On Monday, the National Guard and the Capitol Police issued a joint statement saying the National Guardsmen stationed in the Capitol complex "are in appropriate spaces within Congressional buildings, including the U.S. Capitol, where they may take on-duty breaks."
The statement added, "Off-duty troops are being housed in hotel rooms or other comfortable accommodations," according to a tweet posted by Julie Tsirkin of NBC News. "The National Guard appreciates the continuous support of Congressional members who expressed concern for our National Guard men and women."
Many of the lawmakers who offered their offices as resting spaces expressed appreciation that the situation was rectified.
"Good news to report. The situation is being remedied: Guard members are getting decent accommodations back in the Capitol complex for break time—like they deserve. Thank you to the men and women protecting our Capitol!" Merkley wrote in a tweet.
Similarly, Duckworth wrote in a tweet: "Update: Troops are now all out of the garage. Now I can go to bed."
Newsweek reached out to the National Guard for comment but did not receive a response in time for publication.
This story was updated on January 22 to include a joint statement from the U.S. Capitol Police and the National Guard.