AOC and Marco Rubio Trade Barbs Over Who Had the Busier Week
New York Rep. Alexandria Ocasio-Cortez and Florida Senator Marco Rubio traded barbs on Twitter over who had the busier week.
The feud between the two began on Thursday, when the Democratic congresswoman responded to a tweet showing Project Veritas receiving federal Paycheck Protection Program (PPP) loans amid the coronavirus pandemic.
"Black-owned small businesses were widely shut out from accessing PPP loans, yet right-wing disinfo org PV took half a million in public money while decrying direct federal assistance as 'radical socialism.'" Ocasio-Cortez wrote in the tweet. "Republicanism in a nutshell."
Shortly after the tweet, Rubio responded by praising PPP loans as a bipartisan victory in relief for Americans amid the COVID-19 pandemic.
"Working together R's & D's helped save the jobs of 55 million Americans through PPP," Rubio wrote in the tweet, while adding a hint of criticism toward Ocasio-Cortez, telling her, "Work more, tweet less & one day you too can make a difference."
The two continued to go back and forth and began to argue about who did more to help their communities in the past week.
"Yesterday I recruited 5,000 volunteers to train and tutor kids in my community who are struggling with remote learning, and that was after investigating the Treasury Secretary's rationale for stopping CARES Act funding and voting on House legislation," Ocasio-Cortez wrote in response, and asked Rubio, "What did you do?"
After apologizing for a "late response" Rubio fired back at the New York congresswoman, sharing what he did over the past week, writing, "Was busy this week helping a Floridian get travel documents to see his dying sister, a high schooler whose mother died get SSI benefits, a specialist for a child with a crazy Obamacare deductible & negotiating Intelligence bill & another round of PPP."
Newsweek reached out to the offices for both Ocasio-Cortez and Rubio for comment.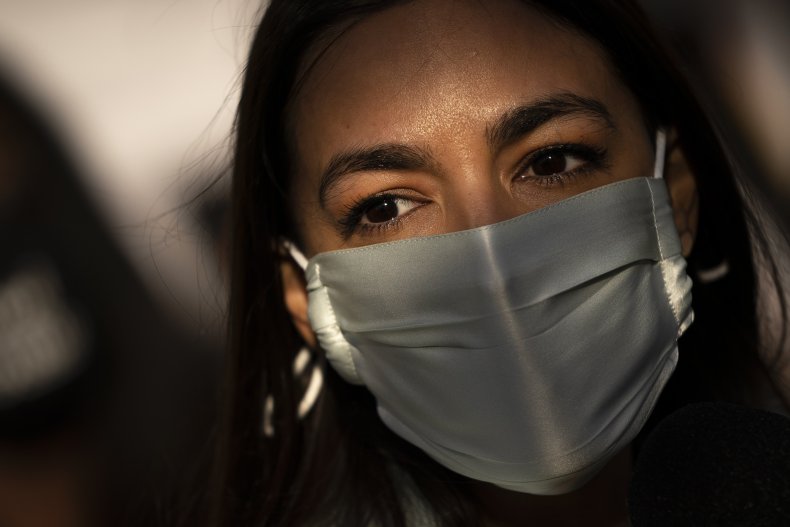 As the chairman of the Senate's Small Business and Entrepreneurship Committee, which developed PPP, Rubio's program looks to provide federal relief for small businesses during mass government shutdowns, caused by the virus, instead of having mass layoffs.
During a recent interview with the Marietta Daily Journal, Rubio spoke about spoke about the $908 stimulus package being discussed in the Senate, and noted that it won't gain his support without any additional aid for small businesses.
"It is important to note that at its current (funding) level, the proposal barely provides enough to fund a second round of Paycheck Protection Program loans, and does not provide sufficient funds to help small businesses, restaurants, entertainment venues, and others to help them weather the second wave," Rubio told the Journal. "It should have happened this summer. It needed to happen this fall. Enough is enough. Let's get this done."
This is not the first time Rubio and Ocasio-Cortez have sparred over Twitter, as in early November, the two were seen arguing over Twitter after Rubio tweeted that "every socialist is a Democrat."
"Curious what you call GOP giving away billions in public funds to Wall St & fossil fuel companies? OR what you call YOUR ability to go to Walter Reed hospital & receive socialized healthcare for free? Funny how it's only 'socialism' when others get what y'all give yourselves," the congresswoman said in response to Rubio's tweet.