Alexandria Ocasio-Cortez Mocks CBP Officers Claiming They Were Threatened by Her: 'They Were All Armed. I'm 5 feet 4 inches'
Representative Alexandria Ocasio-Cortez mocked claims in a report that she was threatening towards Customs and Border Patrol officers during a recent visit to a migrant detention facility of a kind she calls "concentration camps."
According to The Washington Examiner, a conservative publication, two unnamed witnesses alleged that the New York Democrat was "crying, screaming, and yelling…in a threatening manner" at agents while on a tour of a Border Patrol facility in El Paso, Texas with the 38-member Congressional Hispanic Caucus.
It followed a report by investigative outlet ProPublica, which uncovered a private Facebook group containing 9,500 current or former Border Patrol agents in which members posted offensive comments and memes about Ocasio-Cortez and fellow Hispanic Caucus member, Representative Veronica Escobar, a Texas Democrat. They also made light of migrant deaths.
Responding to a news report about the Border Patrol facility tours by Ocasio-Cortez and Escobar, one member of the group proposes a GoFundMe donation page for an agent "brave enough to throw a 10-15 burrito at one of these bitches."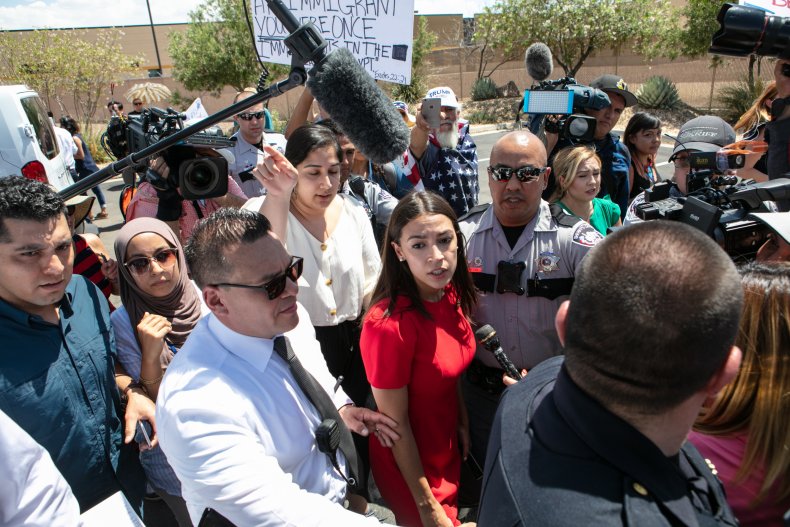 Ocasio-Cortez has tweeted about the "inhumane" things she witnessed during her tour of Border Patrol facilities in which undocumented southern border migrants are currently being held. Among the claims made by Ocasio-Cortez is that detainees were told to drink water from toilet bowls and that the females were called "whores" by agents.
"And to these CBP officers saying they felt 'threatened' by me—they were literally discussing making a GoFundMe for an officer who attacked [me] on my tour," Ocasio-Cortez tweeted after heading to another facility in Clint, Texas. "They confiscated my phone, and they were all armed. I'm 5'4". They're just upset I exposed their inhumane behavior."
After ProPublica's report, Matthew Klein, the head of CBP's internal affairs unit, said the Department of Homeland Security, which oversees CBP, has opened an investigation into the Facebook group, which he described as "disturbing social media activity."
Border Patrol Chief Carla Provost released a statement saying the group's content is "completely inappropriate and contrary to the honor and integrity I see—and expect—from our agents day in and day out. Any employees found to have violated our standards of conduct will be held accountable."
Texas Democratic Representative Joaquin Castro, chairman of the Hispanic Caucus, smuggled a camera into the facilities, contrary to the rules, to document the "prison-like" conditions he and other members of Congress witnessed.
"There are many good agents—men and women working earnestly to care for the people in their custody," Castro tweeted. "But they are overwhelmed in a system that is morally bankrupt and challenged by rogue agents whose culture was on full display in the Facebook group revealed by ProPublica today. All Americans must help to change this system."