AOC Rails Against GOP Over 'Tax Cuts for The Very Rich' in Second Stimulus Proposal
New York Representative Alexandria Ocasio-Cortez on Friday criticized Republicans over "tax cuts for the very rich" in the second stimulus proposal.
"'You can either get stimulus money or unemployment but not both,' say Republicans demanding corporate immunity for worker abuse AND tax cuts for the very rich AND subsidies for friends AND total lack of oversight or accountability for their connected pals scamming PPP AND..." Ocasio-Cortez wrote in a tweet.
The New York congresswoman went on to discuss the different aspects Democrats and Republicans are fighting against in the second stimulus proposal.
She wrote that some "of the items Republicans are fighting tooth and nail against in the middle of a pandemic," include a second round of $1,200 checks to Americans, restoring unemployment benefits, money for schools, hospitals and public transit, retroactive benefits and mortgage and rent protections.
Ocasio-Cortez's comments come as lawmakers are running out of time to pass another stimulus deal before Congress closes for the holidays.
The Associated Press recently reported that lawmakers were discussing a $900 billion proposal, which would include over $300 billion in aid to businesses, expanded unemployment benefits, $600 direct payments to Americans, vaccine distribution funds, and aid for Americans in need of food.
On Monday, The Intercept reported that a revision in the bill would allow businesses that claim expenses reimbursed through the Paycheck Protection Program (PPP), which are tax-free, to be used as a deduction to their taxable income.
"In other words, the change would allow a corporation that claimed $1 million in PPP reimbursements to apply that money as a deduction on its tax return, reducing taxable income by $1 million," The Intercept wrote.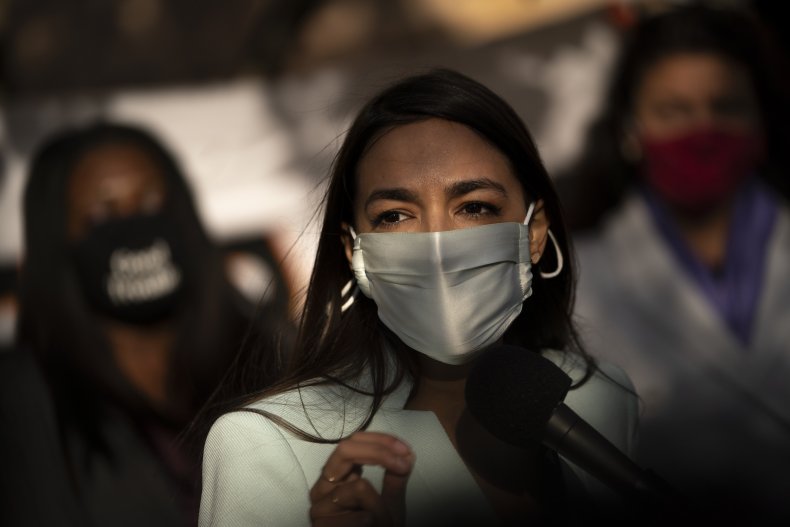 While speaking to The Intercept, Tax Policy Center's tax expert Steven Rosenthal, noted that the PPP deduction provision could decrease the taxes paid by the wealthy by at least $100 billion.
"Congress is showering billions on millionaires using the cover of 'small' business," Rosenthal told the digital media outlet.
Earlier this month, Michigan Democratic Rep. Rashida Tlaib made comments similar to Ocasio-Cortez's and wrote on Twitter that a second stimulus deal should be funded by reversing President Donald Trump's tax cuts.
"I am being told that including another stimulus check is too expensive," Tlaib wrote. "Fine. Tax the rich and pay for it. Billionaires added $931 billion to their net worth during the pandemic. They can afford it."
She added, "They got a $1.7 trillion tax cut. We can start there."
Newsweek reached out to Ocasio-Cortez's office for comment but did not receive a response in time for publication.