AOC Repeats 'F***ing B****' on House Floor, Says Yoho's Remark Gave 'Permission to Men to Do That to His Daughters'
Speaking on the House floor Thursday, Representative Alexandria Ocasio-Cortez of New York repeated a curse that she said Florida GOP congressman Ted Yoho hurled her way earlier this week.
"In front of reporters, Representative Yoho called me, and I quote, a 'f***ing b****,'" Ocasio-Cortez said in her speech. "These are the words Representative Yoho levied against a congresswoman."
The remark gives "permission to other men to do that to his daughters," she added.
Before the curse was directed at her on Monday, Ocasio-Cortez said, Yoho began verbally attacking her while she was walking up the steps of the Capitol. GOP Representative Roger Williams of Texas was with Yoho at the time, she noted.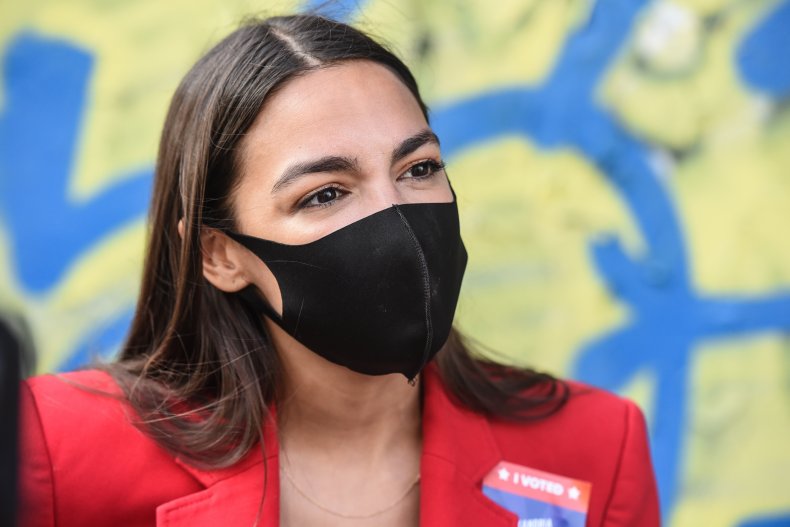 "I was minding my own business, walking up the steps, and Representative Yoho put his finger in my face," Ocasio-Cortez said. "He called me disgusting, he called me crazy, he called me out of my mind. And he called me dangerous."
On Wednesday, Yoho issued a public apology for his interaction with Ocasio-Cortez but denied he had used any profane language against her.
The Democratic congresswoman said it was not the first time she'd heard such accusations from Republican lawmakers—even President Donald Trump has verbally attacked her before, she said. She said she and most other women have heard these kinds of remarks while riding the subway or during shifts at working-class jobs. She added that in the past she had "tossed men out of bars that have used language like Mr. Yoho's."
"This is not new—and that is the problem," said Ocasio-Cortez, who once worked as a bartender.
The congresswoman reminded her colleagues of Williams' presence during the incident. The timing of Yoho's attack—in front of others as the lawmakers were on their way inside the Capitol to cast votes on pending legislation—demonstrated a larger cultural problem, she said.
"This issue is not about one incident. It is cultural. It is a culture of lack of impunity, of accepting of violence and violent language against women and an entire structure of power that supports that," Ocasio-Cortez said. "This is a pattern of an attitude towards women and dehumanization of others."
Yoho apologized on the House floor Wednesday for the "abrupt manner" he used in speaking with Ocasio-Cortez but denied allegations that he called her names or used profane language. "Having been married for 45 years with two daughters, I'm very cognizant of my language. The offensive name-calling, words attributed to me by the press were never spoken to my colleagues," Yoho said.
During her speech Thursday, Ocasio-Cortez said that Yoho "clearly" did not want to apologize sincerely for the incident and that he was making "excuses for his behavior."
"What I do have issue with is using women, our wives and daughters, as shields and excuses for poor behavior," Ocasio-Cortez said. She recalled Yoho's reference to his two daughters on Wednesday and said, "I am someone's daughter too."
She added that she was addressing the issue on the House floor to show her parents "that they did not raise me to accept abuse from men."
Ocasio-Cortez also said abusive comments made toward women enabled the cycle of violence against women to continue. "When you do that to any woman, what Mr. Yoho did was give permission to other men to do that to his daughters," she said. "I am here to stand up to say, 'That is not acceptable.'"
Newsweek reached out to Yoho's office for comment but did not receive a response in time for publication.
This story has been updated with background and additional information.