Alexandria Ocasio-Cortez Reveals She Had Vaccine Dose on Day of Riots, Feared Side Effects
Rep. Alexandria Ocasio-Cortez has revealed that she received the second dose of the coronavirus vaccine on the day of the Capitol riots—and feared that side effects from the jab would slow her down during the attack.
In an almost 90-minute live-stream on Instagram on Monday night, the Democratic congresswoman recounted how she thought she was going to die while hiding in her office bathroom as rioters breached the U.S. Capitol on January 6.
In a later post on her Instagram Stories, Ocasio-Cortez explained that she had intended to share the footage she recorded while receiving the second dose of the Pfizer vaccine because she wanted to be "fully transparent on side effects."
"I haven't had the time clearly since the attack to share with you the details of it," she said. "So here is the footage from that morning for you all to see."
In a caption, Ocasio-Cortez said the clip showing her receiving the vaccine had a timestamp of about midday.
She also explained that she had wanted to document her treatment because she had read that in studies, some people felt side effects more after receiving the second dose.
She noted that the second shot had "hurt a little more" than the first one, but "it really wasn't that bad."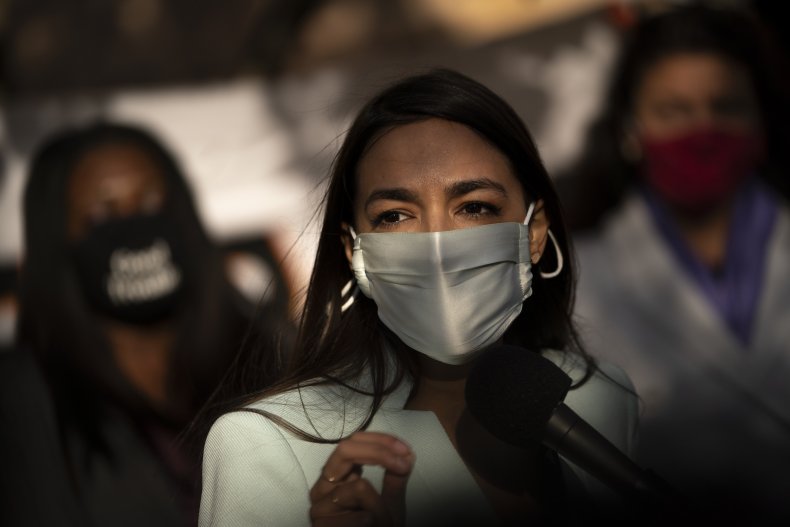 Later, in response to a question, Ocasio-Cortez revealed that she had been afraid she might not be able to "run or fight as effectively as I normally would" during the Capitol attack if she did experience worse side effects as the day wore on.
Ultimately, she said she had felt more side effects after the first dose than the second.
"After the first dose I felt totally fine, then the next day I was laid OUT and my arm was a little sore. I was super tired and just slept a lot (it was a Saturday so I could sleep in). By the 3rd day I felt fine," she wrote.
"After the second dose I felt arm soreness right away. I was scared later that day during the attack bc I knew I was so tired after the first shot I was scared that I was going to have bigger side effects that day while people were trying to break into the office and I wouldn't have been able to run or fight as effectively as I normally would but luckily that did not come to pass."
She continued: "My arm did continue to feel sore and heavier throughout the day. I did get tired later in that day but also could have been surviving insurrection and a traumatic event so not exactly a reliable control subject!
"The day after my second dose I didn't feel as exhausted as I did after the first one. But again I could have just been running on pure adrenaline for 72 hours." She added that her arm had hurt for a few days.
Ocasio-Cortez also shared footage of herself receiving the first dose of the Pfizer vaccine on Instagram in December, prompting criticism about why lawmakers were receiving the shot ahead of front-line workers and elderly people.
Republican Sen. Rand Paul tweeted that Ocasio-Cortez, as a young and healthy person, "should be among the last, not first" to get vaccinated.
"Gee, maybe if the GOP hadn't spent so much time undermining public faith in science, masks & COVID itself, I wouldn't have to weigh the potential misinfo consequences of what wld happen if leaders urged ppl to take a new vaccine that we weren't taking ourselves!" Ocasio-Cortez tweeted in response.
"Our job is to make sure the vaccine isn't politicized the way masks were politicized," she wrote in another tweet.