AOC Says Democratic Party Is 'Center-Conservative Party,' Adds 'We Don't Have a Left Party' in The U.S.
Democratic Representative Alexandria Ocasio-Cortez says her political party is not actually a "left party," describing it critically as "center-conservative."
Ocasio-Cortez, a progressive who represents New York, made the remarks during an event honoring Martin Luther King Jr. Day on Monday. She asserted that she sides with the iconic civil rights leader's belief that capitalism has ingrained poverty into society and argued for major political reform.
"We don't have a left party in the United States. The Democratic Party is not a left party," the congresswoman said. "The Democratic Party is a center, or a center-conservative, party."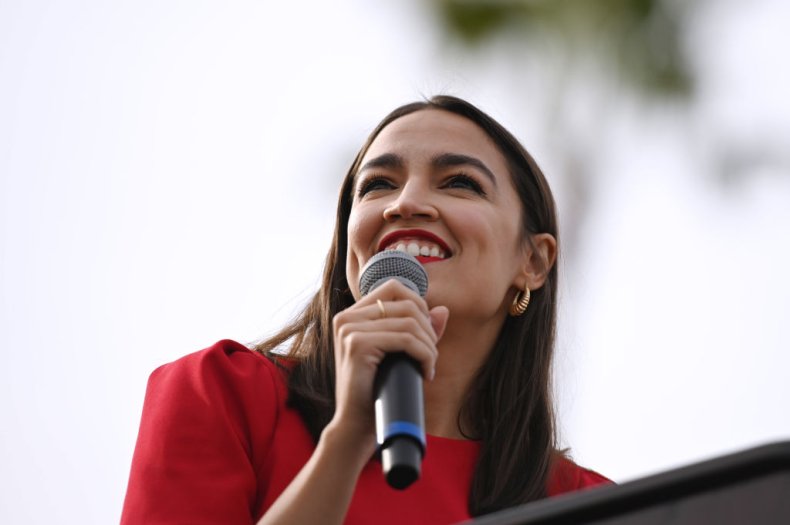 Further making her point, she said, "We can't even get a floor vote on Medicare for All, not even a floor vote that gets voted down. We can't even get a vote on it. So this is not a left party."
Ocasio-Cortez also said that there are "left members inside the Democratic Party" and that those progressives, like herself, are "working to make that shift happen." She noted that there are some "true believers" within the Democratic Party who think capitalism can end poverty. "If anything, that's probably the majority," she said, adding that she disagrees.
"That's an area in which I agree with Dr. King, that that assessment is flawed," Ocasio-Cortez said as the audience erupted into loud applause.
Newsweek has reached out to the Democratic National Committee for comment but did not hear back before publication.
As the congresswoman noted, King often questioned the likelihood of capitalism leading to equality.
"And one day we must ask the question: Why are there 40 million poor people in America? And when you begin to ask that question, you are raising questions about the economic system, about a broader distribution of wealth. When you ask that question, you begin to question the capitalistic economy," the civil rights leader said in a 1967 speech. "And I'm simply saying that, more and more, we've got to begin to ask questions about the whole society."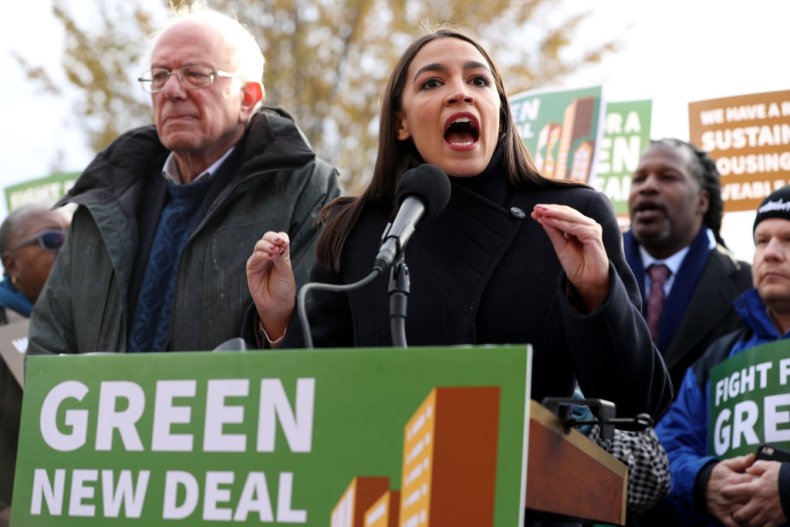 Ocasio-Cortez, 30, who is serving her first term in Congress and became the youngest woman to serve in the legislative body, has repeatedly shown her willingness to criticize the Democratic Party, despite being a member. Along with several other progressive lawmakers, she has become an influential force within the party while drawing significant public support and a massive social media following.
Earlier this month, the congresswoman, who has endorsed independent Senator Bernie Sanders of Vermont for the Democratic presidential nomination, argued that in other countries she and centrist candidate Joe Biden wouldn't even be fellow Democrats.
"In any other country, Joe Biden and I would not be in the same party, but in America we are," she told New York magazine.
Ocasio-Cortez describes herself as a democratic-socialist, as does Sanders and many other progressives within the Democratic Party. This block of lawmakers advocates for progressive policies such as universal health care, or Medicare for All; free college education; student loan forgiveness; a higher minimum wage; and a Green New Deal to address climate change.