Representative Alexandria Ocasio-Cortez, a New York Democrat, has dubbed Democrats "delusional" if they expect to be re-elected without extending the child tax credit and passing President Joe Biden's Build Back Better Act.
Ocasio-Cortez called on the Senate to pass Biden's agenda and act on reforming the filibuster rule and student debt relief in a tweet on Friday. Following the passage of the bipartisan infrastructure bill in November, the Build Back Better spending bill has stalled in the Senate and is unlikely to pass before 2022. If the bill does not pass, recipients of the child tax credit are likely to miss out on a payment for January at least.
"It is actually delusional to believe Dems can get re-elected without acting on filibuster or student debt, Biden breaking his BBB promise, letting CTC lapse, 0 path to citizenship, etc," tweeted Ocasio-Cortez. "Esp when they run from convos abt race+culture (which is what 1/6 was abt) We need to act now."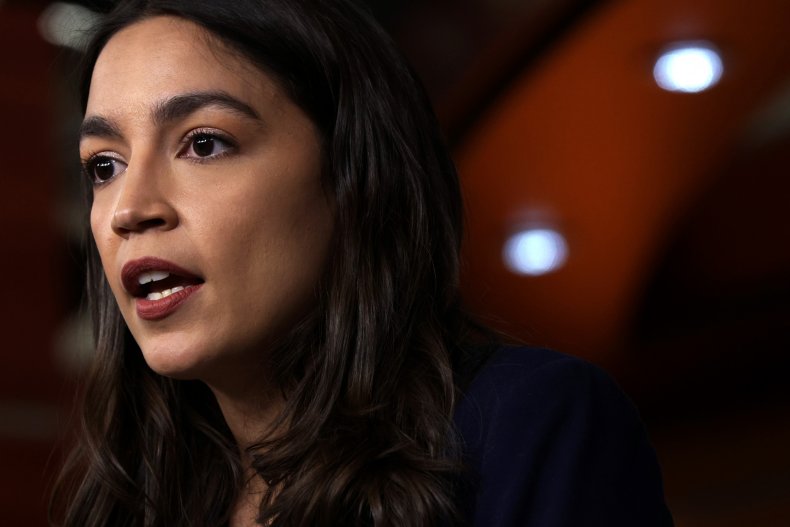 The congresswoman preemptively rejected arguments about Senate roadblocks from moderate Democrats like Senators Kyrsten Sinema of Arizona and Joe Manchin of West Virginia, insisting that Biden and Democratic leaders "have the tools" to pass the legislation regardless.
"People want to 'but Manchin' everyone to death, but learned helplessness is not a disposition that inspires confidence or support," she tweeted. "The President has tools at his disposal. Leadership has tools at their disposal. If it really is just 1-2 votes, Senate should force a vote on BBB."
Although Ocasio-Cortez said that resistance from Manchin was was not a valid reason for the bill stalling, she later shared a tweet from her fellow "Squad" member Representative Rashida Tlaib, a Michigan Democrat, that argued, "families and children won't get the child tax credit help they need next month because of Joe Manchin."
Since the Senate is currently split evenly, every member of the Democratic caucus including Manchin would need to vote in favor of any bill that Democrats hope to pass unilaterally, with Vice President Kamala Harris holding the power to cast a decisive vote in the event of a tie.
Ocasio-Cortez recalled that Biden had personally met with members of the Congressional Progressive Caucus to lobby support for the bipartisan infrastructure bill, telling members that he was putting his "credibility on the line" to win their support while promising to deliver on the Build Back Better bill.
"They trusted him," Ocasio-Cortez tweeted. "I didn't think he could promise the Senate. He promised anyway. It's time for him to deliver."
Although the progressive caucus agreed to support the infrastructure bill, Ocasio-Cortez was one of six progressive House Democrats who refused to back it over concerns that the spending bill would remain stalled despite assurances. A group of 13 House Republicans and 19 GOP senators joined forces with Democrats to pass the infrastructure bill.
The Build Back Better bill hit a new stumbling block on Thursday night when the Senate parliamentarian ruled that provisions related to undocumented immigrants could not be included because they ran afoul of budget reconciliation process rules.
"Good thing the Parliamentarian's guidance here is non binding! It's just guidance," tweeted Ocasio-Cortez. "The Senate can still include a path to citizenship in BBB and call a vote on it, which is why we have called on them to do so."
Newsweek reached out to the White House and the Democratic National Committee for comment.