AOC Says Trump Is 'Going to Cost Lives' By Not Yet Invoking Defense Production Act in Response to Coronavirus
Representative Alexandria Ocasio-Cortez warned that she believes President Donald Trump is "going to cost lives" by not yet invoking the Defense Production Act to compel American companies to begin producing medical supplies and equipment needed to deal with the coronavirus pandemic.
Ocasio-Cortez, a progressive Democrat from New York, explained in a Sunday interview with CNN's State of the Union that there is a severe shortage of basic medical necessities such as masks, gloves and respirators. Her home state of New York now has the most confirmed cases of coronavirus in the country, and Governor Andrew Cuomo, as well as New York City Mayor Bill De Blasio, have warned of pending shortages.
"One of the things we're hearing over and over again from hospitals again is this point on personal protective equipment. There are not enough face masks, gloves, ventilators, hospital beds to get us through this," the congresswoman told CNN. "Many hospitals are already at capacity or approaching capacity."
"Companies are donating what they can. That is great. That is not enough," Ocasio-Cortez pointed out. "And the fact that the president has not really invoked the Defense Production Act for the purpose of emergency manufacture is going to cost lives."
Ocasio-Cortez argued that "we cannot wait until people start really dying in large numbers ... we need to start this production right now to get ready for the surge that is coming in two to three weeks."
Trump has said he is willing to invoke the Defense Production Act, but has not yet done so. His administration has said that many companies have already stepped up to ramp up, or transition to, producing essential products. As a result, the administration has said it has not yet been necessary to require companies to produce the medical supplies and equipment.
"Ford, General Motors and Tesla are being given the go ahead to make ventilators and other metal products, FAST!" Trump tweeted on Sunday morning. "Go for it auto execs, lets see how good you are?" he added.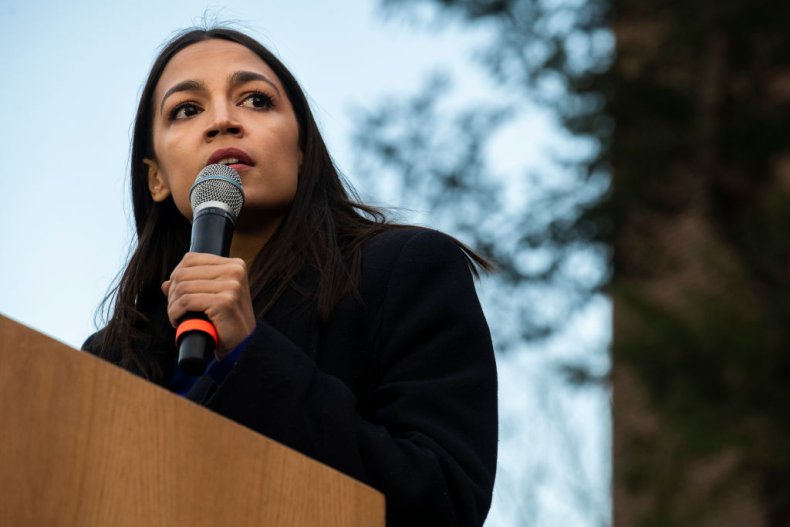 New York City's Mayor De Blasio also took aim at Trump in Sunday remarks to NBC News Meet the Press.
"If the president doesn't act, people will die who could have lived otherwise," he said.
"If there are ventilators being produced anywhere in the country, we need to get them to New York ... in the next 10 days," the mayor warned.
New York State is now viewed as the epicenter of the coronavirus outbreak in the U.S., as local leaders have rapidly moved to expand testing. Governor Cuomo said during a Sunday press conference that 114 people had died in New York due to COVID-19, the disease caused by coronavirus. There are now more than 15,000 confirmed cases in the state, with more than 9,000 of those being in New York City.
Cuomo also called on Trump to nationalize the health care supply by using the Defense Production Act.
"I'm calling on the Federal Government to nationalize the medical supply chain. The Federal Government should immediately use the Defense Production Act to order companies to make gowns, masks and gloves," the governor tweeted. "Currently, states are competing against other states for supplies."
This article was updated with a tweet from Governor Cuomo.