New York Democratic Congresswoman Alexandria Ocasio-Cortez is slamming Amazon's Jeff Bezos for saying that his workers and customers for paying for his flight to space.
In a post-launch briefing, the Amazon founder thanked his employees and the millions of shoppers who use the e-commerce giant for a successful 10-minute flight that went up more than 60 miles above Earth on Tuesday.
"I also want to thank every Amazon employee and every Amazon customer because you guys paid for all of this," Bezos said. "So seriously, for every Amazon customer out there and every Amazon employee, thank you from the bottom of my heart very much. It's very appreciated."
In response, Ocasio-Cortez called Bezos out for exactly that and criticized him for letting Amazon workers "pay for" the flight with poor working conditions.
"Yes, Amazon workers did pay for this - with lower wages, union busting, a frenzied and inhumane workplace, and delivery drivers not having health insurance during a pandemic," the progressive firebrand tweeted. "And Amazon customers are paying for it with Amazon abusing their market power to hurt small business."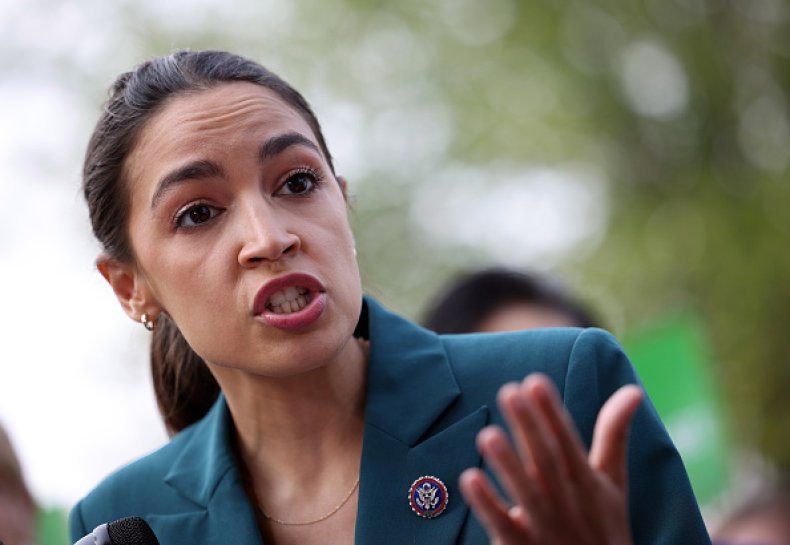 Ocasio-Cortez has long been a vocal opponent against Bezos, Amazon and the company's work culture.
In December, the congresswoman attacked Amazon, calling the giant's jobs a "scam" because of how some workers have struggled to pay their bills with the income they make under the richest man in the world.
Linking to a Bloomberg report, which found that more than 4,000 Amazon workers were on food stamps, Ocasio-Cortez tweeted: "This is why 'Amazon jobs' aren't it & we should instead focus our public investments + incentives on small businesses, public infrastructure, & worker cooperatives that actually support dignified life."
"A 'job' that leaves you homeless & on food stamps isn't a job. It's a scam," she added.
According to Forbes, Bezos' net worth as of Tuesday is $204.6 billion.
On Tuesday, Bezos became the second billionaire to go to space—nine days after Sir Richard Branson—on a rocket owned by his aerospace company Blue Origin.
While the Amazon founder stepped down as the company's CEO in July, he remains the biggest shareholder with a stake worth about $180 billion.
Over the years, Bezos has faced increasing scrutiny for the conditions Amazon employees working under, with reports that staff have urinated in bottles in fear of missing delivery rates and that many regularly work 14-hour days.
Amazon workers also continued to head into the company's factories in the early days of the pandemic, as most of the world stopped working or continued to do so remotely to prevent the spread of COVID-19.
During the pandemic, Bezos saw his net worth increase by $70 billion.
Updated 2:40 PM ET, with additional information.