AOC Slams Cops Who Displayed Diapers, Baby Formula Seized From Shoplifters
Representative Alexandria Ocasio-Cortez (D-N.Y.) criticized New York police as "framing" shoplifters as "monsters" following a tweet showing a photo of baby supplies and medicine that had been recovered from thefts.
On Wednesday, the New York Police Department (NYPD) wrote in a now-deleted tweet, "After receiving numerous larceny complaints in the Bronx, officers from the @NYPD44Pct [NYPD 44th Precinct] recently arrested 12 individuals following an enforcement initiative targeting shoplifters. The arrests made led to the closure of 23 warrants & the recovery of $1800 worth of merchandise."
The post contained an image of numerous products, including diapers, baby formula, baby wipes, laundry detergent, shower gel, baby shampoo, lotion and over-the-counter medications.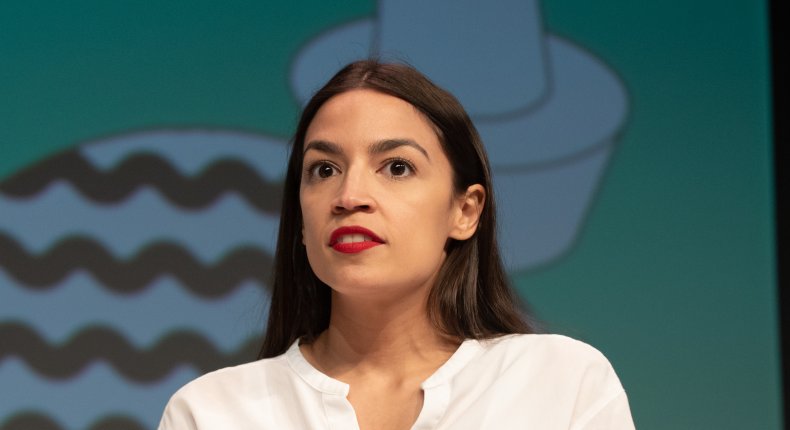 "When I talk about violent conditions, this is what I mean," Ocasio-Cortez wrote in a Wednesday afternoon tweet.
"But hey, it's much easier to frame people who steal baby formula and medicine as monsters to be jailed than acknowledge our politics and economic priorities create conditions where people steal baby formula to survive," her tweet concluded.
Ocasio-Cortez has long spoken about how poverty and harsh living conditions are a type of violence that results in poor people and people of color being targeted by the judicial system.
In a February 14 interview with The New Yorker, Ocasio-Cortez was asked about how progressive efforts to "defund the police" in New York City have resulted in the election of former police officer Eric Adams as mayor.
"Because we run away from substantive discussions about this, we don't want to say some of the things that are obvious, like, 'Gee, the child-tax credit just ran out, on December 31st, and now people are stealing baby formula,'" Ocasio-Cortez said.
"We don't want to have that discussion," she continued. "We want to say these people are criminals or we want to talk about 'people who are violent,' instead of 'environments of violence,' and what we're doing to either contribute to that or dismantle that."
Ocasio-Cortez was just one of several people who criticized the NYPD's tweet.
In a tweet, journalist Elizabeth Weill-Greenberg wrote that one of the arrestees was reportedly a 64-year-old woman who lives in a homeless shelter.
Eliza Orlins, a former candidate for Manhattan district attorney, wrote, "The NYPD deleted this tweet, but the fact is they proudly displayed having caught people who took diapers and cough medicine. Basic. Necessities. This is not public safety. This is cruelty on display."
Shoplifting significantly increased during the pandemic, The Washington Post reported, citing interviews with over a dozen retailers, security experts and police departments nationwide.
On Wednesday, Adams unveiled a $98 million city budget that would cut 10,000 municipal workers and most city agency budgets by 3 percent. The plan would also decrease the NYPD's budget by nearly $30 million, to about $5.41 billion.
Newsweek has reached out to the NYPD for comment.