AOC Slams Nikki Haley for Suggesting Police Budgets Come From Federal Government: 'I Know You're Confused About Actual Governance'
Rep. Alexandria Ocasio-Cortez (D-N.Y.) mocked former Ambassador to the United Nations Nikki Haley for being "confused" about the source of police funding during a heated Twitter exchange on Thursday.
Ocasio-Cortez made the remarks after Republican Haley, also a former governor of South Carolina, responded to a tweet from the congresswoman that suggested "we need to pay people to stay home" in order to control the raging COVID-19 pandemic.
"AOC, Are you suggesting you want to pay people to stay home from the money you take by defunding the police?" Haley tweeted. "Or was that for the student debts you wanted to pay off, the Green New Deal or Medicare for All? #WhereIsTheMoney"
"Nikki, I'm suggesting Republicans find the spine to stand up to their corporate donors & vote for the same measures they did in March, except without the Wall St bailout this time," responded Ocasio-Cortez. "And I know you're confused abt actual governance but police budgets are municipal, not federal."
Ocasio-Cortez, already a favored target of many conservatives as a notably progressive Democrat, came under added fire over the summer by becoming one of a small number of prominent national politicians to express support for "defunding the police." She has not played a direct role in any related legislative efforts since U.S. House members do not deal in local funding of police departments.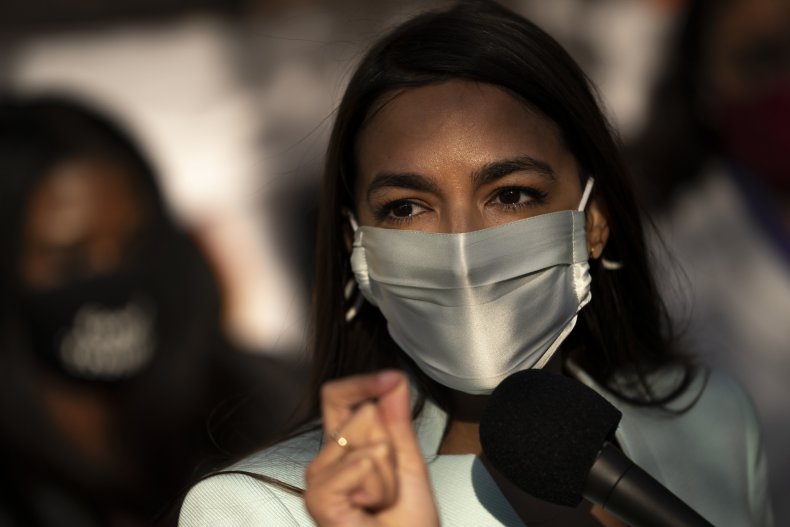 In a subsequent tweet, the "Squad" member went on to further admonish Haley over her alleged ignorance of the financial workings of government, while also blasting her and other Republicans for "worshipping" President Donald Trump.
"Utterly embarrassing that this woman was a governor & still doesn't have a grasp on public investment. Wonder if she says federal financing works like a piggy bank or household too? All this faux-seriousness from folks who worship Trump for running the country like his casino," tweeted Ocasio-Cortez, accompanied by an "eye rolling" emoji.
The exchange came after a series of tweets and comments from Ocasio-Cortez calling for financial relief amid the pandemic. Although most Republicans supported the CARES Act in March, providing a single $1,200 payment to many Americans, some have been reluctant to endorse new payments despite cases of the virus multiplying faster than ever.
Ocasio-Cortez remarked that it was "funny" that Republicans approved the previous payment as part of "a $4 trillion leveraged slush fund for their Wall Street buddies," but they now oppose similar efforts because "this time all that's left is helping working people, the disabled, the poor, etc."
Not long after her exchange with Haley, Ocasio-Cortez also had harsh words for Sen. Kelly Loeffler (R-Ga.), who had responded negatively to her call for new COVID-19 relief while highlighting that Ocasio-Cortez supports Raphael Warnock, Loeffler's Democratic opponent in a crucial January 5 runoff election.
Loeffler had insisted that Ocasio-Cortez's support for new direct payments meant she "wants to lock down our economy, lock the American people in their homes, and put the government in charge of every single part of our lives" while promising that it was "not going to happen on my watch."
"@KLoeffler disclosures show you seem to have gifted yourself private jet on public dime & exploited corrupt tax loopholes to do it," Ocasio-Cortez tweeted while sharing a link to a Salon article suggesting that Loeffler may have used loophole in Trump's 2017 tax bill that allows the entire value of private jets to be written off.
"If you're happy helping yourself to public funds, maybe take a seat before arguing against stimulus checks to help everyday people in a pandemic," she added.
Newsweek reached out to Ocasio-Cortez and Haley for comment.