AOC Uses Cassidy's 'Woman's Problem' Infrastructure Comment to Push for Reconciliation, Families Plan
Representative Alexandria Ocasio-Cortez (D-NY) used Senator Bill Cassidy's (R-LA) Sunday remarks that infrastructure is a "women's problem" as a means to push for a Democratic reconciliation bill and families plan.
Speaking on NBC News' Meet the Press,Ocasio-Cortez responded to Cassidy's earlier statement that physical infrastructure, such as bridges and roads, could be an issue for women because they are often the ones "taking the children to school" or "doing the shopping."
"My wife says that roads and bridges are a woman's problem if you will," Cassidy said during an earlier interview on Meet the Press Sunday.
"Because oftentimes it is the woman, aside from commuting to work, who's also taking children to schools or doing the shopping. And the more time that she spends on that road, the less time she spends doing things of higher value," he added.
While some people found Cassidy's remarks offensive, Ocasio-Cortez used his statement as a way to push for a progressive effort to include childcare, Medicare, education and climate change initiatives in President Joe Biden's $1.2 trillion bipartisan infrastructure bill.
"House Democrats are very committing to making sure that, in Senator Cassidy's words, infrastructure is very centered on women. And in addition to a bridge, you need a babysitter. It's very important that we pass a reconciliation bill and a families plan that expands childcare, that lowers the cost of Medicare, and that supports families in the economy," Ocasio-Cortez said Sunday.
Earlier this week, Biden and a group of bipartisan lawmakers said they reached a deal that would provide the framework for a $1.2 trillion plan aimed at modernizing roads, bridges, railways, broadband internet, water and sewer pipes, and electric vehicles across the country.
However, the negotiations faced hurdles after Biden later threatened to not pass the legislation unless the Democratic reconciliation bill was passed alongside it. Though the president has since walked back on those statements, and clarified that he does not seek to veto the bill without a reconciliation package, Democratic lawmakers are still hoping to tie the two together.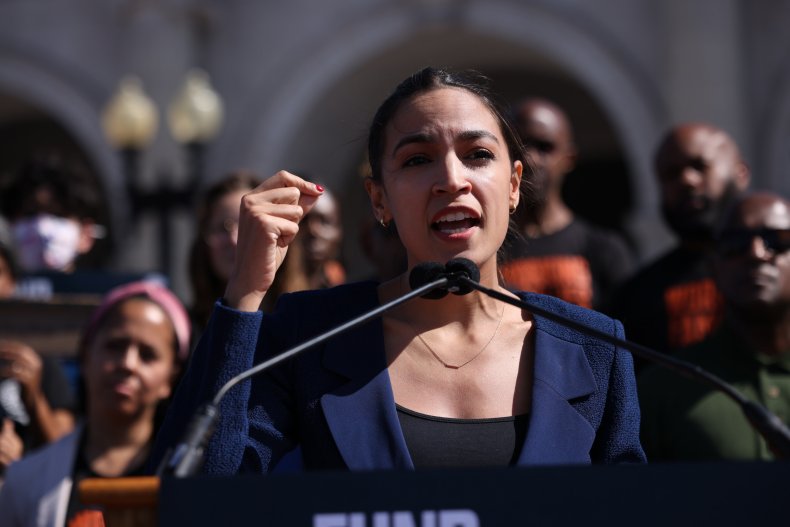 "I think it's very important for the President to know that ... the Democratic caucus is here to ensure that he doesn't fail, and we're here to make sure that he is successful in making sure that we do have a larger infrastructure plan," Ocasio-Cortez said Sunday.
"While we can welcome collaboration with Republicans...that doesn't mean that the president should be limited by Republicans, particularly when we have a House majority, we have 50 Democratic senators, and we have the White House. I believe that we can make sure he's successful in executing a strong agenda for working families," she added.
"