AOC Uses Waitress Experience to Call Out Eric Adams For 'Low-Skilled' Worker Comments
New York Democratic Representative Alexandria Ocasio-Cortez used her previous waitressing experience to call out fellow Democrat and new New York City Mayor Eric Adams' recent comments on "low-skilled workers" comment.
"The suggestion that any job is 'low skill' is a myth perpetuated by wealthy interests to justify inhumane working conditions, little/no healthcare, and low wages," Ocasio-Cortez tweeted on Wednesday. "Plus being a waitress has made me and many others *better* at our jobs than those who've never known that life."
The congresswoman's remarks come in response to a statement Adams made during one of his first press conferences as mayor.
Urging larger businesses to return to in-person work as part of an effort to help support smaller businesses that rely on workers who commute to the city, Adams said that those working in the service industry lack the "academic skills" that those who work in offices, and have the flexibility to work from home, do.
"My low-skilled workers, my cooks, my dishwashers, my messengers, my shoe-shine people, those who work at Dunkin' Donuts—they don't have the academic skills to sit in the corner office," he said on Tuesday. "They need this."
Adams said businesses needed to recognize their role in the "ecosystem of the city" and warned that employers who allow staff to work remotely full time "are not helping those New Yorkers who need us to come in."
His comments received a slew of criticisms, including from Ocasio-Cortez, who worked as a bartender and waitress in the Bronx borough before entering politics. The congresswoman endorsed progressive Maya Wiley in the Democratic primaries against Adams.
The United Farm Workers of America tweeted a video of a farmer harvesting crops with the caption "Anyone in a corner office can come try our 'low skill' work anytime."
"This man's whole political career is premised on him being a cop. Guess that's why he doesn't have the skills to be a good mayor," activist Samuel Sinyangwe tweeted.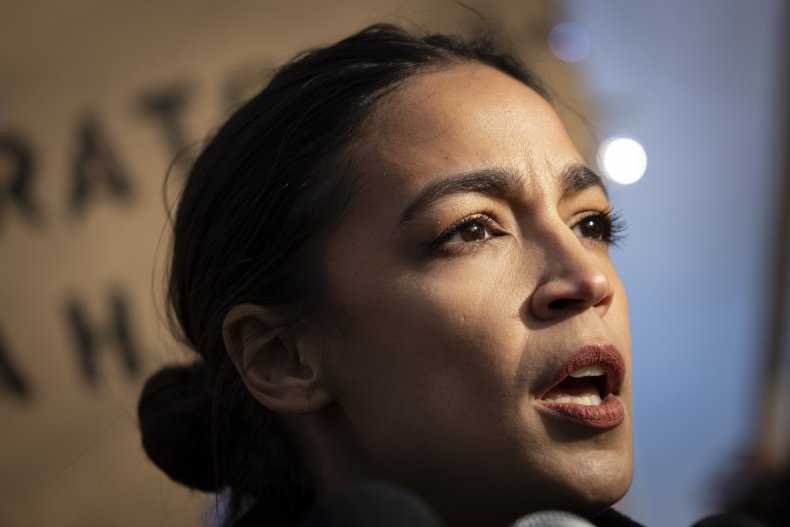 Others pointed out that many of the "low-skilled" workers Adams described were the same ones that were titled "essential workers" in the early days of the pandemic.
"Essential workers became 'low skilled workers' that don't deserve raises the second Democrats seized power and had to follow through on their campaign promises," one Twitter user wrote.
As COVID cases have continued to surge, many major corporations based in New York City are asking employees to work from home for the first few weeks of the new year.
Adams has continued to push for the reopening of the city, arguing that it would be best plan for businesses and schools.
"What we must understand is the resiliency of returning back to a normal life," Adams told CNN on Tuesday. "If we don't open our cities, that's almost a million people who are behind in our rent right here in this city We have low-skilled employees who can't do remote employment from home."