Alexandria Ocasio-Cortez Joins List of Democrats Calling for William Barr to Resign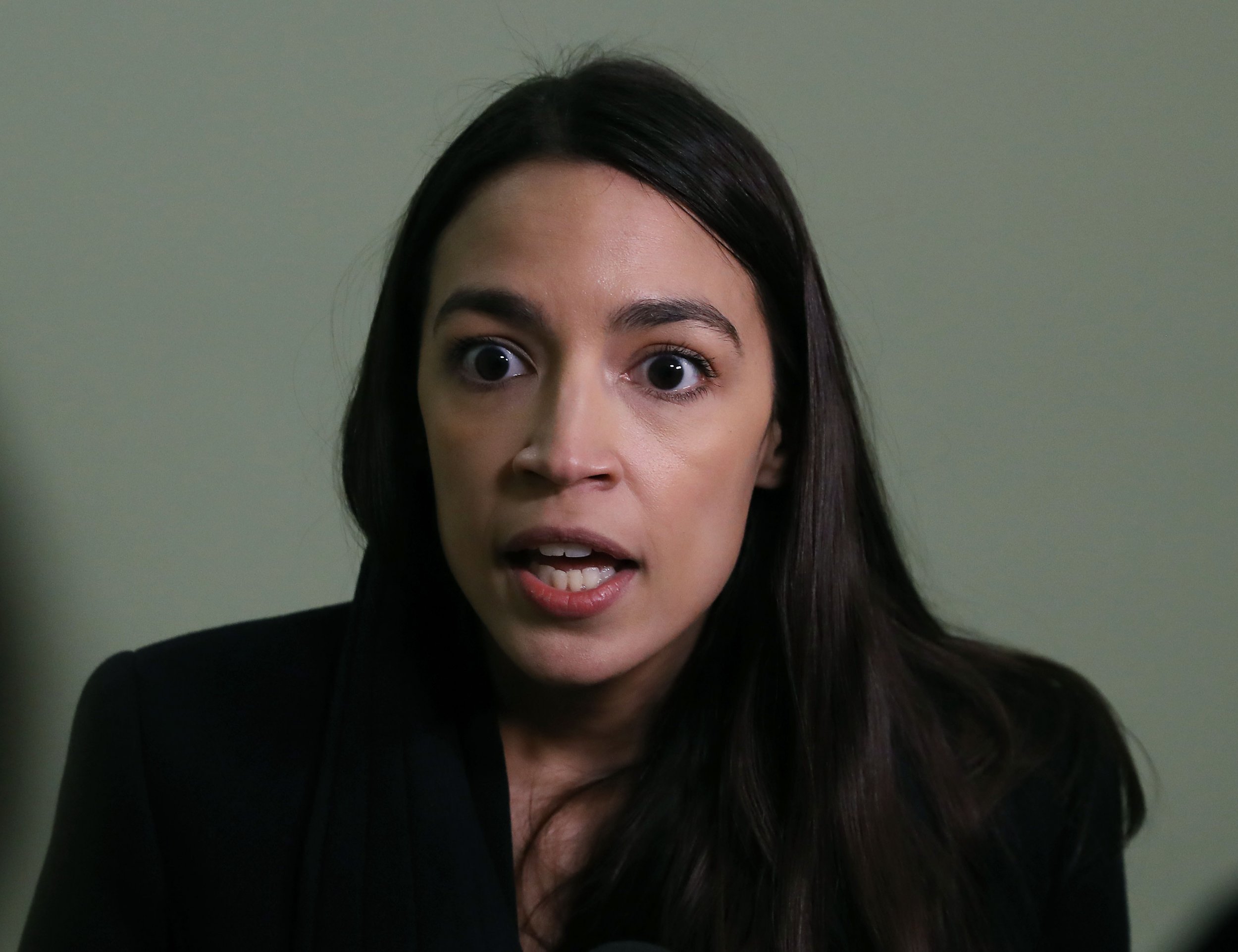 New York Representative Alexandria Ocasio-Cortez has joined the growing list of Democrats calling for Attorney General William Barr to resign over his handling of the Mueller report.
"Barr needs to resign," Ocasio-Cortez tweeted after it emerged that he would not comply with a subpoena by the House Judiciary Committee to release the unredacted Mueller report and underlying evidence.
Also calling for Barr's resignation are 2020 Democratic hopefuls Massachusetts Senator Elizabeth Warren, former Vice President Joe Biden, and California Senator Kamala Harris, among several others.
Some suggested Barr should be impeached if he does not resign, including Connecticut Senator Richard Blumenthal, Julián Castro, the former secretary of Housing & Urban Development under Barack Obama and a current 2020 candidate, and California Representative Eric Swalwell, also running for the 2020 nomination.
The Justice Department did not respond immediately to Newsweek's request for comment about the calls for the attorney general's resignation.
At a testy Senate Judiciary Committee hearing on Wednesday, Barr faced accusations he lied to Congress about his conversations with Robert Mueller following the disclosure of a letter sent by the special counsel to the attorney general before his report was made public.
In the letter, Mueller expressed concern that Barr's memo to Congress summarizing the special counsel's main findings lacked important context from the report, creating confusion and misunderstanding about the investigation among the American public.
Back in April, Barr gave testimony to Congress that he did not know whether Mueller supported his conclusions, comments that appear to be contradicted by the special counsel's letter. Democrats across Capitol Hill now say Barr either misled or lied to Congress.
The attorney general is also refusing to appear in front of the House Judiciary Committee as scheduled on Thursday because of a dispute over the format of the questioning. The committee wants Barr to answer questions from its staff attorneys, but he says he will only speak to lawmakers.
Representative Pramila Jayapal, a Washington Democrat and a member of the House Judiciary Committee, stated on Twitter that she will urge Chairman Jerry Nadler, a New York Democrat, to hold Barr in contempt.
Jayapal also criticized President Donald Trump's refusal to comply with House requests and subpoenas for undermining the function of Congress as an oversight body. "This is extremely dangerous behavior from Trump and Barr," she tweeted.
Nadler said in a statement on Wednesday evening that his committee had worked around the clock to address the concerns of Barr about Thursday's hearing.
"Given his lack of candor in describing the work of the special counsel, our members were right to insist that staff counsel be permitted to question the attorney general," Nadler said.
"I understand why he wants to avoid that kind of scrutiny, but when push comes to shove, the administration may not dictate the terms of a hearing in our hearing room."
The committee chairman also said he will continue to work with the attorney general to gain access to the full, unredacted Mueller report and its underlying evidence, despite the Justice Department's noncompliance with the subpoena.
"But not for much longer," Nadler said. "Compliance with congressional subpoenas is not optional. There are many questions that must be answered."