AOC's Bitter Committee Seat Snub Fuels Speculation About Challenge to Schumer
Representative Alexandria Ocasio-Cortez might not be ready to challenge Nancy Pelosi for the House speaker's job just yet, but the committee seat she was vying for was clinched by Representative Kathleen Rice on Thursday.
Tensions continue to build within the Democratic caucus after Ocasio-Cortez was pitted against Rice in a contentious secret ballot vote for the last seat on the House Energy and Commerce Committee. The panel oversees areas ranging from health care policy to climate issues and consumer protection.
While Pelosi and her team presented a slate of their preferred candidates for the other four seats, they left out a nominee for the seat reserved for a New York member, forcing a face-off that would be decided by the Steering and Policy Committee.
Ocasio-Cortez has been seen as a threat by her moderate Democratic colleagues who oppose her progressive policies, like Medicare for All and the Green New Deal.
Ahead of the vote, several Democrats lobbied against her, including Representative Henry Cuellar, who said, "I'm taking into account who works against other members in primaries and who doesn't," according to Politico.
The freshman congresswoman did earn the support of House Judiciary Committee Chairman Jerry Nadler. However, Rice ultimately won the final seat on the committee in a 46-13 vote.
"This is a very powerful committee assignment," James Thurber, a political science professor at American University, told Newsweek.
"It's the most powerful authorization committee, so it's a big deal that [Ocasio-Cortez] didn't get on it," Thurber added. "It's a major message to her to not be so disruptive. That committee has a lot of jurisdiction over a lot of things that Biden will be pushing."
But Ocasio-Cortez's loss is fueling speculation that she might be setting her eyes on a new opponent: Senate Minority Leader Chuck Schumer, who was reelected to lead the Senate's Democrats for a third term last month.
In an interview with The Intercept's podcast, released Wednesday, she said that Pelosi and Schumer need to go. While she said she wasn't ready to run for House speaker, she stopped short of saying the same about challenging Schumer for his Senate seat in 2022.
"I think one of the things that I have struggled with—I think that a lot of people struggle with—is the internal dynamics of the House has made it such that there's very little option for succession, if you will, you know?" Ocasio-Cortez said. "And I think it's easy for someone to say, 'Oh, well, you know, why don't you run?' But the House is extraordinarily complex. And I'm not ready. It can't be me! I know that I couldn't do that job."
Thurber said that it would be a difficult task for Ocasio-Cortez to run against Schumer, especially given the internal conflict between the Democratic Party's progressive wing and its centrist members.
"People would certainly look down upon it, because the power of structure would make it more difficult for her. She'd be appealing to constituents outside of Congress rather than powerful constituents inside," he said.
"The majority in the House has been reduced as a result of the 2020 election, and so I think the leadership is being very careful about getting people who are loyal and have more of a centrist position on legislation," Thurber added.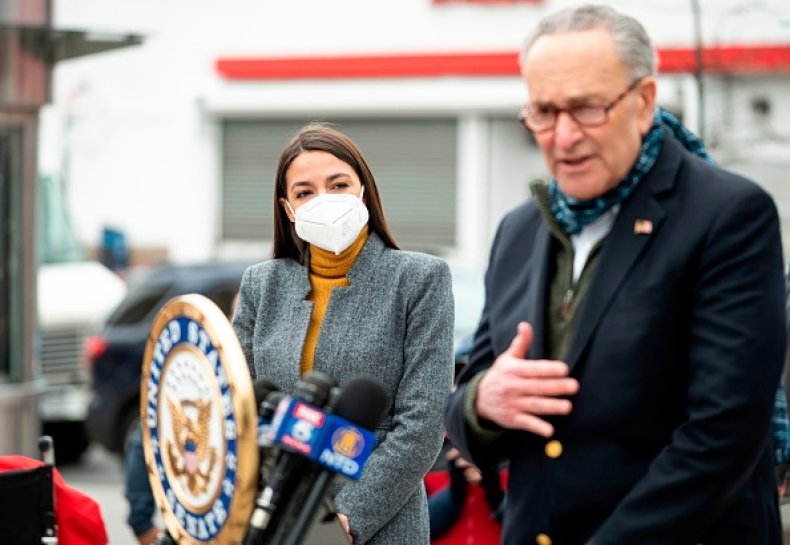 Ocasio-Cortez said the problem is that although the Democratic Party desperately needs new leadership, it currently has no plan to fill the vacuum Pelosi and Schumer would leave.
"If you create that vacuum, there are so many nefarious forces at play to fill that vacuum with something even worse," she explained. "And so the actual sad state of affairs is that there are folks more conservative than even they are willing to kind of fill that void."
Progressives had been pushing for Ocasio-Cortez to take the prized committee seat so that the left would be represented when critical policies are determined during the Biden administration's early days.
Ocasio-Cortez is not the first House member to speak out against Pelosi. Rice opposed the House speaker in the past.
Two years ago, Rice tried to block Pelosi from leading the House Democrats in the 116th Congress. The Long Island representative was subsequently denied a seat on the Senate Judiciary Committee, which in hindsight seems like a cautionary tale about how Pelosi delegates Democratic committee seats.
"Pelosi knows how to play the game," Thurber said. "She plays a rough game for people who are not loyal, and I think that's in context this time."
Newsweek reached out to Ocasio-Cortez's team for comment but did not hear back in time for publication.