AOC's Sexual Assault Disclosure Is a #MeToo Moment for Marginalized Women of Color | Opinion
Congresswoman Alexandria Ocasio-Cortez recently took to Instagram where she made a devastating disclosure. While recounting the trauma she sustained during the attack on Capitol Hill on January 6, she revealed that she is a survivor of sexual assault.
As a mixed-race woman from a working-class background and a fellow survivor, her admission means the world to me.
As a child, I guarded a terrible secret for over a decade. Like many survivors, my perpetrator, a distant relative, threatened me into silence. So I carried the burden of childhood sexual abuse alone. It was a weight so heavy that I thought it would crush me.
As a teenager, I used to rehearse my "disclosure speech" in the mirror, certain that when the moment came, I would speak out. Yet whenever I was presented with an opportunity, I could never quite get past the opening words, "I have something to tell you." My body would betray me, and I would stand there, paralyzed, physically unable to say another word.
It took three years of practice before I felt able to share my story, and even then, I was met with disbelief, and rejected by several relatives who haven't spoken to me since.
As survivors of sexual assault, we are robbed of many things -- our dignity, our right to autonomy, and our voice. But for those who were already silenced and oppressed to begin with, the barriers to speaking out are multiplied.
That's why Ocasio-Cortez's disclosure cannot be understated. In light of the intersectional discrimination she faces just by existing as a young, female Latinx from a working-class background, it was a political and cultural watershed moment, nothing short of a #MeToo for the marginalized.
As both a survivor and a former social worker who supported countless victims of sexual assault, I was met with a disturbing sense of familiarity during AOC's address. She mentioned for example, being gaslighted by people pushing to move on from the events of that day, who she accused of "using the same tactics of every other abuser who just tells you to move on," abusers like "that man who touched you inappropriately at work... or the adult who, you know, if they hurt you when you were a child and you grow up and you confront them about it, and they try to tell you that what happened never happened."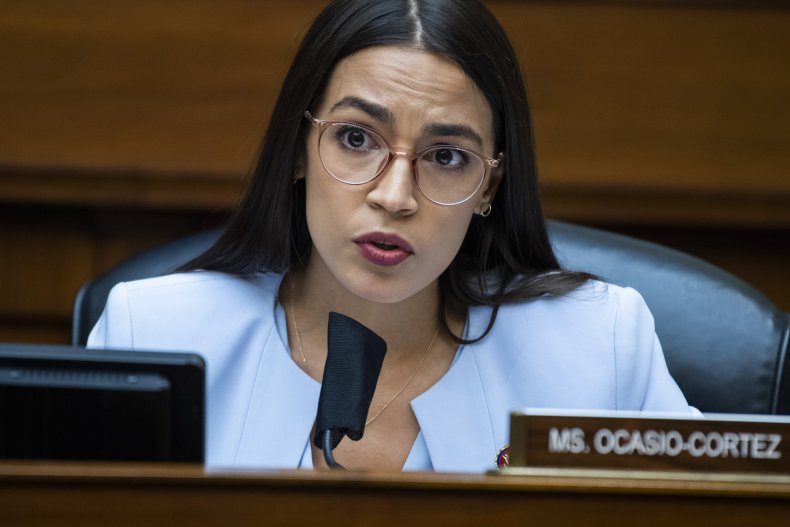 Many, many sexual abuse survivors will recognize these tactics, especially women of color who struggle to make their voices heard. Gaslighting is a well-worn weapon in the abuser handbook, and AOC's words about abusers negating the impact of trauma hit me close to home; I recognized them from my own experience. At various points in my childhood, my abuser would insist "This never happened," minimizing, denying, and absolving himself of culpability. It was a manipulative attempt to make me question my own sanity.
There are simply no words to describe the weight of this injustice, or how it felt to have my abuser look me in the eye and reinvent history – and this is being played out on a national scale, as pointed out by AOC.
Victim-blaming is another psychological ruse AOC described, which mirrors both my personal and professional observations. In her address, she said that infuriated Republicans were asking her to apologize for her comments insisting that Ted Cruz "almost had [her] murdered." This is a clear and deliberate attempt to shift the focus from perpetrator to attacker.
And to me, it felt like déjà vu. In every case of sexual assault I encountered as a social worker, perpetrators would echo the same five words: She made me do it. In many cases, perpetrators demand apologies from victims for daring to disclose, blaming them for the fact they are now "labelled" as a sex offender, for their sudden lack of employment, or on rare occasions, for their prosecution. (When I say rare, I mean to say so low as to be negligible; as of 2018, less than 1% of rapes lead to felony convictions, a figure likely to have skyrocketed due to the pandemic.)
AOC's disclosure marks a huge stride forward when it comes to shattering the stigma around speaking out.
For me personally, witnessing a disclosure from someone I relate to -- another young woman from mixed heritage, from a working class background -- has been instrumental to my decision to share my story.
But to truly support survivors of diverse backgrounds, it is imperative to acknowledge our own privilege. For example, as a "white passing" mixed-race person, I know I cannot truly understand the experience of a Black survivor. We must all come together to break the silence around sexual abuse.
We must learn from grassroots organizations that support diverse survivors from all racial, cultural, and religious backgrounds, as well as people from the GBTQI+ community, the disabilities community, and neurodivergent people. Ask outrightly if someone needs support. Name your concerns, and provide an opportunity for disclosure. It could be the difference between life or death. Finally, we must believe survivors and validate their experiences. It may be the first time they have ever been heard.
It is my deepest wish that AOC's devastating disclosure will prove a watershed moment for women of color survivors -- and the communities that must do more to support us.
Rebekah Pierre is a journalist and author based in London who writes about gender and social justice.
The views expressed in this article are the writer's own.