Tim Armstrong's Golden Parachute Vs. Cost of 'Distressed Babies'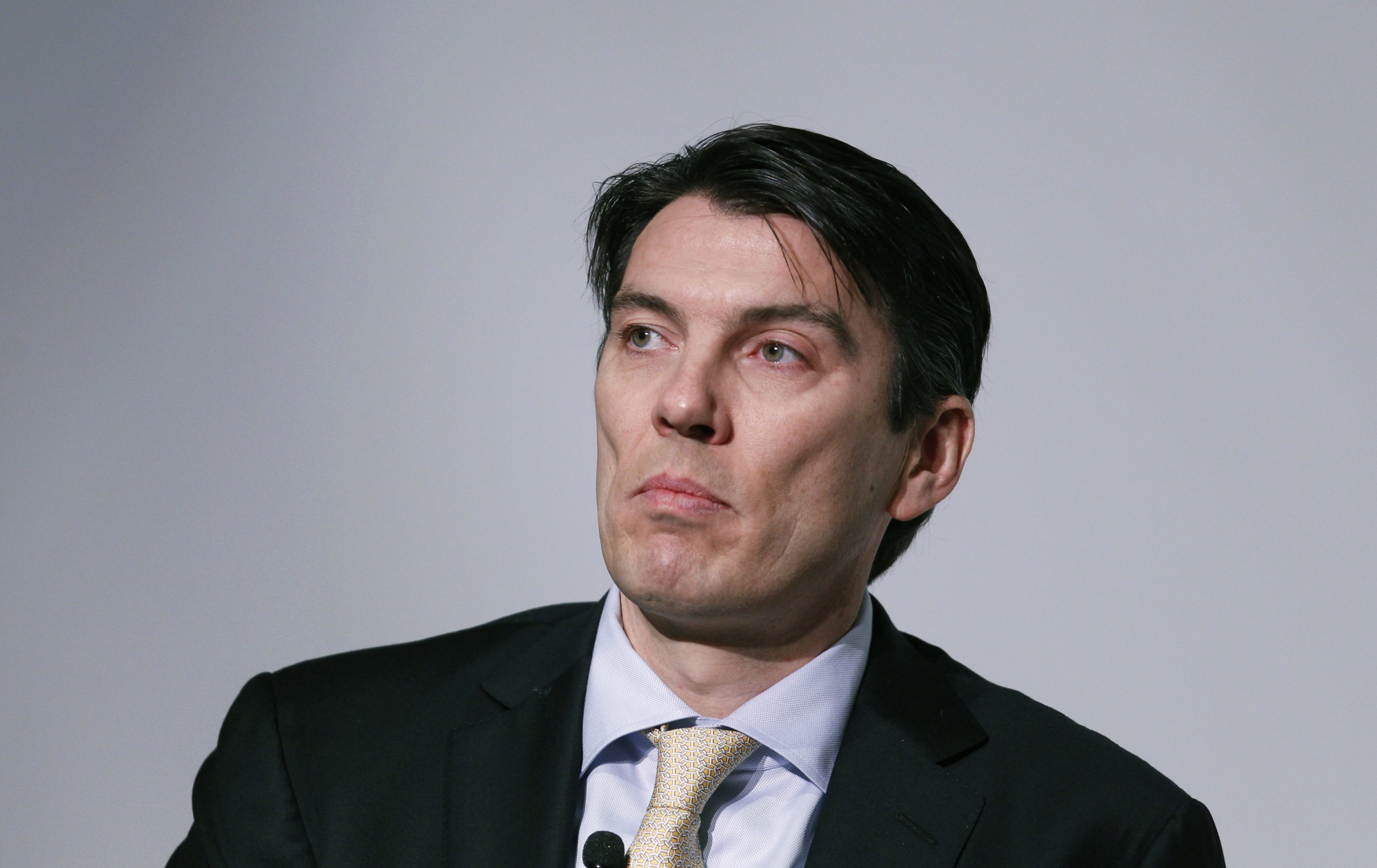 What costs more than "distressed babies"?
For one thing, AOL Chairman and CEO Tim Armstrong's $4 million golden parachute. That's the amount of money the media giant would have to fork over to bid its colorful and controversial chief farewell.
For obvious reasons, AOL, which has made cost-cutting a key plank of its drive for profitability, is unlikely to defenestrate Armstrong anytime soon, sources at the company told Newsweek.
But Armstrong has had a tough week. In case you missed it, he created a furor when he announced the company would delay contributions to employees' retirement accounts because of sky-high healthcare costs – in particular, he gracefully divulged, the cost of saving the lives of two employees' babies.
"We had two AOL-ers that had distressed babies that were born that we paid $1 million each to make sure those babies were OK in general," the father of three told AOL employees at a town hall meeting last week, where he also blamed Obamacare for forcing the company to make unwelcome changes to AOL's retirement plan.
The company has hired New York PR firm Edelman to handle the fallout. Armstrong declined to comment.
Unfortunately, he can't unsay what he said. It's not very tactful for any CEO to out employees' deeply painful experiences in trying to keep their infants alive and use that as a scratching post for reining in the retirement benefits at AOL for all. But it's particularly unadvisable if you are the boss of a company full of journalists.
No sooner had the town hall meeting adjourned than the wife of one of AOL's top employees, Peter S. Goodman – an alum of The New York Times and father of one of the so-called "distressed babies," blasted the treatment as "dehumanizing" in an article she penned for Slate.
"I take issue with how [Armstrong] reduced my daughter to a 'distressed baby' who cost the company too much money," said Goodman's wife, writer and novelist Deanna Fei, adding: "How he exposed the most searing experience of our lives, one that my husband and I still struggle to discuss with anyone but each other, for no other purpose than an absurd justification for corporate cost-cutting."
The blunder came at a time when Armstrong should have been doing a victory lap – and sharing the wealth with his employees, who have taken hit after hit in recent years. The latest wave of layoffs were focused on the long-troubled Patch, which AOL largely offloaded in January to investment company Hale Global.
Under the stewardship of Armstrong, AOL – owner of The Huffington Post, where Fei's husband works – has gone public on the New York Stock Exchange and its shares have quadrupled in value over the past three years to around $45 a share.
Last week, the company reported the best revenue in a decade. But AOL took a $5.8 million charge on the Patch layoffs – another expense that appears to cost more than two "distressed babies."
Armstrong has apologized to Fei, who accepted and stated she hoped that, "in the future we'll be more careful about reducing human life to a monetary figure."
Inside AOL, employees told Newsweek that they have become somewhat jaded about the grand mal outbursts – and subsequent apologies – from their CEO, with one stating it has been the source of amusement, horror and many a "water cooler moment."
Yet Armstrong's remarks about the need to belt-tighten do not appear to extend to his own fortunes, nor has AOL's board opted to scale back on his benefits or pay in order to cut costs.
To the contrary, in 2012 – the same year Armstrong complained of the outsized drain distressed babies put on the company's finances – he not only received a cash bonus that trumped his base salary by more than 100 percent, but also received an additional "special bonus," according to AOL's compensation committee in a filing with the Securities and Exchange Commission.
"The compensation committee approved a special individual cash performance award for Mr. Armstrong in the amount of $500,000 in recognition of the role he played in the company's return to growth," according to the proxy statement filed with the S.E.C. last year for 2012, by way of explanation.
One of the key reasons for the bonus given by the committee – headed by James Stengel, formerly global head of marketing for Proctor & Gamble, who came on board the same year Armstrong was hired in 2009 – was Armstrong's "continuing tight cost controls."
The total cash award approved by AOL's compensation committee for Armstrong in 2012, the latest reported year for his compensation, came to $4.25 million, in addition to $2.76 million of stock awards and $5.1 million of options awards.
The final tally? More than $12 million, which included matching 401(K) contributions of $12,000 from AOL and the reimbursement of life insurance premiums.
Armstrong's employment agreement allows for a cash bonus of up to 400 percent of his base salary of $1 million, also paid in cash, plus stock and options, so perhaps overshooting base salary by a mere 100 percent did not strike him as terribly exorbitant.
In a conciliatory email sent to staff this past week (forwarded to Newsweek and bearing the subject line "Employees First") Armstrong sought to rally the troops with another announcement: he would not be meddling with their retirement benefits after all.
"As we begin 2014, let's keep up our momentum," his note concluded. "Thank you for the great 2013 year and for your ongoing passion. And know that I am a passionate advocate for the AOL family."
Considering Armstrong's take-home pay is 75 percent based on AOL's earnings and cash flow and 25 percent based on individual performance goals set by the compensation committee, the committee may want to consider basing its next round of compensation-linked goals to a reduction in the number of apologies he has to make to his staff in 2014.
(Leah McGrath Goodman is not a relation of AOL's Peter S. Goodman.)