A$AP Rocky Drops Music Video Where He Is Chased By Pig-like Police After Release From Swedish Prison
In his first new track since being released from jail in Sweden in July, A$AP Rocky dropped the video for his latest song "Babushka Boi" on Wednesday. The highly stylized visual shows half-pig policemen chasing after Rocky and his crew after they held up a bank.
A$AP Rocky was arrested, charged for assault, and detained for three weeks. On August 14, a jury found him guilty of assault and gave him a suspended sentence.
The video, directed by Nadia Lee Coehn, features some intensive prosthetic work. In it, A$AP Rocky — whose real name is Rakim Mayers — is part of a crew of bank robbers dressed in zoot suits, getting into car chases and other kinds of trouble with the police.
It's difficult to say whether this is a deliberate reference to Rocky's recent run-in with the law or just a coincidence, but it seems like on-the-nose timing either way.
He was found guilty of assault in Sweden earlier this month (although he was not required to serve any additional prison time, having spent a month in jail prior to the conviction), but production on the video could have started prior to the incident.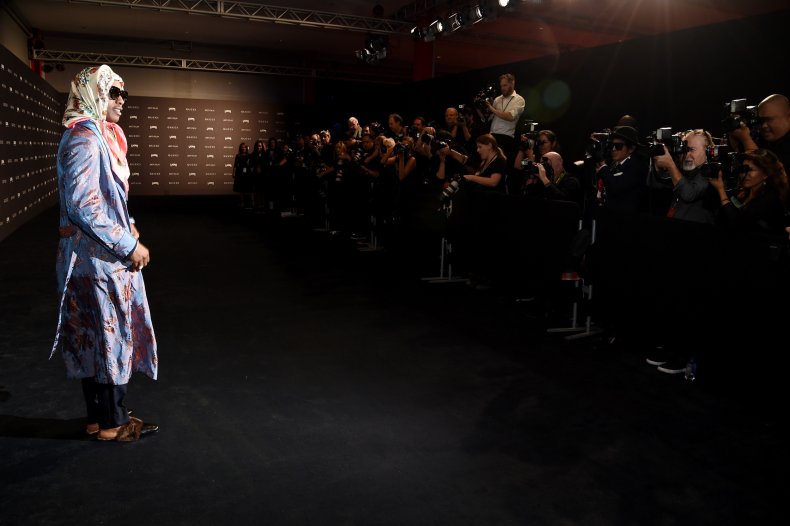 As the track's title implies, Rocky wears his now trade-mark babushka (a headscarf tied under the chin, typical of those traditionally worn by Russian women) in the video. A$AP Ferg, ScHoolboy Q, A$AP Nast, and Kamil Abbas all appear throughout the video. At the end of 2018, A$AP turned up to LACMA's annual art and film gala wearing a full Gucci look — including a babushka-like scarf wrapped around his head and sunglasses.
Rocky told Dazed Magazine in November of 2018, "I just wanted to show off my babushka today, honestly. I'm just encouraging all guys to wear babushkas from here on out. Silk gang, silk city. You know how we do it."
In the song's lyrics, Rocky also says that he is vegan. This doesn't seem like much of a surprise, considering where the rapper's eating habits were already headed. Back in 2012, Rocky told Complex about how he had decided to become a pescatarian after learning about the torture process that the animals undergo before they are killed and eaten. He later told Grub Street about how his vegetarian restrictions were alienating:
"I don't eat meat, so people don't like to celebrate Thanksgiving with me. They can't enjoy it," he said. "Most people in my family, they mix meat in everything that they cook. So it's just pretty annoying."
A$AP's recent arrest was eventful and followed closely by the public and the press. It even included a minor political scuffle on Twitter between President Donald Trump and Swedish politicians.