Apex Legends hosts the ALGS Winter Circuit Playoffs this weekend, and we want to make sure you don't miss a single second of the North American action. In this guide, we detail the ALGS Winter Circuit start times, teams, format and links to the latest leaderboards.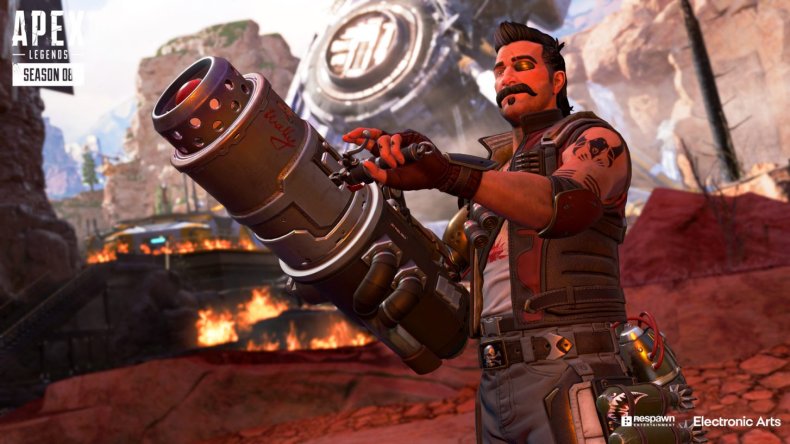 What time does the ALGS Winter Circuit Playoffs start?
The North American ALGS Winter Circuit Playoffs are set to take place Saturday March 27 at 6 p.m. EDT. Following that evening of matches, a second day of playoffs begins Sunday March 28 at 11 a.m. EDT to cover Europe, Middle East and Africa (EMEA). Simply tune into the streams at those designated times to watch the action as it unfolds.
Where to watch the ALGS Winter Circuit Playoffs
The primary place to watch some premier ALGS action is via the hub streams on the official Apex Legends Twitch and YouTube channels. There, popular shoutcasters provide a broad overview of the matches as they happen. You'll also get a periodic glimpse at the latest leaderboards too, which means you won't miss a beat as the stats get tallied.
What teams are playing in the ALGS Winter Circuit Playoffs?
When it comes to the teams who'll be playing for ALGS glory this weekend, there are 20 trios competing for North America following several weeks of qualifiers.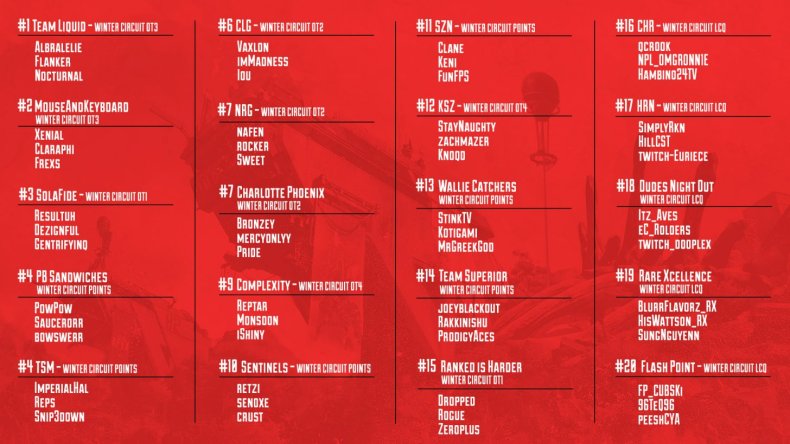 Team Liquid
Albralelie
Flanker
oh Nocturnal
MouseAndKeyboard
Solafide
Dezignful
Resultuh
Gentrifyinq
PB Sandwiches
TSM
CLG
NRG
Charlotte Phoenix
Complexity
Sentinels
SZN
Wallie Catchers
Team Superior
ProdigyAces
Rakkinishu
Joeyblackout
Ranked Is Harder
HRN
Dudes Night Out
Rare Xcellence
Sung
BlurrFlavorz
HisWattson
Flash Point
CHR
QCrook
NPL_OMGRONN1E
Hambino24TV
The EMEA bracket features 17 trios.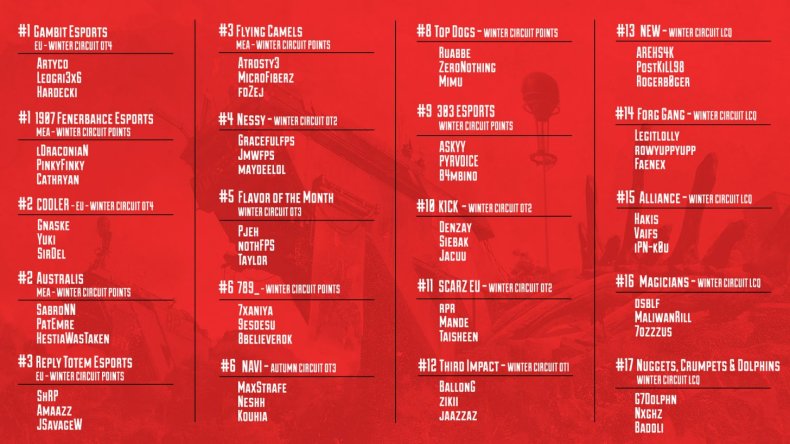 Gambit Esports
1907 Fenerbahçe Esports
LDraconiaN
PinkyFinkyTinky
Cathryan
COOLER Esport
Australis
Totem Esports
Flying Camels
Nessy
FlavorOfTheMonth
789
Natus Vincere
Top Dogs
303 Esports
K1CK
SCARZ EU
Third Impact
New Esports
k4shera
Rogerboger
PostKiLL
Frog Gang
Alliance
Magicians
Nuggets, Crumpets & Dolphins
ALGS Winter Circuit Playoffs format, prizing and leaderboard
During the ALGS Winter Circuit Playoffs, all trios play as many rounds as they wish till they reach 50 points. After hitting that threshold, a single match win secures that team the victory. The rest of the teams will then be ranked by total Circuit Playoff Points.
Points are scored using the following system:
First: 12 Points
Second: Nine Points
Third: Seven Points
Fourth: Five Points
Fifth: Four Points
Sixth/Seventh: Three Points
Eighth-10th: Two Points
11th-15th: One Point
Eliminations: One Point Each
Here's how the prizing will be split in NA and EMEA alike:
First: $48,000
Second: 24,000
Third: $15,900
Fourth: $10,800
Fifth: $7,860
Sixth: $5,790
Seventh: $4,350
Eighth: $3,360
Ninth: $2640
10th: $2,130
11th-15th: $1,500
16th-20th: $1,200
As for leaderboards, you can check those out at EA's official ALGS Leaderboard website. In the event those aren't updated, Liquipedia hosts its own standings as well. Regardless of the site you choose, just make sure you're selecting the correct results for your desired region.
What about those Twitch drops?
Like many high-profile esports events, the ALGS Winter Circuit Playoffs offer an opportunity to unlock Twitch drops by watching matches on Twitch at the above stream while logged in with a linked account. Here are the rewards and their requirements.
Lifetime Wins Tracker for Mirage: Watch for one hour.
Rare Honorable Mention Badge for Mirage: Watch for two hours
Rare Number One Banner Pose for Mirage: Watch for three hours.
Legendary Metal Collector Banner Frame for Mirage: Watch for four hours.
For more info on how to link your account, check out this official guide. That's all you need to know about the ALGS Winter Circuit Playoffs.
Apex Legends is available now on PS4, Xbox One, Switch and PC.
Do you plan on watching the Apex Legends ALGS Winter Circuit Playoffs? Who will reach the top of the leaderboard? Tell us in the comments section!