'Apex Legends' Anniversary Event Brings Back Locked and Loaded and 24 Skins
Apex Legends Season 8 just began on Tuesday, but the game's developers at Respawn Entertainment aren't slowing down the drip-feed of new content for players to explore. From February 9 through February 23, the Anniversary Collection Event kicks off in honor of two years of intense battle royale action. The news arrives courtesy of an official blog post published Thursday morning.
Like most Collection Events, the Anniversary Event features an expansive Prize Track with rewards earned at various point thresholds for taking part in the festivities. The Anniversary Prize Track features 22 earnable items, including two Event Packs and 10 Apex Packs. Just for logging in over the two-week period, you'll also get three Bangalore stat trackers, a free Apex Pack and an event badge.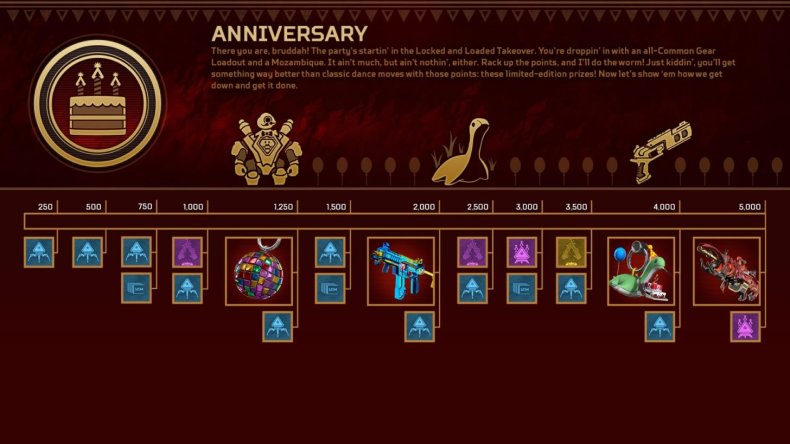 Taking a cue from the nostalgic atmosphere of the rest of the event, the featured mode everyone will be playing in the next few weeks is a fan-favorite called Locked and Loaded. In this match type, players spawn with a full arsenal of gear that includes a level one Mozambique, White Shotgun Bolt, HCOG Classic Scope, White Evo Shield, White Helmet, White Backpack, White Incap Shield, two Syringes, two Shield Cells and one stack of shotgun ammo. In other words, heated engagements begin very quickly because the initial stages of looting are essentially eliminated.
As you play the mode, you'll also be able to complete Seasonal Challenges. Finish 75 challenges and you'll get this sweet Nessie Badge. Deal 102,816 damage to earn the Mozambique badge and get the Smolfinder badge by getting "time to win and stay alive" with eight different Legends. If that wasn't enough, there's also a special Mozambique charm earned by doing 3,333 damage with the Mozambique specifically.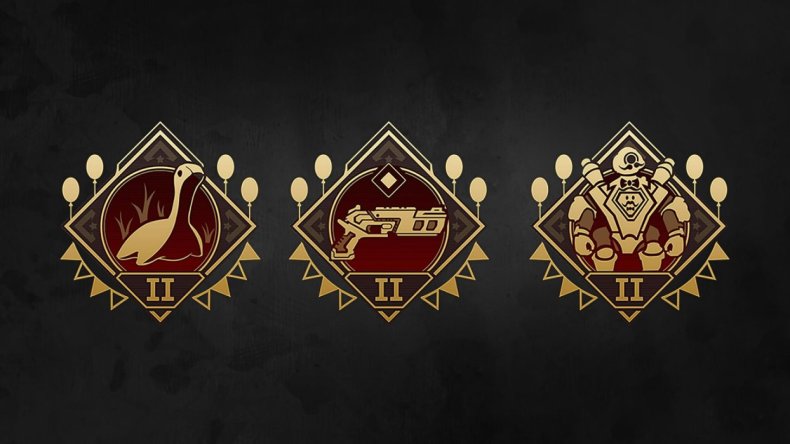 While the source post doesn't offer much detail in regard to skins, it does reveal that 24 beloved designs will be coming back with special red and gold stylings. Collect all the items and you'll earn 150 Heirloom Shards to purchase any previous Heirloom you want. The crafting cost for each item will also be 50 percent less than usual, making the prize more attainable than ever before. If you get all the items early, each subsequent event pack will yield 700 Apex Coins.
There are bundles coming to the store, of course, such as the Pure Fire seven-pack bundle, the Blood Moon three-pack bundle, the Mecha Over Matter bundle and the Hunt and Run bundle. The Apex Legends Anniversary event doesn't offer much new to the game, but it sounds like a great time to stock up on some of the cosmetics you may have missed while unlocking a few sweet souvenirs. If your new friend Fuse wasn't enough to keep you in the game, this upcoming Collection Event might be enough to do the trick.
Apex Legends Anniversary event skins
Even though the source post doesn't detail each new skin being added for the event, they briefly appeared in-game shortly after Season 8 went live. We've listed their names below, but you can see them in action courtesy of this video from WalterGotHim on YouTube.
Red Handed Loba [Epic].
Rocket Scientist Wattson [Legendary].
Burn Out Octane [Epic].
Friendly Fire Pathfinder [Legendary].
Fire With Fire Bangalore [Epic].
Red Carpet Mirage [Legendary].
Hot Blooded Lifeline [Epic].
Awoken Fury Crypto [Legendary].
Lens Flair Mirage [Epic].
Crimson Queen Bangalore [Legendary].
Wraith's Wrath [Epic].
Golden God Gibraltar [Legendary].
Heart Attack G7 Scout [Epic].
Blood Ritual Revenant [Legendary].
Fresh Meat Hemlock [Epic].
Hellcat Wraith [Legendary].
Redline Prowler [Epic].
Mad King Caustic [Legendary].
Breach of Peace Peacekeeper [Epic].
Hell Raiser Lifeline [Legendary].
El Tigre Octane [Legendary].
Dragon's Wing Wingman [Epic].
Hunter's Moon Bloodhound [Legendary].
Phoenix Fire Spitfire [Epic].
Apex Legends is available now on PS4, Xbox One and PC.
What are your thoughts on the Apex Legends Anniversary Event? Were you expecting more? Tell us in the comments section!