'Apex Legends' Battle Armor Event & Season 5 Start Date Revealed
Apex Legends will host one more event before the start of Season 5. The Battle Armor event was revealed by Respawn Friday afternoon via an official blog post, and it focuses on a new mode with dedicated armor drops.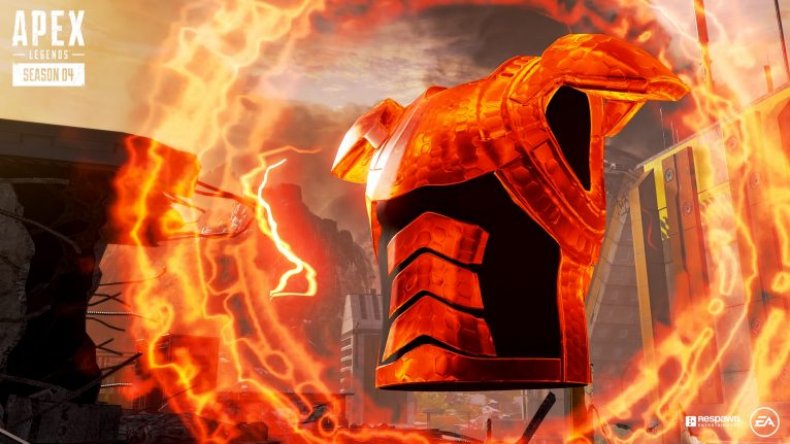 Piggybacking off the popularity of the Evo Shield that made its Apex debut in March, the Battle Armor event is all about protection. From April 28 through May 12, players can experience battle royale on World's Edge that features a rotating armor roster. Dictated by the schedule listed below, players will begin each match with a specific type of armor and a P2020 already in their loadouts. As such, matches are expected to be a lot longer given that players will be able to take more hits in each firefight as soon as the action starts.
Here's the schedule of dates and armor types to be featured. Note that all rotations begin at 1 p.m. EDT on the listed day.
April 28: Level 1 (white) Armor only.
May 2: Level 2 (blue) armor only.
May 6: Level 3 (purple) armor only.
May 9-May 12: Evo Armor only.
That last bullet is exceptionally relevant to Apex Legends fans, as it quietly reveals the new release date for the Season 5 Battle Pass. As discussed in the source blog post, Respawn is "extending Season 4 by one week, giving those who want to grind out their Battle Pass or try and hit that next level of Ranked a little more time to do so before Season 5 kicks off on May 12." A release time of 1 p.m. EDT is also referenced.
Apex Legends is far from the first game to face a release date delay due to work-from-home development conditions spurred on by the coronavirus pandemic. In fact, fellow Battle Royale title Fortnite extended its own Season 2 Battle Pass by more than a month from its original creative plan. While the Season 5 rollout won't be seamless, at least players can enjoy the awesomeness of Evo Armor leading up to the next round of content. Leaks suggest Apex Legends Season 5 will feature a new Legend named Loba, a Mirage rework, reconnect feature and more.
Apex Legends is available now on Xbox One, PS4 and PC.
Will you be playing through the Battle Armor event? What would you most like to see in Apex Legends Season 5? Tell us in the comments section!