'Apex Legends' Bloodhound & Lifeline Disc Editions Released With New Skins
Apex Legends has two physical disc editions in stores now. Apex Legends Bloodhound Edition and Apex Legends Lifeline Edition both cost $19.99, but they offer different exclusive cosmetics based on the Legends in their namesake. The news was announced via an official EA blog post on Friday.
While both editions were partially detailed last month, the packages have garnered recent attention since making their way to store shelves on Friday. In case you missed the news, here's a recap of what each edition contains.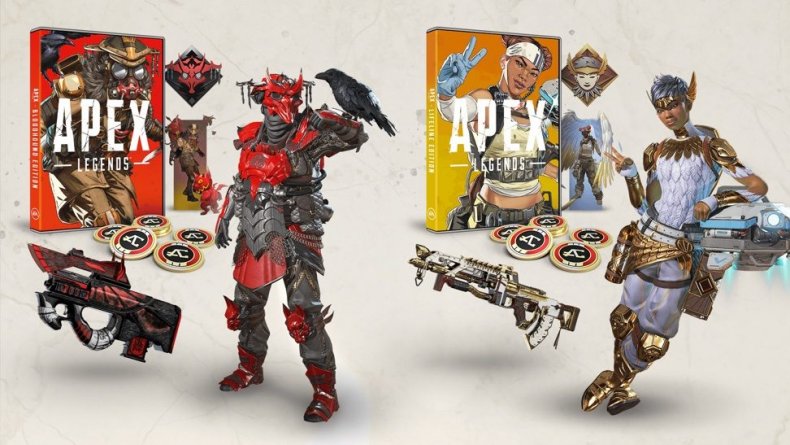 The Lifeline Edition
Legendary Guardian Angel Lifeline skin
Legendary Chooser of the Slain Flatline skin
Exclusive Winged Guardian Banner
Exclusive Angel Struck Badge
1,000 Apex Coins
The Bloodhound Edition
Legendary The Intimidator Bloodhound skin
Legendary Wrath Bringer Prowler skin
Exclusive Feeling Impish Banner
Exclusive Tormentor Badge
1,000 Apex Coins
For a better look at the included skins, feel free to check out the image above. We've also embedded a new launch trailer that shows the cosmetics in action.
For most fans of Apex Legends, unlocking cool cosmetics is a huge draw for Respawn's Battle Royale. With these physical editions, enthusiasts are not only able to get cool looks for their favorite Legends, but they can also purchase additional stylings or the latest Battle Pass using the included Apex Coins voucher. Those who like what they see will have to invest in a bundle, however, as Respawn has announced these special skins will never be rotated into the in-game store as individual purchases. While the door appears to be left open for digital bundles of these items, they're currently exclusive to the disc option. Of course, diehard fans don't have to purchase just one of these boxes either. Both codes can be redeemed for both versions on the same account.
While it may seem silly to some that an exclusively online game like Apex Legends would need a physical release, they're profitable for several reasons. Not only do the exclusive skins bring fans to the store, but sets like these are often an easy buy for children around the holidays as well. Even if they've already downloaded the game, the purchase bonuses are fairly exciting nonetheless. While the Lifeline and Bloodhound Editions only focus on two of the game's 11 Legends, we imagine additional disc versions will be sold if these options meet expectations.
Apex Legends is available now on PS4, Xbox One and PC. The Lifeline and Bloodhound Editions are available on all platforms.
Would you buy a physical version of Apex Legends? Do you support Bloodhound or Lifeline? Tell us in the comments section!