Apex Legends leaks previously revealed that a big Caustic Town Takeover and Chaos Theory event was in the works, and now we finally know the official details about what's happening between March 9 and March 23. There's also a massive update in the works with significant buffs and nerfs for your favorite Legends. The news arrives courtesy of the latest blog post from Respawn Entertainment.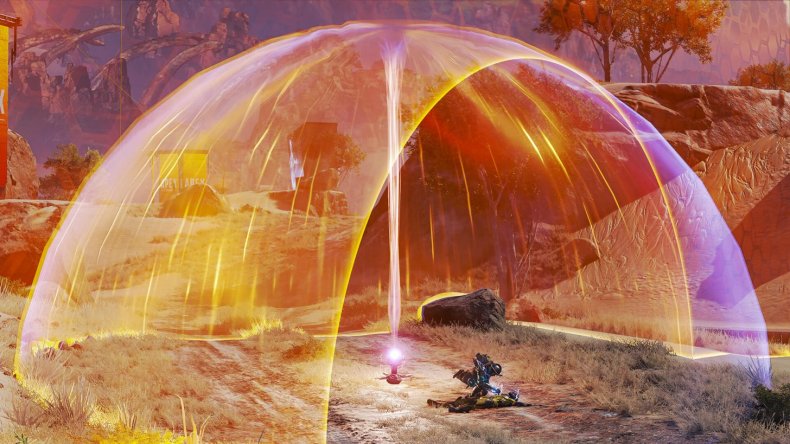 Starting with the Caustic-themed festivities, the event kicks off with a new point of interest in place of Water Treatment. Caustic Treatment, as the locale is now called, is a full-blown facility with high-tier loot and a very deadly secret. In order to get those precious goods, you'll have to contend with clouds of poisonous gas.
When it comes to modes, the new Ring Fury playlist takes center stage. The match type works like existing the Battle Royale, except there are small Ring Flares that pop up on the map in addition to the central ring. These flares do as much damage as the current ring, which means players could be losing lots of health at any moment.
To combat this disadvantage, Respawn is introducing a permanent item called the Heat Shield. This conditional perk activates when inside any ring and prevents damage for a short amount of time. When active, it also buffs heal speed by 50 percent and revive time by 25 percent. During Ring Fury, each player spawns with at least one Heat Shield, but additional ones can be found around the map. The best part is, Heat Shields no longer fill up your equipment inventory. They occupy the new Survival Slot, which is uniquely reserved for conditional items.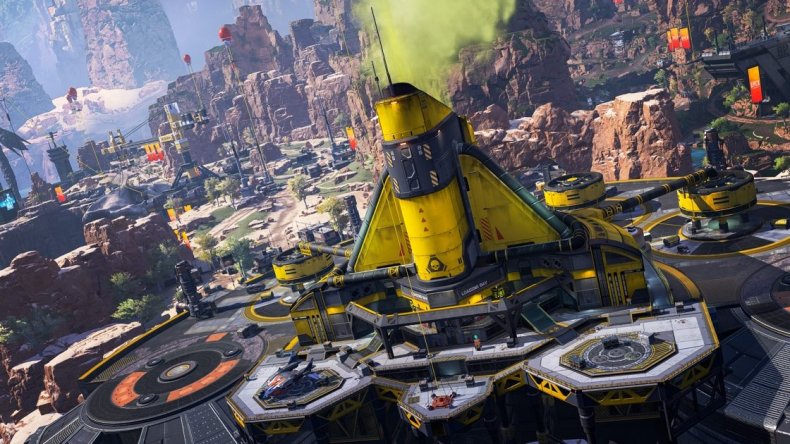 Just like all limited-time events, the Chaos Theory party has a complete prize track full of free items unlocked by earning in-game points. As seen below, the upcoming track features Kraber and EVA-8 weapon skins, as well as a sweet Horizon skin earned for collecting 3,000 points. There are also 24 limited-time cosmetics earned via Apex Coins, Crafting Metals or from Event Apex Packs. Collect all of them, and you'll get Bangalore's Pilot Knife Heirloom Set.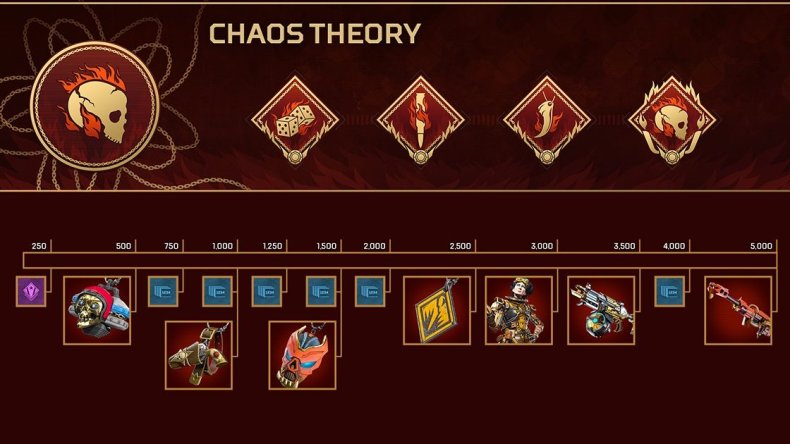 March 9 aims to be a big day for Apex Legends fans, as it's also the launch date for the game's highly anticipated Nintendo Switch version. But, there's a massive patch in the works for other platforms as well. The upcoming patch features nerfs for Caustic, Pathfinder and Horizon, as well as buffs for Rampart and Revenant. There's also a new "no-fill" option for queueing, which allows players to hop into team lobbies as a solo if they choose to do so. In other words, even though fans have been waiting a long time for the next big Apex update, this one aims to deliver on the hype.
Apex Legends is available now on PS4, Xbox One and PC.
What are your thoughts on the Chaos Theory event? Will you be dropping in to try the Ring Fury mode? Tell us in the comments section!