'Apex Legends' Code Red - Time, Teams, Standings, Bracket & How to Watch
Apex Legends hosts its first-ever Code Red tournament today, and Dr Disrespect is bringing out the big guns to make the afternoon interesting. Watch as some of the best Twitch streamers in the land collide for their shot at a combined $20,000 prize pool. We've got all the details related to times, rules, teams, brackets and more.
What time does the Apex Legends Code Red Tournament Start
Watch live video from EsportsArena on www.twitch.tv
The Apex Legends Code Red tournament is expected to begin February 15 at 4 p.m. EST.
Where to watch the Apex Legends Code Red Tournament
The central hub stream is can be found on the EsportsArena Twitch channel embedded below, but the matches will also be hosted by Dr Disrespect and the event's participants as well.
Apex Legends Code Red Teams
Here's the confirmed list of the eight participating teams alongside links to their respective Twitch channels.
Apex Legends Code Red Rules, Brackets & Standings
The rules and bracketing for the Code Red Tournament work out as follows:
Eight teams battle in a double-elimination bracket for the most kills in public matches.
The team with the most kills over a period of three games will be deemed the winner. A fourth map will be played if tiebreakers are necessary.
The bracket narrows down to a Grand Final, where the top of the loser bracket must win two matches to claim victory. The winner's bracket only requires one win.
Placing Wins: Eight Points each
Kills: One Point each
The teams will compete for the prizing listed below:
$12,000
$5,000
$3,000
Here is the starting bracket. To see the live bracket, go to the Code Red website and click "brackets."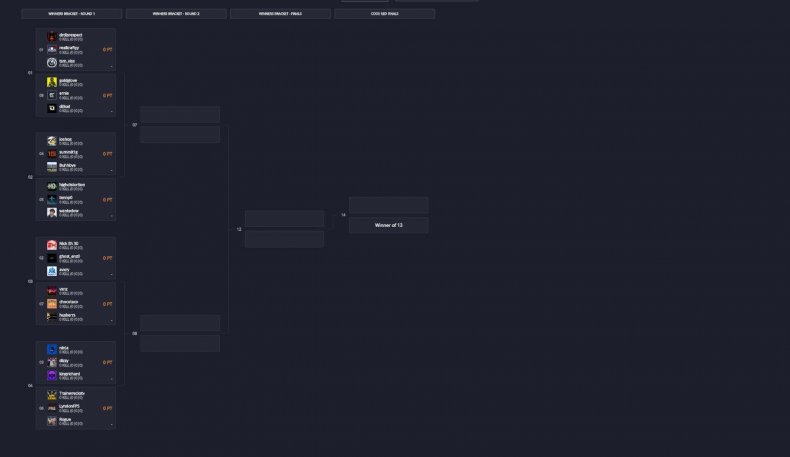 Apex Legends is available now on PS4, Xbox One and PC. The Apex Legends Code Red tournament is expected to begin around 4 p.m. EST.
What are your thoughts on the Apex Legends Code Red tournament based on these details? Will you be tuning in to the show? Tell us in the comments section!