'Apex Legends' Developer Slams Respawn for COVID Crunch, Co-Workers Respond
Apex Legends is one of the most popular battle royale games on the planet, with millions of players, frequent content updates and a seasonal roadmap that has fans champing at the bit for details of every big character release. But, amidst the realities of working from home during the COVID-19 pandemic, one anonymous current employee feels the game's development studio at Respawn Entertainment has failed them.
Surfaced earlier this week on the Apex Legends subreddit, an April Glassdoor job review posted by a current developer paints a dark picture of their employer. From their perspective, the company is focused far more on deadlines and long work hours than maintaining the mental health of a work-from-home team.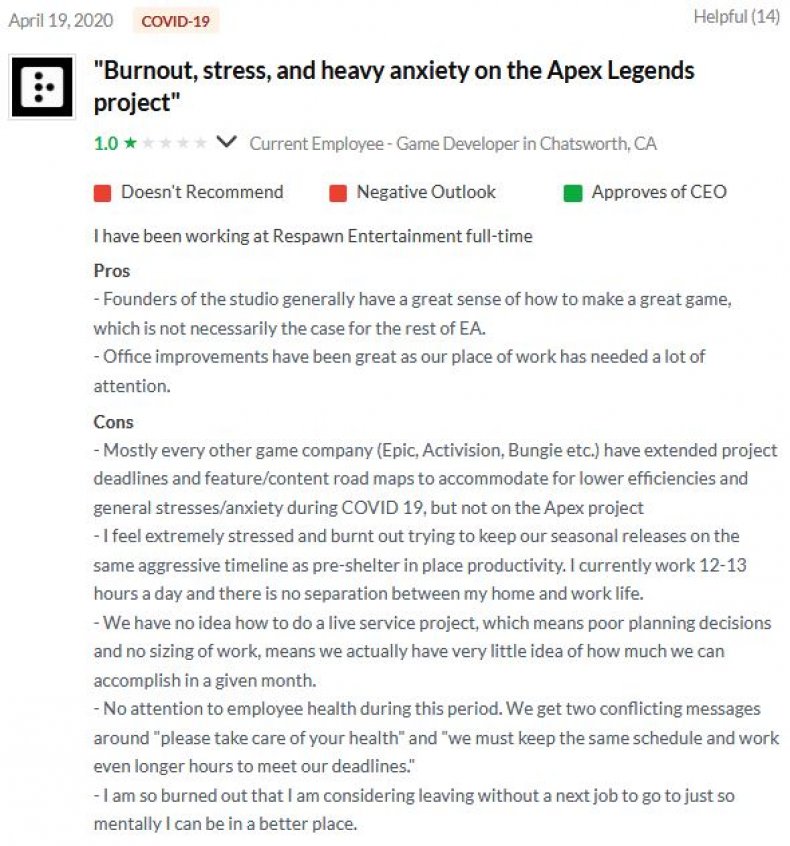 "I feel extremely stressed and burnt out trying to keep our seasonal releases on the same aggressive timeline as pre-shelter in place productivity," the post reads. "I currently work 12-13 hours a day, and there is no separation between my home and work life." The one-star review further adds that there is "no attention to employee health during this period. We get two conflicting messages around 'please take care of your health' and 'we must keep the same schedule and work even longer hours to meet our deadlines.'" It's also said that the stress of the job has negatively impacted this individual so strongly that they may leave their position even if they don't have another one lined up.
While stories of crunch at major game studios have become more prevalent in recent years, with the likes of Naughty Dog, Epic Games and Rockstar Games being some of the most high-profile subjects of scrutiny, this worker's colleagues were quick to respond to the defamatory claims. Chief among them was Apex Legends Game Director Chad Grenier, who took to reddit to post a nearly 800-word reply to the findings.
"As the Apex team leader, I was vocal every day telling people to only work as much as they can," Grenier said. "This was reiterated by Studio leadership, and EA leadership as well... We're all learning how hard this is together, as a team. I'll tell you what, I never thought it would be so difficult! Add in tens of millions of fans who are chomping at the bit for more great content and the pressure is on!"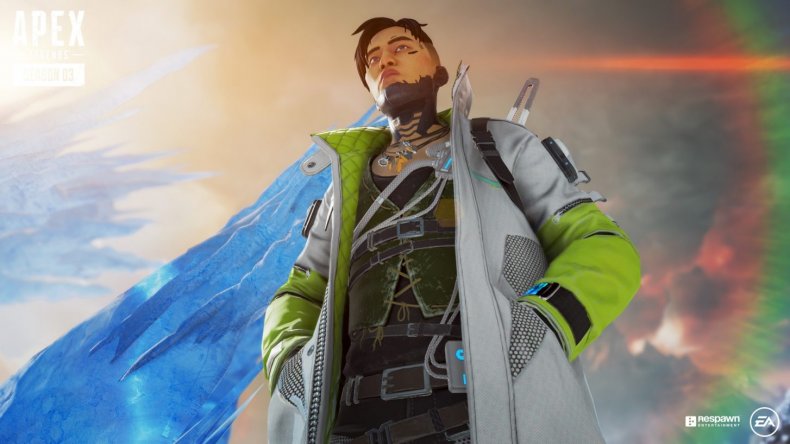 With regard to meeting deadlines, the leader reminded fans of the Season 4 delay and suggested the posting employee might have been pushing themselves too hard by their own volition. "I'm definitely not trying to say this person who wrote the review is wrong, and I'm not defending myself against the review," Grenier assured. "They're absolutely right in how they felt, and they were clearly working too much, despite being told it was OK to miss their deadlines. The problem is not with the intent of Respawn's leadership. We've got everyone's best interest in mind. The one thing I've learned about the team during this pandemic is that the team is filled with a bunch of rock stars and do-ers. Nobody wants to be the person to raise their hand and say they're not going to hit their deadline. Nobody wants to be the one who got a feature delayed. Nobody wants to let their teammates down or let the fans down. Everyone wants to fix that bug, finish that cool new character or get that new gamemode up and running and will crunch themselves unknowingly to get it done. That's how dedicated this team is, they're amazing." The post wrapped up by suggesting EA cares more about its employees than the games they work on, even during non-pandemic times.
Similar sentiments were echoed by Apex artist Moy Parra, who said "I have never felt more supported and understood. I've never felt that my mental state was in second priority to a deadline, and I've personally experience[d] both EA and Respawn going above and beyond to try and make this tough time as accommodating as they can."
So, with the topic of crunch and employee well-being still a point of focus for watchers of the games industry, it would seem the situation at Respawn sounds mixed at best. While some employees might be feeling the stress of unfamiliar working conditions, others seem to have adapted better to the change in workflow. The sentiments suggested in the negative review are certainly serious and could even be reflective of a group of silent dissenters afraid to speak their minds. However, it's worth noting Respawn currently has a 4.5-star aggregate rating on Glassdoor independent of the source review.
Apex Legends' publishers at EA have yet to make an official statement on the matter, but Grenier's post suggests the company has many COVID-related policies in place such as unlimited paid time off for mental and physical conditions, reimbursement for work-from-home supplies and increases in pay to cover necessary electrictricity and internet bills.
Apex Legends is available now on Xbox One, PS4 and PC.
Is this employee's review indicative of a larger problem at Respawn? Would you prefer updates be delayed to reduce pressure on the rest of the Apex team? Tell us in the comments section!