'Apex Legends' Fight Night Event Trailer Leak Reveals New Skins
Apex Legends' next event has already been leaked, and it's called "Fight Night." The event features a Pathfinder Town Takeover with a boxing-centric PoI. The details were revealed via a trailer believed to have been inadvertently posted early via an international Apex Legends Twitter account.
Despite being just 30 seconds long, the leaked Fight Night trailer reveals quite a lot about the event. It shows fans several of the new skins in particular, with fresh looks for Pathfinder, Lifeline, Bangalore, Bloodhound, Revenant, Crypto, Loba and more.
We're particularly happy with the new outfits for Lifeline, Loba and Revenant especially, which you can see for yourself in the clip embedded below. Bangalore and Bloodhound appear to be getting somewhat shafted this time in terms of design, though, which will likely be a disappointment for mains of those characters.
Beyond the skins, the Fight Night name implies the upcoming Apex event has a boxing theme. To coincide with it, the Pathfinder Town Takeover, brings a full boxing ring to the Docks area of Olympus. The trailer shows two characters in the arena, dropping their weapons in favor of brightly colored, oversized boxing gloves. Simply put, it's the first time anything of its kind has been seen in the Apex universe.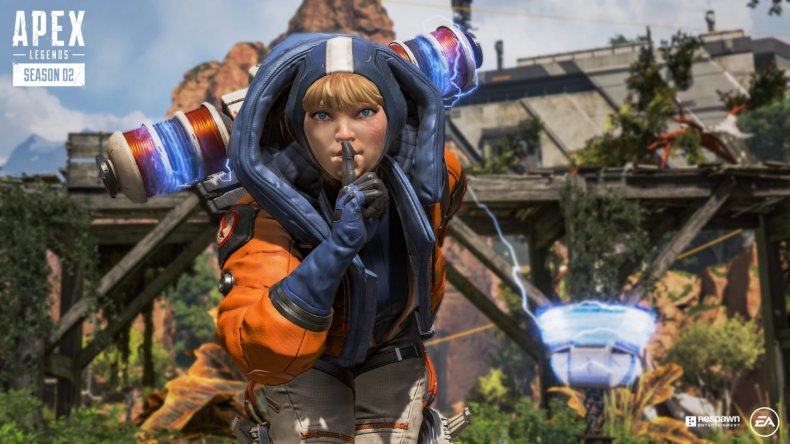 Unfortunately everything else we know about Fight Night is based on fan translation, which has been known to be hit or miss. With that grain of salt established, however, it's been suggested the event will revolve around a new limited-time mode in which fully kitted out weapons will drop all the time from Care Packages.
This essentially means players will have greater access to high-tier loot, offering increased opportunity for high-level tactical engagement. On the flip side, however, previous event LTMs have generally been a bit more involved, so we hope there are added wrinkles to the formula that we don't yet understand.
Quite possibly the biggest avenue for gameplay variation in this case is the aforementioned boxing ring. Because there's been nothing like it in Apex before, how the concept might work remains to be seen. Precisely how do players enter the ring? Will they be immune from the shots of other players while they engage with an opponent?
Our best guess is that the ring may function similarly to the Gulag in Call of Duty: Warzone. It's possible that after a player is eliminated from battle royale they'll have to fight for reentry into the game through a 1v1 boxing match. Should that be the case, that match type could potentially be pretty exciting.
Unfortunately, however, fans will have to wait a little while to fully understand what Fight Night is all about. Given that the Holo Day Bash is set to run through January 4, we likely won't see anything about Fight Night until that celebration ends.
It would appear Fight Night will stand in for the Grand Soirée event that has traditionally taken place in January. Big Pathfinder signs are already appearing around Olympus, which suggests Fight Night is next in line. But where is the next Heirloom? Who is that voice featured at the end of the trailer? All that and more will likely become clear over the next few weeks.
Apex Legends is available now on Xbox One, PS4 and PC.
What do you expect from the Apex Legends Fight Night Collection Event? Is there enough here to bring you back? Tell us in the comments section!